If I could only eat one dish for the rest of my life, it would undoubtedly be soup. From rich,velvety bisques to light, refreshing broths, soup is a uniquely comforting and versatile dish that makes it almost impossible to pick just one as a favorite. However, cioppino, an Italian shellfish stew, stands out.
Cioppino is a perfect dish for seafood lovers, with heaps of shellfish bathed in a luscious and deeply savory tomato broth. To my surprise, cioppino originated not from mainland Italy but from local San Francisco. Its name comes from the word ciuppin, a seafood stew from the Italian region of Liguria. In the mid nineteenth century, Italian-American fishermen turned their leftover catch of the day into stew. Eventually, the dish became the cioppino that we know and love today, a beloved icon of San Francisco's cuisine. 
Cioppino's allure lies not in using fancy techniques or luxury ingredients, but rather in turning available ingredients  into a satisfying meal, preserving the quality of the produce. I suggest using high-quality Italian canned tomatoes, such as San Merican. They are preserved at their peak ripeness and have the perfect balance between sweet and sour, a must for clean-tasting broth. Any fresh and local seafood, especially in season, is ideal, but variety is key. (hearty chunks of quality sea bass are my personal favorite). For an authentic experience, I recommend buying or baking a nice loaf of sourdough–absolutely crucial to enjoying the dish at its finest.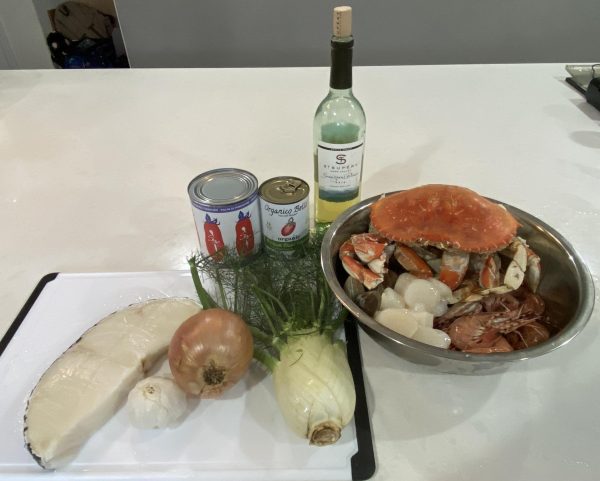 For me, cioppino holds a significant place in my heart because of my childhood; my father and I would cook the dish as a special treat on weekends. We picked up seafood at our local asian supermarket (or if we were lucky, from a fishmonger), and I spent the afternoon preparing and cleaning all of it: brining succulent scallops and sweet clams, breaking down tender fish and crab, and trimming down plump shrimp. In the meantime, my dad prepared the soup base. He simmered sauteed onions, homemade fish stock, tomato puree and white wine, filling the kitchen with the savory scent of herbs and tomato. We added the seafood bit by bit until it was all perfectly cooked, serving the finished soup with thick toasted slices of crusty sourdough.
The first bite is always a little too hot, burning my tongue in my haste to dig in, but the deep broth quickly washes away the sting. From mild, flaky fish to succulent, sweet prawns, each type of seafood perfectly compliments the taste of the soup. The best part of the dish is always saved for last: mopping up every last drop of flavor with the sourdough slices. 
Although I don't cook it as often anymore, the few times that I do cook cioppino are always savored as a rare delicacy. It amazes me how the simple bowl of soup can be so therapeutic, never failing to evoke happiness and comfort that few other things can.