The upper school campus entered lockdown from 3:25 to 3:59 p.m. today after classes dismissed.  
Upper school administration said authorities are investigating the cause of the lockdown. Assistant head of school Ken Allen declared the upper school campus all-clear at 3:59 p.m. over the loudspeaker. 
A loudspeaker announcement alerted those on campus to assume lockdown procedure at 3:25 p.m.
"Attention, campus is under lockdown," the message said.
Students and staff barricaded classroom and closet doors, closed all windows and turned off lights. Five police cars arrived in the upper school back loading zone for a walkthrough of campus at 3:44 p.m. Two police cars arrived at the Saratoga Square shopping center across the street from the upper school campus at 3:46 p.m.
"We heard the alarm — it wasn't really clear what it was saying, but then we saw people running," lockdown participant Kyle Li (11) said. "It was all very sudden. One second you're sitting there, and the next it's like everything is in panic mode."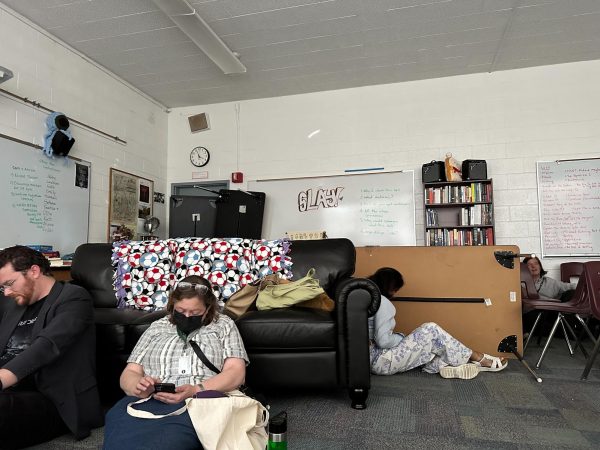 Upper school math teacher Ambi Bobmanuel was in a class dean and advisor meeting when she heard the lockdown announcement. Bobmanuel experienced two lockdowns at her former school in Spring, Texas. She said knowing Harker's lockdown procedure calmed her. 
"I love how teachers' doors are, by default, locked," Bobmanuel said. "We don't have to hop outside our doors to physically lock them in a lockdown."
Allen announced the upper school campus all-clear over the loudspeaker at 3:59 p.m. Head of Upper School Paul Barksy reinforced the all-clear and encouraged students and staff that it was safe to leave rooms a few minutes later.
The Office of Communication notified parents, faculty and staff about the lockdown at 3:48 p.m. and the campus all-clear at 4 p.m. via the Harker emergency alert system. 
With fall sports currently in session, cross country practice was optional. Volleyball practice, football practice and after school P.E. classes continued as planned. 
Upper School Dean of Students Kevin Williamson announced in an email to students and staff that the Evacuation/Fire drill scheduled for tomorrow has been delayed until further notice. Following fifth period, students will enjoy a free period, and office hours will begin at 10:10 a.m.
Update on Sept. 14, 2023: 
Head of School Brian Yager said that an "inadvertant prompt" caused the lockdown in an email sent to parents and staff today. The school is investigating the lockdown system to prevent future instances of unintended activation. Barsky shared Yager's message with students through an email and Schoology post today.