Sophomores, juniors and seniors participated in ReCreate Reading sessions to discuss their chosen novels on Aug. 24.
Organized by the upper school librarians, ReCreate Reading is a program that incentivizes students to engage in summer reading and allows them to choose a book from a wide collection of literature sponsored by a teacher or a student. This year, two authors attended the ReCreate session in person or virtually, providing insight and allowing students to ask questions about their novel.
Ray Nayler was a featured author who spoke virtually to students in a session hosted by science teacher Marina Peregrino, who is also his aunt. He discussed his science fiction novel, "Mountain in the Sea," which depicts humans' investigation of an intelligent octopus species and questions the cynical influences of technology and corporate powers in a dystopian future.
"Creativity is kind of like an iceberg," Nayler said. "There's a chunk of that creative mind that's above the water that you can work with. And then underneath that, there's all of these influences that you have, and all these other things that are going on, and all this background pattern that kind of comes up into the writing."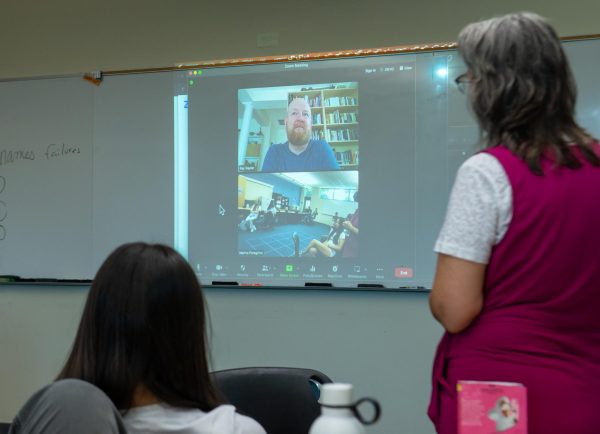 Towards the end of the session, Nayler discussed his favorite aspect of writing, research. While writing Mountain in the Sea, for instance, he explored marine biology and biosemiotics. The element of autonomous exploration appeals to Nayler, who encourages readers to explore all the possibilities in his books by deliberately leaving room for ambiguity.

"I don't like endings to be fully closed off," Nayler said. "I like to leave them so that you can think about what's going to happen next and fantasize about it, and [you can] maybe write your own story a little bit beyond the story in the pages. I like to give people that opportunity; I don't want to just tell them everything and wrap it up neatly because that's also not how life works."

In upper school mathematics teacher Dr. Anu Aiyer's visiting author session, Parini Shroff, author of "The Bandit Queens," spoke with readers and answered questions about her research and process while writing the novel. The book follows Geeta, a woman who is ostracized after being falsely accused of murdering her husband. As the plot unfolds, Shroff weaves in details of the real-life Bandit Queen Phoolan Devi, an Indian bandit-turned politician. Devi was famous for robbing higher-caste villages and organizing a massacre, for which she went to prison for 11 years. After serving her time, Devi went on to become a standing Member of Parliament.

It was taking my experiences and jacking it up to eleven, and then putting myself in people's shoes.

— author Parini Shroff

During the session, Shroff expanded on her inspiration to write about issues such as gender roles in India, caste system discrimination and abusive marriages. 

"Just being in this world, you will encounter various situations that make you uncomfortable," Shroff said. "This novel takes that to an extreme for me, not that these situations aren't actually experienced by women everywhere. It was taking my experiences and jacking it up to eleven, and then putting myself in people's shoes."

Tiana Salvi (11), who attended the session, especially enjoyed the relevant topics Shroff addressed in the novel.
"I liked that the issues were really nuanced," Tiana said. "Even the smaller ones [she] touched on like colorism, education on women's bodies, abusive relationships in general and stigmas surrounding divorce and rape in marriages, since they're such big issues in South Asian and Asian culture."
After students shared their favorite moments from the novel, Shroff answered questions about her perception of the characters she wrote and their inspiration. When asked which character she relates to most, Shroff answered with Geeta, the protagonist.
"Sometimes I'll just say the opposite of what I'm thinking, and I don't mean it, and I'll be really hard on myself, like Geeta," Shroff said. "But she's also rash, and she's sensitive with a soft underbelly. [I] take times that [I] felt a certain way, inject them into a character, and then let them fly."