Gliding through the water, her fingertips touch the wall and her head bobs up out of the water as she hears the last of her teammates' cheers. The timer stops, and she quickly turns around to see a '1' next to her name on the scoreboard. Ashley Hong (12) just won the 100-yard breaststroke race. 

Following in her two brothers' footsteps, Ashley started swimming for local club team Sunnyvale Swim Club at ten years old. Ashley later moved to Palo Alto Stanford Aquatics Club (PASA), where she trains three hours each day, seven days a week. Although the rigorous training schedule seems intimidating, her tight-knit team provides a positive and encouraging environment for her, as she cherishes her teammates above all. 

"I just like being with my team," Ashley said. "I made a lot of really good friends on my team, and we just really enjoy each other's company. During practice, we don't make it all about swimming. We tell stories that are whack, and we do funny things, so it's just really entertaining."

Along with the valuable moments with her teammates during practice and competitions, Ashley acknowledges the individual side of swimming. Her stronger events include the 100-yard breaststroke and 200-yard breaststroke, but she also competes in the 200-yard and 400 individual medleys (IM). 

I like that swimming is a team sport but also individual. I also really enjoy relays — I feel it's super fun [because you] work with your team. So I [think] that's really unique

— Ashley Hong (12)

"I like that swimming is a team sport but also individual," Ashley said. "I also really enjoy relays — I feel it's super fun [because you] work with your team. So I [think] that's really unique."

Ashley recalls her experience at the FINA Swimming World Cup in Berlin, an international competition that took place last October. Although it was more elite than a national competition, she embraced the opportunity and became closer to her teammates.

"I got to spend a lot of time with my teammates," Ashely said.  "I think competing on an international scale is really interesting. It allowed me to gain experience competing at a higher level."  

While competing alongside Olympic and professional swimmers seemed daunting at first, Ashley overcame the mental barrier in order to perform her best by believing in her capabilities. 

"Usually I go up and confidently swim my race because I feel like worrying about it makes me feel worse. I know that I've swum my race a lot of times before and I know how to swim it, so I feel [that] worrying about it doesn't change anything."

The Winter Junior National Championships in December posed another opportunity for her to observe Olympic swimmers, from which Ashley took away not only inspiration but also new techniques.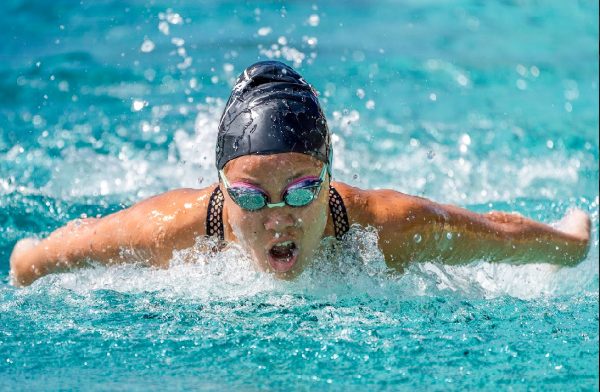 "It was interesting to see them be so professional," Ashley said. "They swam a lot of races in one day and they were able to recover and go race to race. So [I was able] to learn from that and know how to prepare myself and take care of myself during the swim meet."
On top of competing for her club team, Ashley dedicates time during the spring to Harker's varsity swim team. Teammate Keren Eisenberg (11) notes how Ashley always brings a positive and energetic spirit to the team, as she takes time away from her own preparations to ensure team bonding. 
"She interacts a lot with the team," Keren said. "I think she's very social in that way, and she likes to make swim very fun and talk to a lot of people, and not just kind of focus on how they are as a swimmer. Whenever she's at practice, everybody is in a better mood [and] more willing to work hard."
Last season, Ashley competed at the Central Coast Section (CCS) Championships in both the 100-yard breaststroke and 200 IM, where she placed second and sixth, respectively. She continued her success at the State Championship on May 12, placing 12th in the 200 IM and 7th in 100-yard breastroke.
In May, Ashley committed to Columbia University's Women's Swimming and Diving, despite receiving offers from other schools. She looks forward to joining the team in the next part of her swimming career.
"I am extremely excited and humbled to be continuing my swimming journey at the collegiate level as a part of Columbia Women's Swim and Dive," Ashley said. "After visiting [the] campus and getting to know the team, I felt confident that Columbia was the right fit for me. I cannot wait to be a part of such a supportive and fun team."