'It's Time!' for TALON yearbook distribution
TALON distributed its yearbook themed "It's Time!" to celebrate this year's events, accomplishments and highlights on the upper school campus May 15 and 16.
"We put so much love into it with our new staff and old staff," Angelina Hu (11), TALON Co-Editor-in-Chief for the 2023-24 school year, said. "We work on it the whole year as a team, so seeing it finally come out and seeing people with the book in their hands being like 'Oh hey, there's you' and 'Oh hey, there's me' is super fulfilling."
The class of 2023 picked up their yearbooks on May 14 during the senior trip to Laguna, while sophomores and juniors received their yearbooks May 15, and the frosh class collected their copies on May 16. Former TALON Co-Editor-in-Chiefs Lakshmi Mulgund (12) and Lavanya Subramanian (12) led the 21-student yearbook staff, advised by upper school yearbook advisor Kevin Oliver, in the creation of the yearbook over the course of the school year. Yearbook staff members attended school events for photographing, interviewing and recording. Angelina comments on the challenges that came with putting the yearbook together especially with the influx of new reporters to the yearbook team.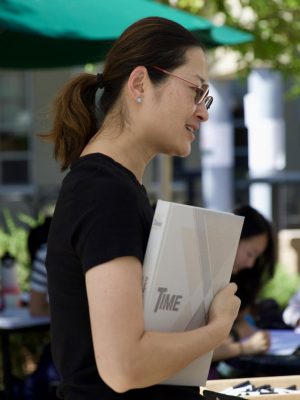 "Sticking to deadlines was definitely hard," Angelina said. "Sometimes content doesn't come in on time by the deadline, so you're rushing to get it all in because the pages have to be submitted on time. Onboarding new staff — since we had a lot of reporters this year — and having a proper distribution of work between them and us was also really hard."
During Editors' Week from August 15 to 19, the TALON staff worked on practice designs and staff bonding while in September, the staff began organizing the details of the yearbook. Student Life Editor for the 2023-24 school year Shiv Deokar (10) recalls the complexity of the yearbook production process earlier in the year as a new member of staff.
"I remember when I first came into [TALON], I had no idea what I was doing, [so] the fact that it's finally out is amazing," Shiv said. "I'm really proud of all the work we did this year."
Since the yearbook could only include coverage of the year up to around the end of winter, the TALON staff will continue working on page designs and finalizing them for their Spring Supplement. In August, students and faculty will receive the Spring Supplement in advisory.