School meeting recap 4/17/23: Earth Week, Downbeat and new ASB council
Associated Student Body (ASB) President Kris Estrada (12) opened the school meeting on Monday, noting it was the last school meeting members of the class of 2023 would attend in high school.
Kris then named the newly-elected ASB officers for the 2023-24 school year, with juniors Ella Lan, Daniel Lin, Luke Mehta, Gordy Sun and Cynthia Wang filling the positions of vice president, president, spirit coordinator, treasurer and secretary, respectively. Following Kris's announcement, the members of the new ASB council played a short video introducing each of them.
Head of Upper School Paul Barsky then introduced 2021-22 National Student Poet for the West Sarah Mohammed (12), who read the poem "Sorrow is Not My Name" by Ross Gay in celebration of Earth Day 2023.
Green Team officers announced a series of initiatives the club would be holding in honor of Earth Week. On Monday, they hosted guest speaker Alan Hackler from Bay Maples Landscaping to speak about sustainable gardening from 12:40 p.m. to 1:15 p.m. in upper school Spanish teacher Diana Moss's room. On Tuesday and Thursday, Green Team set up a table outside of Manzanita with activities such as writing a postcard to a local legislator and joining a GoGreen Team as part of the City of San Jose pilot program at Harker. On Wednesday, guest speaker Jim Gardner from Good Karma Bikes spoke to Green Team members during long lunch in Moss's room. Additionally, Earthchella was held during long lunch in the Quad yesterday, and the Clothing and Book Swap in collaboration with Key Club and Book Blog will be held from April 25 to April 27 in the Rothschild Performing Arts Center (RPAC) lobby.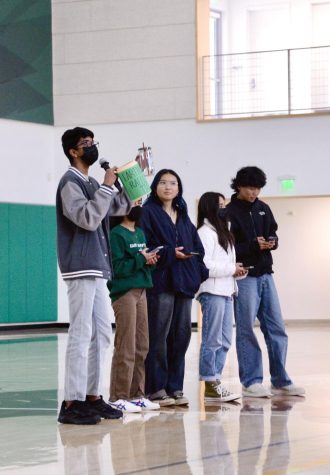 Following Green Team's announcements, girls lacrosse played a video announcing their senior night, which was held at 5 p.m. on Monday. The team celebrated graduating seniors Katelyn Abellera, Kyra Hawk and Jessica Zhou at the ceremony before playing against Notre Dame-Belmont during the game, which started at 5:30 p.m.
After giving updates for girls lacrosse, swimming, boys tennis, boys volleyball, boys golf and baseball, the Eagle Update announced the annual college athlete signing ceremony would happen next Tuesday at 12:45 p.m. in the Athletic Center, recognizing eight seniors committing to play their respective sports at the collegiate level, and designated Andrew Fu (12) and Anjali Yella (11) Athletes of the Week.
Harker Robotics outlined their recent competitions and recognition the team received in the past month before announcing that the team would travel to Houston for their first world championship in over four years, which began on Wednesday.
Art Club and Japanese National Honor Society (JNHS) revealed the results of the manga drawing contest, with Serena Zu (9), Sonya He (12) and Emma Li (9) winning first, second and third place respectively. Art Club then announced a second Bob Ross panel painting session, which was held on Wednesday at long lunch at the art building, and invited students and faculty to come to the Artstravaganza reception, which will be held on April 25 in Nichols during long lunch. Art Club also announced that they would be selling stickers outside of Manzanita Monday through Wednesday during lunch as part of the fundraiser to support those affected by the recent earthquakes which took place in Turkey and Syria.
Harker Conservatory congratulated the cast and crew of the spring musical, who competed in the Rita Moreno California High School Musical Honors, with Selina Xu (11) nominated as a finalist for Best Actress and the production itself nominated for Best Show. They also announced the Music from the Western Hemisphere concert, held at 7 p.m. yesterday in the Patil Theater and featuring world premiere pieces by Ava Arasan (12) and Harker alum Agata Sorotokin.
Downbeat then performed two songs from their concert yesterday. Following their performance, Conservatory announced the Spring Orchestra Concert, which will be held on April 28 at 7 p.m., and senior showcase, which will be held on May 13 at 7 p.m.
Assistant Head of School Jennifer Gargano spoke about Harker's values and explained their role in the school's recognition system, which awards students for Love of Learning, Leadership and Mission of the School. Barsky then announced that starting from the 2023-24 school year, a faculty-selected student from the pool of school award recipients would speak at commencement, not the valedictorian. Barsky also informed students that they could return their copies of their Algebra I, Algebra II and Geometry textbooks to the school in exchange for a $10 Amazon gift card and told them that they would be completing the end-of-year survey in advisory on Friday.
Members of the 2022-23 ASB gathered to announce the Re-Regatta and Bellyflop events, which happened during lunch on Monday, and closed the school meeting.