Day of dance and activities: Junior class champions Spirit Week
The juniors took home a victory in the annual spring Spirit Week after Friday's rally, furthering their lead over the other classes with triumphs in four square and other rally day activities. 
Harker Student Leadership Team (HSLT) organized each of the activities, and members Sonia Yu (10) and Ananya Das (10) initiated the event by announcing the pre-event point totals: in fourth place, sophomores, in third grade, frosh, in second, seniors, and in first, juniors. They then presented the dance judges, Assistant to Upper School Dean of Students Kelley McCoy, Assistant to Academic Dean Eric Lee and Head Athletic Trainer Wes Howard. Then, Anish Jain (11) and Shreeya Merchia (11) led the school in a scream-off, with winners measured and announced by Computer Science Department Chair Eric Nelson. The ninth graders won, narrowly beating out the other classes.
Harker Dance Company (HDC) then performed an upbeat hip hop themed dance to "Trumpets" by Sak Noel and Salvi ft. Sean Paul, before Nick Delfino (12) and Arjun Moogimane (11) introduced the frosh class dance. The class took the stage with their spirit dance themed "Chicago: the Windy City," choreographed by frosh Nikhil Sharma, Sofia Shah, Kallie Wang, Lily Shi, Sophia Bagley, Selina Wang, Judi Abdelrazik, Linda Zeng, Charlotte Ludlow and Serena Lau to "Cell Block Tango" from the musical Chicago, "Get Ur Freak On" by Missy Elliott, "Break Free" by Ariana Grande, "Smooth Criminal" by Michael Jackson, "Chicago" by Michael Jackson, "Blinding Lights" by the Weeknd and "Homecoming" by Kanye West. The choreography featured cameos from frosh class dean Jeffrey Draper, upper school dance teacher Jill Yager, upper school instrumental music teacher Jaco Wong and Learning, Innovation and Design Director Diane Main.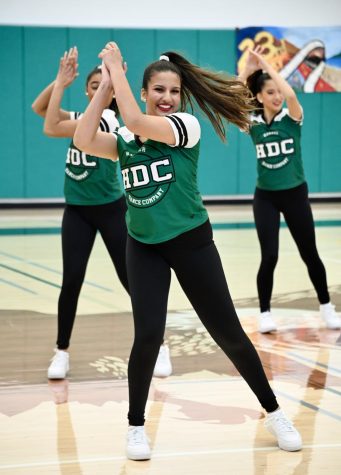 "I'm really proud of how much work all of the choreographers put into this dance," spirit dance participant Janam Chahal (9) said. "I think in the end, all of the time they put in paid off to create a very organized, energetic dance."
Harker's cheer team then performed a series of stunning acrobatics to a remix of Ava Max's "Million Dollar Baby," David Guetta & Bebe Rexha's "I'm Good (Blue)," and Meghan Trainor's "Made You Look," joined by a surprise exhibition with Main, biology teacher Eric Johnson, sophomore class dean Christopher Hurshman, upper school Assistant Athletic Director Alfredo Alves, math teacher Caren Furtado, math teacher Jeanette Fernandez and Head of Upper School Paul Barsky.
Kallbrier then paused the action to give thanks to those who make spirit activities possible. He prompted gratitude towards Associated Student Body (ASB) Spirit Coordinator Zubin Khera (12) and the HSLT executive team Arjun, Sawyer Lai (12) and Daniel Chen (10).
Following, the sophomore class performed to a remix of "Vegas" by Doja Cat, "Poker Face" by Lady Gaga, "24K Magic" by Bruno Mars and "A Little Party Never Killed Nobody (All We Got)" by Fergie, GoonRock and Q-Tip in a routine choreographed by 10th graders Sonia, Arthur Wu, Yasmin Sudarsanam, Maya Affaki, Tiana Salvi and Claire Cheng to match their Las Vegas theme.
Next, volunteers participated in two spirit relays. The first relay involved a successful bottle flip, followed by each participant running a certain distance with a beach ball in between their legs. The juniors reached the finish line first, followed by the seniors, frosh and sophomores in that order. For the second relay, contestants dribbled a soccer ball between cones and crab-walked across the floor. The seniors class championed this game, with sophomores in second, juniors in third and frosh in fourth.
The juniors then took the stage with their New York-themed performance, choreographed by juniors Luke Mehta, Kai Stinson, Kuga Pence, Fiona Yan, Selina Chen and Ella Lan. They danced to "Welcome to New York" by Taylor Swift, "In Ha Mood" by Ice Spice, "Empire State of Mind" by JayZ, Alicia Keys and Kanye West and "Friend Like Me" by Will Smith.
Class council members then participated in a game of "red light, green light" with Barsky, and the top four from each class — BB Ajlouny (12), Gordy Sun (11), Aaron Bao (10) and Terry Xie (9) — advanced to the final round. The sophomores quickly snatched a victory in this game.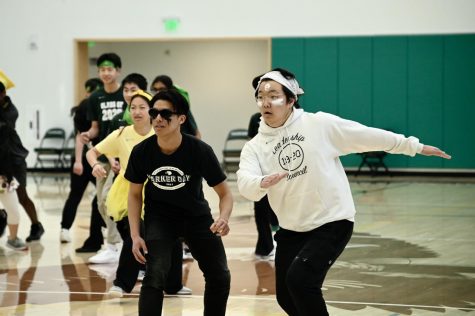 "My favorite part was 'red light, green light,' because Aaron really pulled through [for our class]," audience member Tiana said. "Overall, it was really fun, and it was really nice to be cheering for everyone.
The seniors then showcased their spirit dance, themed Los Angeles, choreographed by BB, Nick, Eileen Ma (12), Nupur Gupta (12) and Anja Ree (12). The remix included "California Gurls" by Katy Perry, "TiK ToK" by Kesha, "Beauty and a Beat" by Justin Bieber and other upbeat tunes.
Then, faculty representatives from each grade engaged in a game of "four square" to earn points for their class. Draper was eliminated first, followed by sophomore advisor Bianca Cung and senior advisor Justin Glass. Junior advisor Matthew Harley achieved a win in this game. 
Finally, Kallbrier and upper school community service coordinator and activities director Kerry Enzensperger announced past winners of the "Spirit of Spirit" faculty award before revealing Glass as this year's nominee.
HSLT members rallied up the total scores while Sawyer, Arjun and Daniel called up the class deans. In fourth came the frosh, third the sophomores, second the seniors and first the juniors. Kallbrier then dismissed students to their lunch period.
"My favorite part was when Aaron was in the final four for Red Light Green light and he ended up pulling ahead and winning," rally audience member Naiya Daswani (10) said. "All of us were just so excited and we were cheering because it was our first win over the [frosh class]. Spirit brings us all together because all of us are cheering each other on, and it's just the whole school community in one space where we're just having fun.