Harker Journalism staff members attend CSPA Spring Convention, explore New York City
NEW YORK — 14 upper school journalism students participated in the Columbia Scholastic Press Association (CSPA) Spring Convention in New York City from Wednesday to Friday. 
Students from across the country attended the convention at Columbia University, which consisted of three days of workshop sessions starting on Wednesday and concluded with an award ceremony on Friday. Sessions each lasted 45 minutes and were led by student editors and journalism advisers.
Harker journalism students led three sessions on Wednesday — "Afflicting the Comforted and Comforting the Afflicted," "New App: Newspaper Organizer" and "Humans of (Your School)" — along with one session on Thursday — "Jumping into the Deep End of Advising." Former adviser Ellen Austin joined current journalism advisers Whitney Huang and Kevin Oliver to present at the Thursday session.
The convention was attended by hundreds of middle and high school student journalists from across the country. Winged Post and Aquila Managing Editor Arjun Barrett (12), who presented at the "New App: Newspaper Organizer" session, noted how valuable the convention was to learning about the convergence of journalism and other disciplines.
"We're at a really beautiful campus in Columbia, and we're able to talk about all sorts of different things that pertain to journalism [at the convention], whether that be ChatGPT and how it's relevant to writing articles or ways to protect yourself from censorship by administration," Arjun said. "There are so many ways that journalism intersects with other fields, and we're able to explore those at a huge convention like this, so it's just been really fun."
The awards ceremony started Friday afternoon at 2:30 p.m. to honor the 2023 CSPA Crown Award Finalists, which were selected from a total of 805 publications. Prior to the convention, CSPA recognized Harker journalism publications Harker Aquila and the Winged Post as CSPA Crown finalists, as well as Harker literary magazine HELM.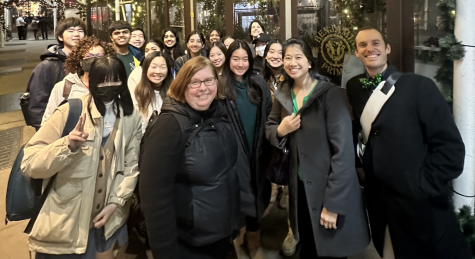 At the student awards convocation, HELM received a Silver Crown, and both Aquila and Winged Post received a Gold Crown. This is the "highest recognition given by the CSPA to a student print or digital medium for overall excellence" and "outstanding achievement in the writing, editing, design and production of a superlative student publication."
Throughout the three days of the trip, beyond just attending the convention, students and chaperones explored much of New York City. On Wednesday evening, they watched the Broadway show "Wicked" in Gershwin Theatre and on Thursday, they shopped and dined at Rockefeller Center before embarking on a night-time tour of the Empire State Building. After the CSPA convention ended on Friday, students shared dinner with Austin at Benjamin Prime Steakhouse. The group returns to San Francisco on a flight tomorrow afternoon. 
"The ambience of the city is a lot different from the Bay Area," TALON Student Life Editor Angelina Hu (11) said. "There are just a lot more people here, a lot of lights and tall buildings. [I liked] walking around the streets and seeing the architecture. I also liked going to Broadway, because the performance was just incredible and the stage, outfits and singing were just cool."
Harker will attend the JEA/NSPA Spring Journalism Convention in San Francisco in late April.