Public Health Club holds meeting about China's reopening, COVID-19 outbreak
by Emma Gao, Co-News Editor
January 17, 2023
The Public Health Club conducted a community discussion about China's lifting of its "Zero-COVID" policy in Main 2 on Friday during lunch. 
Co-president Fiona Yan (11) started the meeting at 1 p.m. and presented background information about the current COVID-19 outbreak in China. She traced China's history in tackling the virus, from the Zero-COVID policy it adopted in 2020, which included mass testing, contact tracing, community-wide screening and strict travel restrictions, to the public protests in November of last year to the sudden relaxation of Zero-COVID at the start of December. 
"This is definitely one of the biggest issues in public health right now, both for people in China but also for [people] around the world," Fiona said. "Especially since a lot of people in Harker have been personally affected, I thought it was really important to provide a space for people to share their thoughts."
Sophomore Yifan Li, who attended the meeting, explains how her personal connection to this topic motivated her to participate in the discussion. She hoped to explore more perspectives on the issue in addition to the ones she heard at home.
"My parents have been very affected by Zero-COVID and the reopening, so they've been very vocal about their opinions at the dinner table and whenever they're talking to me," Yifan said. "I wanted to come and listen to other people's ideas as well and share my own ideas and maybe bring something home to tell my parents to see what they think."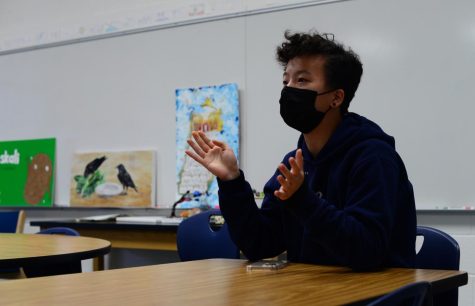 After presenting background information, Fiona, co-president Johnathan Mo (12) and vice president Justin Chen (11) led the attendees through six discussion questions. Participants considered advantages of the reopening, such as resuming economic activity and being able to visit family, as well as its disadvantages, including the way people currently lack information on means of protecting themselves. They also discussed possible reasons for the sudden relaxation of Zero-COVID, the lack of accurate data on infection rates as well as how the upcoming Lunar New Year celebrations, a week away, may exacerbate the severity of the situation.
"I thought the discussion was pretty productive," Yifan said. "Honestly, I expected a lot of the things, like Fiona had experiences similar to mine, which was expected because a lot of people have family back in China. I definitely did learn a lot more from the slideshow that they showed and also learned a little bit more about what other people thought of the situation."