From a fourth grader's dream to a professional basketball career
Robert Rothbart ('00) credits his experiences at Harker as a starting point for his basketball career
"I want to be a professional basketball player." 
As a fourth grader, Robert Rothbart, who graduated from the Harker middle school in 2000, already knew what he wanted to become. From his time playing on Harker's basketball team to playing for teams in Europe, Rothbart never lost sight of his childhood goal. His years at Harker shaped his future through invaluable life lessons of perseverance and hard work, while simultaneously pushing himself to his fullest potential through the intense environment and rigorous teachers. 
Born in former Yugoslavia, Rothbart moved with his parents to Israel at the age of six before relocating to the Bay Area two years later. He began attending Harker in fourth grade after his mother landed a basketball coaching position at Harker. 
"[On] my first day at Harker I literally didn't understand what people were saying," Rothbart said. "I could understand conversationally, but in the classes, the academic level was so high. English-wise I was very much behind — everything was just difficult academically."
Rothbart recalls the first two years as being the most challenging time as catching up to his peers' academic levels was tough. He would stay up late into the night finishing his homework with his parents' help.
"I know Harker taught me a lot about myself and my ability to perform," Rothbart said. "It made me think that way about sports as well. It made me think, 'Okay, you need to be better than the rest of the people around you [in] sport[s].'"
Rothbart joined Harker's basketball team immediately, as his mother and father were both former professional basketball players. His time on the team spurred his ultimate goal to play professionally in the future.
"It was my first experience of playing team basketball," Rothbart said. "I decided at the age of fourth grade at Harker [that] I wanted to be a professional basketball player. Everybody knew that about me."
After transferring to other more basketball-focused high schools, Rothbart received scholarships to play in college from several schools, such as Stanford, UCLA, Berkeley and Indiana University, but decided to enter the NBA draft instead, following his dream to be an NBA player. 
"I had gone through the draft process of working out for different teams in the NBA," Rothbart said. "[The] teams had said that they [would] take me at the end of the first round [or] maybe at the beginning of the second round, which wasn't really what I was looking for. And the reason was that I was a little undeveloped physically."
Despite not landing an NBA position, Rothbart moved to France to continue his basketball career by playing for Paris Basket Racing, a professional basketball club. After a year there, he went back and forth between playing in other countries in Europe, such as Poland, Bosnia and Herzegovina, Slovenia and Turkey, as well as Israel. 
Playing in Poland served as an especially notable experience for him as he progressively fit into the basketball community even though he did not know the language. 
"
Think about what it is that your passions are in life [and] what makes you happy. You'll find a way to make the world a better place if you look at it that way and try to develop yourself through hard work."
— Professional basketball player Robert Rothbart
"My first day in Poland the coach said, 'Am I going to speak English to 11 guys because of one guy who doesn't speak Polish,'" Rothbart said. "I said, 'No, speak Polish.' The idea was that basketball connects you. Right away, you hop into the locker room [and basketball] is the same no matter what country you go to [and] no matter what language."
Rothbart's experience playing in multiple countries enabled him to form new relationships with people who spoke different languages and held different perspectives. He credits his time at Harker, where he had to adjust to new circumstances, for helping him adapt more easily to every unique situation he encountered later on in his life. 
"Just like that first day at Harker, when I was so behind academically [and] the kids were so different than I was, I just jumped in," Rothbart said. "And so the way that [experience] changed me, being able to go to different countries and accept the variables, but [at the same time] have some stability. My childhood helped me to be more adaptive to those differences."
Amongst this skill that he learned from Harker, Rothbart recalls the most important lesson that Harker taught him. His eighth grade English teacher, Sylvia Harp, made a lasting impact on his adulthood. During his years at Harker, she was known for being a tough teacher, one that many of his classmates feared.
"The way that she spoke to you – it was so strict," Rothbart said. "She demanded 100%. She'd call you out if you wrote something or you said something [wrong]. Nobody talked out of [line and] not one time did she have to give anybody a warning."
However, years later, he cherishes the experiences from her class. Her classroom rigor prepared him for his future basketball career and inspired him to realize the value of working harder than his peers. 
"The level she set for us at Harker, it set me up for success," Rothbart said. "She taught me qualities that later I would apply to professional basketball – when my teammates would be out vacationing, I would be at five in the morning working out. Ever since I graduated from Mrs. Harp's eighth grade class, I've seen such a high level of thought and approach to life."
Alongside his basketball pursuits, Rothbart continued his studies, graduating with Summa Cum Laude honors from Arizona State University business school. Even now, while he writes for a hedge fund and works at his own consulting company focused on investment consulting, he implements the lessons he learned from Harper.  
"When I write as an analyst, Mrs. Harp [is] still in my mind telling me, 'That word shouldn't be there, it's not giving any meaning,' or different things that she used to say to teach us how to write," Rothbart said. "She [had] a huge impact on my life."
Rothbart's gratitude towards Harker and the school's community for the opportunities and experiences that they gave him as he pursued his dreams of playing professional basketball still remains. He encourages high school students to think beyond just what college they aspire for and to think about who they want to be and how they want to contribute to the world.
"Think about what it is that your passions are in life [and] what makes you happy," Rothbart said. "You'll find a way to make the world a better place if you look at it that way and try to develop yourself through hard work."
Correction: A previous version of this article misspelled "Sylvia Harp" as "Sylvia Harper." The article was updated on Jan. 5 to correct this error.  
About the Contributor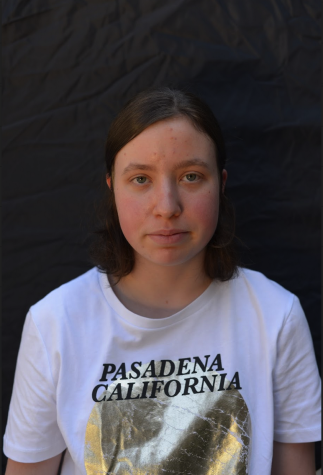 Emma Milner, Assistant Sports Editor
Emma Milner (10) is an assistant sports editor for Harker Aquila and the Winged Post, and this is her second year on staff. This year, Emma wishes to write...