Shattering the integrity of a centuries-old sport
Chess Grandmaster Hans Niemann accused of cheating in over 100 games
In a sport where players take their focus and concentration to their limits, where games between professionals often last for hours on end, even a single misstep could make the difference between victory and defeat. So what happens when one of the sport's fastest rising players is accused of using chess engines to become an omniscient powerhouse, immune to any misjudgements or errors?
Online chess site Chess.com released a 72-page report on Oct. 4 accusing Chess Grandmaster Hans Niemann of unfair play in over 100 online chess games in his career. The report came after Magnus Carlsen, World Chess Champion title holder since 2013, withdrew from the Sinquefield Cup, a prestigious 10-player tournament held in St. Louis, Missouri with over 350,000 dollars of prize money on the line, and released accusatory public statements on Twitter. In response, Niemann filed a $100 million lawsuit against Carlsen and Chess.com on Oct. 20 for the accusations.
Niemann experienced a rapid rise to prominence in recent years, performing well in over the board tournaments to achieve grandmaster status and compete in tournaments like the Sinquefield Cup. Although Niemann publicly admitted to cheating in online chess games in the past in a video interview, no definitive evidence shows that he has done so in an over the board game. The report states that Niemann cheated additionally in many more games based on his past performance and unusually rapid rise in rating. Following a Chess.com investigation, the site banned Niemann and recently removed him from participation in the Chess Global Championship, an online competition Chess.com hosts with a one million dollar prize. 
"Overall, we have found that Hans has likely cheated in more than 100 online chess games, including several prize money events," the report stated. "He was already 17 when he likely cheated in some of these matches and games."
With computers now able to beat even the most dedicated of grandmasters, the advent of technology has ushered in a new era of chess, in which online cheating is drastically more prevalent and accessible. Sophomore Vyom Vidyarthi, a competitive chess player with a United States Chess Federation (USCF) rating of 2450 and International Chess Federation (FIDE) rating of 2400, a titled International Master, commented on the rise of chess cheating. 
"Online cheating has become a big problem," Vyom said. "It's really easy to do, considering that computers are much stronger [chess players] than any humans. But in person, especially in these big tournaments, it's much more complicated. It usually doesn't come up, so it's surprising for something like this to happen."
The incident sparking this controversy occurred during the third round of the Sinquefield Cup on Sept. 4, when Niemann beat Carlsen using the black pieces, which move second, becoming one of the only players rated under 2700 to ever do so. Carlsen immediately withdrew from the tournament after the round, initially refusing to comment on his decision. Later, on Sept. 27, he released a detailed statement on Twitter summarizing the rationale behind his withdrawal.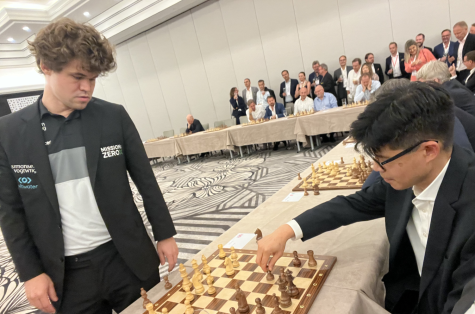 "I believe that Niemann has cheated more — and more recently — than he has publicly admitted," Carlsen wrote in the post. "I had the impression that he wasn't tense or even fully concentrating on the game in critical positions, while outplaying me as black in a way I think only a handful of players can do."
In his statement, Carlsen also voiced his concerns on unfair play damaging the integrity of the game, urging tournament officials to enforce security measures and cheating detection in over the board settings. Chess Club advisor Chris Gatto echoes Carlsen's sentiments of dealing with cheating's increased prevalence.
"[Cheating's] gone as far as certain players having a buzzer giving them signals or having an outside observer give them a signal of what the right move would be," Gatto said. "It's interesting because when I played competitive chess in high school, there were no real rules regarding where you could go or when you could use cell phones during tournaments. Cheating at that time wasn't something that was policed in any way, but it sounds like now there might have to be stricter regulations."
Additionally, Carlsen also resigned to Niemann after moving just once in a separate game during the online Julius Baer Generation Cup on Sept. 19, fully establishing his stance on the prior scandal and emphasizing his belief to the public that Niemann had cheated.
"I think Carlsen [is] trying to make more of a symbolic statement by resigning after one move, and I think he achieved his goal of just trying to bring attention to the issue," Gatto said. "Going forward, I don't know if resigning would be an appropriate action, but it seems like in this case Carlsen did it to garner attention and was successful."
While Chess.com banned Niemann from their site and future online tournaments, FIDE has not found any evidence of his cheating in over the board events. Despite the lack of evidence, public opinion has turned against him. Niemann's $100 million defamation lawsuit on Oct. 20 states that Carlsen, Chess.com, its chief chess officer Daniel Rensch and grandmaster Hikaru Nakamura jeopardized his chess career with their discussions of his alleged cheating. Since their accusations were made public, Niemann says, scheduled games have been canceled and he has been removed from several prestigious tournaments. 
"
It's pretty much an existential threat to the game. If everyone's cheating in chess, there's no way to truly enjoy the game for what it is and learn and grow as a person.
— Atri Banerjee (12), Chess Club president
"Online, where it's been proven to as much certainty as we can that [Niemann has] been cheating, it's good to restrict him from tournaments," Chess Club president Atri Banerjee (12) said. "But in person, the only thing they can do is try to improve anti-cheat measures, but continue to let him play because [he is] innocent until proven guilty. I think we just have to continue with the assumption he's innocent."
According to Niemann and the lawsuit, the defendants have caused "devastating damage to his reputation, career and life." Although there has been no public response to the lawsuit, the case will most likely go to court in the following months. Atri views the lawsuit and the possibility of cheating as formative to the future of chess. 
"It's pretty much an existential threat to the game," Atri said. "If everyone's cheating in chess, there's no way to truly enjoy the game for what it is and learn and grow as a person. I think cheating is the most serious issue in chess."