Varsity girls volleyball swings it away at second annual Spikefest
by Yifan Li, TALON Reporter
October 31, 2022
Varsity girls volleyball attended the Milpitas Spikefest II Tournament away at Lincoln High School San Jose and Wilcox High School, finishing with a record of 2-3 on Oct. 22. 
The tournament spanned over a 12-hour day with the team switching between refereeing and playing various high schools. The Eagles started the day strong against Andrew Hill High School with a 17-0 serving run by Rachel Ning (12) in the first set. With an unbending offense, the team won the match in two sets, 25-15 and 25-14. 
"They were able to handle their business really well," Head Coach Theresa "Smitty" Smith said. "I was worried about today because [the last few days] took a lot out of them. This day, in and of itself, is a long day; it's hard to stay on point from seven o'clock in the morning till seven o'clock at night. But, I'm proud of the girls and I'm happy with the fight."
The second game against Santa Cruz High School proved to be a difficult fight for the team. Santa Cruz had tenacious blockers and hitters that gave some trouble to the Harker defenders. Although Harker was able to slowly adjust, Santa Cruz ultimately took the match in two sets, 12-25 and 20-25. 
"Our service was better and there were only a couple of times where we missed," player Vivan Bi (12) said. "We kind of struggled with [unforced errors]. I think our offense is pretty good, but because they're pretty big girls, we need to play smart and put our hits in good areas."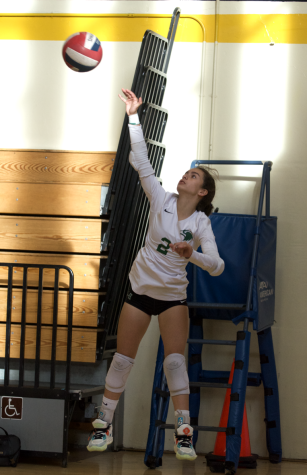 The Eagles dove into their third game against Lowell High School from San Francisco, starting off with renewed energy and then entering a stalemate in score with their opponent. While diving to pick up a ball, Nat Tan (9) hit her head on the ground, leading her to step out of the game for the rest of the set. After, Lowell was able to pull ahead with solid blocks and defense and won 20-25 and 22-25. 
"I think we're all a lot closer since [the first Spikefest on Sept. 3]. We've known each other for so long, everyone's a lot closer and our bond is stronger and the team dynamic [on the court] is different," player Brooke Kubose (9) said. "Honestly, [besides winning] I just want us to have fun. Play well, play our best, play our own game and don't go down to the opponent's level. That's what matters." 
With a 1-2 record, Harker advanced to the Blue Division Playoffs, the fourth division in the tournament. The team relocated to Wilcox High School at 2:30 pm and began playing Lincoln High School San Francisco. The first two sets ended head to head, full of riveting rallies and swings from both teams resulting in both sides taking one set 25-27 and 27-25. In the third set, the game paused for a series of contested referee calls causing Harker to lose momentum, and the girls eventually lost the third set 15-3. 
"The energy on the bench was very strong," Brooke said. "We need to call [the ball] a bit more and communicate. We get frazzled sometimes and we just need to be able to reset and restart after losing a few points."
To close off the day, the team played Pioneer High School. Harker was able to overpower Pioneer with their well-placed swings and solid defense, and they took the game quickly at 25-11 and 25-15 and finished second in the Blue Division.
"We traditionally just played in the one [Spikefest] and then we played another tournament somewhere else," Smitty said. "A lot of the top seeds have already done other tournaments so they don't come to [the second Spikefest], so it's a bit different. There was a little up and down today, but I was really happy with the way we fought back in the games today and we hung in there." 
The team will participate in the Central Coast Section (CCS) quarterfinals on Nov. 1.