'This is so much bigger than just our publication'
The Pearl Post speaks to student journalists at JEA NorCal Media Day
PALO ALTO, Calif. – Hundreds of students rise to their feet in applause, all facing the three journalists on stage. The speakers, from the journalism staff of Daniel Pearl Magnet School in Los Angeles, experienced the highs and lows of scholastic journalism in just the last ten months.
The school's journalism adviser Adriana Chavira, former The Pearl Post News Magazine Editor-in-Chief Valeria Luquin ('22) and former The Pearl Post Features Editor Nathalie Miranda ('22) delivered a keynote presentation to student journalists and advisers at the Journalism Education Association (JEA) NorCal Media Day at Palo Alto High School today following the national attention surrounding censorship at their school.
Los Angeles Unified School District (LAUSD) implemented a vaccine mandate for staff members of the school district last year that went into effect on Oct. 18, requiring all staff to receive full COVID-19 vaccination. Daniel Pearl Magnet High School librarian Greta Enszer's decision not to receive the vaccine resulted in the school library's closure, which The Pearl Post reported on using the librarian's name in an article published in early November of last year.
"We're a really small school and there is a very small amount of teachers and staff members, so the absence of Ms. Enszer was very obvious," Miranda said during the presentation. "That in and of itself made it newsworthy because of the angle of the story with the effects of the mandate."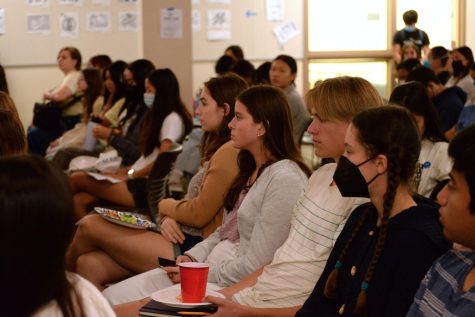 In December of 2021, Enszer requested for her name to be removed from The Pearl Post as she believed the article violated her rights under the Health Insurance Portability and Accountability Act (HIPAA). After contacting the Student Press Law Center (SPLC), The Pearl Post staff refused Enszer's request. One month later in January of 2022, the principal of Daniel Pearl Magnet High School echoed Enszner's request and received the same response from The Pearl Post, resulting in the threat of suspension for Chavira.
"If it was just up to me, I would have taken the name down, [and] I would have listened to them because I was scared," Miranda said during the presentation. "I didn't want Ms. Chavira to face any kind of punishment. It was also a good experience to learn how to rely on the other editors because without them, I would have been super stressed and overwhelmed. Communicating with them, talking about my concerns that I had was truly a lifesaver."
The school declared Chavira's three-day suspension in late May of 2022 and pushed it to Sept. 1. In response to the suspension, The Pearl Post staff published a news article and editorial on Sept. 6, sparking nationwide discussions on the controversy. On Sept. 16, the district rescinded the suspension.
California Ed Code 48907, or the California Student Free Expression Law, protects public school student journalists' rights to free speech and expression. In trying to protect herself, Chavira cited the Ed Code 48907 in the legal battle.
"
I realized that this is so much bigger than just our publication. If I could come and speak about this and encourage other student journalists, especially those who are just starting out in journalism, makes me more than content"
— Valeria Luquin, former News Magazine Editor-in-Chief
"There's a section of the Ed Code 48907 that protects advisers from retaliation," Chavira said. "That was added about 15 years ago. The Ed Code 48907 was actually added back in the late 70s, and [it's] the first such law for student journalists in the country. We're lucky we have this: it's giving you First Amendment protections."
Around 250 journalism students and advisers attended the keynote speaker presentation, which concluded with a question and answer session.
"Now that I'm a journalism student, I care a lot more about being censored, and it was so cool to see these editors stand up to a whole school district," Harker Aquila reporter and attendee Sid Sanghari (10) said. "Seeing them today in person, it was so cool to hear them and hear their true feelings from when they were there."
The JEA NorCal Media Day keynote presentation offered Chavira, Miranda and Luquin with the opportunity to share their story with California's student journalists and advisers.
"Once I was up here, I just felt even more empowered and supported," Luquin said in an interview after the presentation. "When I was on staff when it was first happening. I was more nervous and scared about the whole situation, and seeing the end result being what it is, I feel more encouraged by the journalism community, and I realized that this is so much bigger than just our publication. If I could come and speak about this and encourage other student journalists, especially those who are just starting out in journalism, makes me more than content."