Upper school Model U.N. kicks off the school year with mock conference
Over 30 middle and high school students attended the upper school Model U.N. Kickoff, an introductory event which replicates typical Model U.N. proceedings in a mock conference, from 4 to 8 p.m. yesterday in Shah Hall. 
A simulation of the United Nations, Model U.N. participants act as countries, research their policies and perspectives and try to solve international issues by collaborating with other students in creating a United Nations resolution. 
Participants at the kickoff ranged from returning members to frosh looking to explore new interests, like Aya Sugaya (9). 
"I really liked [Model U.N.'s] display at the club fair, and I wanted to try something new," Aya said. 
Secretary-Generals Krish Maniar (12) and Mir Bahri (12) began the kickoff with a short introduction of the Model U.N. organization at Harker before students split into committee sessions. After joining either the Economic and Social Council (ECOSOC) committee or the Disarmament and International Security (DISEC) committee, students received country assignments. 
Members of the DISEC committee considered the question of "how to prevent terrorists from acquiring weapons of mass destruction (WMDs)" in either moderated caucuses, in which students gave timed speeches on a given subtopic, or unmoderated caucuses, where students could negotiate and mingle, discussing objectives and thoughts in an open discussion. 
ECOSEC participants debated the global supply chain crisis, transportation issues and human trafficking in the same format as the DISEC committee, eventually passing two resolutions aimed at targeting these problems.
Following the committee sessions and a short dinner break, the students resumed their committee discussions and proposed and voted on resolutions — documents detailing what actions the U.N. should take on the assigned topic.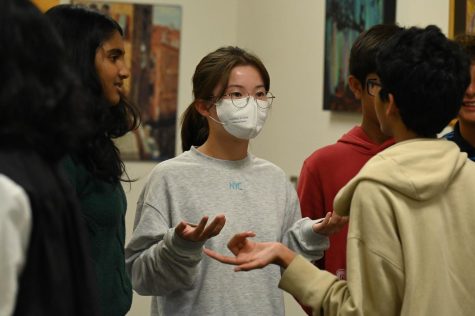 Returning member Sam Parupudi (10) cited meeting and interacting with the frosh attendees for the first time as one of their personal highlights of the event.  
"Being able to see how well [the freshmen] are adapting to things like [Model U.N.] and how much they already know about any given topic, watching them research their countries super quickly and come up with speeches on the spot was amazing," Sam said.
Mir also enjoyed the event, attributing its success to the participants' full commitment and noting his excitement for new members to experience and learn from Model U.N. 
"We had an amazing, wonderful turnout, everybody was super engaged in all of the activities," Mir said. "It seemed like everyone really enjoyed putting their best foot forward, and [they] took a lot out of it. I'm really glad that I could help people develop these skills that I think are so important and will serve them throughout their entire life."
Students interested in joining Model U.N. can email [email protected]om for more information.