Seniors round off last band performances at annual Evening of Jazz concert
by Sally Zhu, A&E and Lifestyle Editor
April 24, 2022
A powerful jazz melody erupts from the stage, notes flowing out of trumpets, vibrating through the strings of electric guitars and bouncing off of swinging drumsticks and into the audience's ears. The sounds from a variety of instruments — tenor sax and baritone sax, trumpet and trombone, piano and bass — mix in the air, combining together into a harmonious jazzy tune. 
Members from the upper school Lab Band and Jazz Band, along with the middle school Jazz Band, took the Patil Theater stage for the annual Evening of Jazz concert on April 14 at 6:30 p.m., a show with a total of 15 pieces and the last performance for senior band players. 
The show opened with a brief introduction by upper school instrumental music teacher Dr. Dave Hart, who leads the upper school Jazz Band and Lab Band, and Clark Brown, who directs the middle school Jazz Band. The 12 middle school students in their jazz band featured the alto sax, tenor sax, trumpet, clarinet, guitar, piano, bass and drum instruments and performed a total of three pieces: "Blue in the Closet" by Oscar Pettiford, "JoJo Calypso" by Jim Nadel and "Milestones (new)" by Miles Davis. 
During each of the three pieces, specific band members performed solos, and Brown recognized their names afterwards. As the middle school Jazz Band left the stage and members of the Lab Band gathered onstage, a group of four students, Varun Fuloria (10), Camilla Lindh (12), Aaron Tran (12) and Masha Velikhovskaya (11) played a rendition of "Danza Kuduro" by Don Omar as a transition.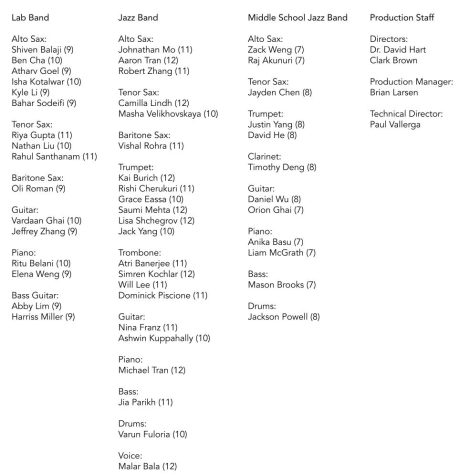 The 16 members of Lab Band, which consists of freshman, sophomore and junior musicians, took their places on stage as they prepared to perform five pieces: "Recordame" by Joe Henderson; "In Walked Horace" by J.J. Johnson; "Stolen Moments" by Oliver Nelson, arr. Ritu Belani (10); "Cheesecake" by Dexter Gordon, arr. D. Sickler and "Sidewinder" by Lee Morgan, arr. M. Taylor. The pieces ranged across a variety of moods, from slow compositions to active melodies, with each song featuring two to three soloists. Dr. Hart also joined the band on the drums for all of the pieces. 
In addition, Lab Band pianist Ritu composed an additional shout chorus, where each band member plays, for "Stolen Moments" and presented it to Dr. Hart and the band. In accordance with Dr. Hart's policy that the band would play any student-composed pieces, they performed the chorus at the concert after Ritu introduced the process for choosing and presenting the composition. 
"I think [performing] was really fun, especially since it's a bonding experience for the entire band, and it's been so long since we've done a bunch of in-person concerts," Lab Band saxophone player Isha Kotalwar (10) said. "My favorite piece was the last one we played, which is called 'Sidewinder.' It was a really fun piece, and I think everyone enjoyed playing that the most in class."
An intermission followed Lab Band's performances, during which audience and band members could move outside the Rothschild Performing Arts Center for cookies and refreshments. After 10 minutes, they returned inside, welcomed by the upper school Jazz Band already on stage. 
Jazz Band performed seven songs: "The Cheese that Time Forgot" by Dan Gailey; "In Your Own Sweet Way" by Dave Brubeck, arr. D. Rivello; "In a Sentimental Mood" by Duke Ellington, arr. M. Tomaro; "Polka Dots and Moonbeams" by Jimmy Van Heusen, arr. D. Wolpe; "Skylark" by Hoagy Carmichael, arr. J. Nowak; "Feeling Good" by Leslie Brucusse and Anthony Newley, arr. R. Holmes and "Sing Sing Sing" by Louis Prima, arr. M. Lewis. 
"[Evening of Jazz] was basically like a culmination of all the practices," said Rishi Cherukuri (11), who has played the trumpet for Jazz Band since ninth grade. "We finally got to show all the stuff they've been practicing throughout the whole year, and we got to play a lot more pieces than we usually play at any event, and that was really nice."
One of the songs, "Feeling Good," was brought to Dr. Hart by trumpet player Lisa Shchegrov (12), although it was not a traditional piece for the band. Furthermore, for "Polka Dots and Moonbeams," "Skylark" and "Feeling Good," choral student Malar Bala (12) joined the band to add vocals to the instruments. 
For Kai Burich (12), who has played the trumpet with Jazz Band since his freshman year, the best part of the concert was performing a solo with Malar, his first-ever solo on-stage, to "Skylark." As the last performance for the band's seven seniors before they graduate, Kai recognized the journey he has had with Jazz Band over the years. 
"I'm happy that I've had this opportunity to play with all of [Jazz Band] and at different locations like Disneyland and in our beautiful theater that we're lucky to have, and I'm happy that I've had this time with all of them," Kai said. "I think it's been one of the most important aspects of my high school career."
At the end of the songs, Dr. Hart specifically acknowledged each of the Jazz Band seniors: Kai Burich, Simren Kochlar, Camilla Lindh, Saumi Mehta, Lisa Shchegrov, Aaron Tran and Michael Tran, along with Malar Bala. He delivered a small speech for each of them, recognizing some of their unique qualities and musical skills. The seniors lined up on stage as younger band members brought each of them a bouquet of flowers as a gift. 
As per Jazz Band tradition, the seniors closed off the night by performing solos for "When The Saints Go Marching In," on their individual instruments, earning their official "jazz diplomas" to graduate from the band. 
"[There were] a lot of mixed emotions. Obviously, I'm super happy that I've had all this time to play with such amazing people and musicians," Kai said. "I love everyone in the Jazz Band, and that's why it's super sad. I'm happy that they're gonna have the chance to get better and have new people join, but at the same time, I don't want to leave. I want it to be the same people forever just because I have so much fun in that class."