Meet your teacher: Excavating upper school history teacher's world
Upper school Latin and world history teacher preserves the past through tangible collectibles
Bright green, pink and yellow orange squeezers; teapots from Finland from the 50s and 60s and mid 19th century Victorian Age relics of urinals are a combination of objects you'll most likely never find together. That is, except in upper school Latin and world history teacher Clifford Hull's home. Memorabilia extends into his classroom as well. Entering Main Room 1, your eye is drawn to the vibrant red "no smoking" signs that playfully pepper the edges of the whiteboard. A closer inspection reveals that each sign originates from a different part of the world, ranging from Korea to Greece. Language suffuses his classroom; language hangs in the classroom, literally.
These objects that Hull has collected over the years — from his upbringing in South Africa, his time spent serving in the military and his journey across the United States — all fascinate him. Hull limits storage to his study at home and his classroom, meaning that he must be deliberate in choosing which items to keep.
"When I lived in South Africa, I moved from town to town, and then I moved to the United States and also moved from town to town," Hull said. "I've been thinking about this quite a lot: what makes someone a collector? I think it's that I have an emotional connection with the things I collect. I can remember the objects I bought, I can remember where they are from."
These artifacts serve as a time capsule, documenting moments in his life that Hull will remember forever. They allow him to capture the minute details, such as the antique store that he visited when he purchased the object. For Hull, every object tells a story, every object holds a place in his heart.
"When I show students the objects that I have, I tell them the story," he said. "Yesterday, I told [my class] about the Korean 'no smoking' sign that a student gave me. That's always going to be the story. I'm always going to think of this specific experience in the future when I look at that."
Much of the curricula Hull teaches focuses on the past, on the histories of people and culture and language, on things that students cannot go back and experience. Yet through his artifacts and collectibles, Hull brings the history to his students in a tangible way.
When teaching about slavery in the United States, he pulls out signage that he collected from Alabama. Students often see photographs of these signs, but Hull allows them to touch and hold the signs to elevate their experience. Further, Hull shows race-discriminating signs from the United States in contrast with apartheid signs from South Africa, the observable similarities in signage serving to reinforce the idea of slavery and discrimination as a universal issue. And when he discusses the Stone Age in his world history classes, he passes around ancient tools for students to feel.
"It's the first time that students visually see stone-age tools: feeling it, putting them in their hands," he said. "I show my students one tool where you are going to see the fingerprint of the person who made it, a fingerprint of someone from 1500 years ago. And so when I show it, you're going to see that transformation, think[ing] back over the time."
In the classroom, Hull emphasizes not only the study of history and language but also an open perspective, helping his students see more of the world through the anecdotes and artifacts he has collected over the years. These students remember his stories as moments that taught them about the world and carried the stories with them throughout their years beyond high school and college.
"Students come back to me after 10 or 20 years, and they'll say, 'Mr. Hull, thank you for all the Latin you taught us, but thank you also for teaching us about life,'" Hull said. "That to me has always been a reward so that they go into life knowing that life can be an adventure, but if you don't watch out, it can also have traps."
Hull's role as a collector and a teacher of history and language and his hobby of reading all connect to this fascination with the past. To hold the past tangibly, Hull trained as an archeologist and has saved numerous artifacts that he dug up while he was excavating in Israel through the University of Maryland's Caesarea project and a grant from the National Endowment for the Humanities. Continuing with the theme of tangibility, he co-authored "Latin for Dummies" to disseminate Latin as an accessible language, and he currently teaches Ancient Greek to any student or faculty who wants to learn it in his room on Tuesdays from 3:30-4.
Outside of the classroom, you're likely to find Hull immersed in literature, voraciously reading centuries-old books that he has collected, including Latin books from the 1500s and 1600s. His interests range from the Second World War, which he has a personal connection with and a passion for, to inventions from the 19th and 20th centuries.
"My dad was shot in the Second World War and died of his wounds 20 years later so, for me, it has been really interesting to find out more about that," Hull said. "I also am passionate about reading about history, especially about the United States in the 19th and 20th century, because so much was happening here: the invention of the car, the invention of electricity, flight, even bicycles."
"
People asked me, 'If you knew back then what you know now, would you become a Latin teacher?' I say 'Absolutely.' Every day I come to school, I learn something, if not about life, I learn something about myself or learn something about my students.
— Latin and world history teacher Clifford Hull
Currently, in his 43rd year of teaching, spending time with students continues to bring Hull joy and teach him new things in a world that is changing so quickly, swaddling him in the cocoon of learning. His biggest reward in teaching is the "Aha!" moments when students realize something new, their faces bright and shining even as they try to contain their wonder and excitement. Learning from students' discussions and insights and questions, Hull embraces their thoughts, reciprocating with his own "Aha!" moments of thinking about a situation in a new light.
"People asked me, 'If you knew back then what you know now, would you become a Latin teacher?'" Hull said. "I say 'Absolutely.' Every day I come to school, I learn something, if not about life, I learn something about myself or learn something about my students."
Even his music taste is influenced by his career in teaching, by his students. When he started teaching in the 80s, he heard what his students were listening to and started adopting the same taste in music, enjoying folk-rock musical groups and bands such as Crosby, Stills, and Nash, Green Day, 10,000 maniacs and dance-pop singer Alanis Morissette. In his classroom during mornings and breaks as well as at home, Hull plays these songs in the background.
His students feel Hull's unwavering passion for education, history and language. Angela Jia (12) first had Hull as a teacher for AP Latin during upper school Latin teacher Scott Paterson's paternity leave, and since then, has taken all of Hull's post-AP Latin courses. Angela credits Hull for fueling her desire to continue pursuing the classics in college and beyond.
"Mr. Hull just amazes me with his unbelievably infectious passion for Latin and his vast knowledge of etymology too," Angela said. "Not just that, he's just an upstanding, amazing human being and someone I can talk to so easily. He's the kind of teacher that makes you want to keep studying a topic forever."
Upper school history and social science teacher Johnathan Rim started teaching full-time in 2019 after substituting for Hull's world history classes. Through his transition, Hull mentored him and supported him, and Rim was struck by his kindness, intelligence and how polished and accomplished he was.
Beyond this, Hull talked to his fellow faculty members with a great openness to learn and listen from them and spoke jovially, making everyone crack up and smile — moments that are as sweet and happy as the caramel Hull enjoys making from scratch, boiling condensed milk over water and letting it cool down through the night, a skill he picked up from his childhood in South Africa.
"He's very warm-hearted and funny, he makes me laugh [during our conversations]," Rim said. "He has so much energy and passion for teaching and he's very diligent, doing the legwork of laying out lesson plans and study guides [for our department]. He's our rock, our foundation. [Upper school world history teacher Karen Haley] and I always joke that we're going to retire when he retires."
A backward clock and an upside-down map hang from his classroom wall, next to the "no smoking" signs, all of it strange and captivating. Most of all, Hull is a storyteller. A historian of his stories: his own and those passed down through the ages, etymological and etiological stories. A classicist. An eternal optimist who sees the good in the people around him. He wants his students to think about things, to think deeply.
"Mr. Hull has the most beautiful South African accent, so when he tells stories, first of all, he has this gravitas in his voice that's so captivating," Angela said. "The tone itself mesmerizes you and then the content is something you have never heard before, and that's fascinating, too. He always believes in every one of us. He's always optimistic about the future. He's optimistic about what he teaches. "
Being left-handed, he has had to look differently at objects like scissors and ice cream scoops made for people who are right-handed and wants to help his students understand how they can look at the world and their futures in new ways.
"I have an interest in history, but I look forward to the future and back into the past as well," Hull said. "And I live for the present."
About the Contributors
Sarah Mohammed, Winged Post Co-Editor-in-Chief
Sarah Mohammed (12) is the co-editor-in-chief of the Winged Post, and this is her fourth year on staff. This year, she is excited to help make beautiful...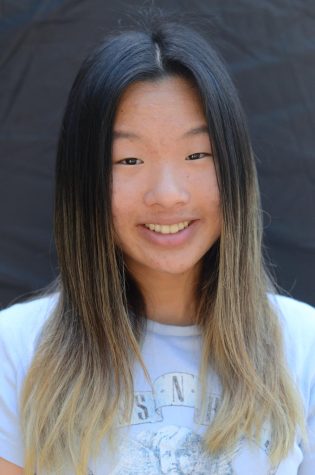 Tiffany Chang, Humans of Harker Editor-in-Chief
Tiffany Chang (12) is the editor-in-chief of Humans of Harker, and this is her fourth year on staff. She's looking forward to telling the story of the...