Students attend class-respective LIFE speaker events
Content warning: This article mentions the topic of suicide.
"There was a 17-year-old girl who texted her boyfriend, encouraging him to act on his suicidal thoughts. Was this criminal?" Skadden Law Firm associate and Harker alumna Colleen Lee ('06) said.
Freshmen from upper school physics teacher Dr. Mark Brada's advisory discussed the prompt and arrived at a conclusion, sending their answer to Lee through a Zoom poll along with the other freshman advisories. 
The LIFE Board, which stands for living with intent, focus and well-being, organized four separate events for each grade to attend from 11:10 to 12:10 a.m. on Nov. 12. The events targeted each grade's specific needs such as the legal side of social media, reflection on opportunities available after high school, adolescent development and preparation for college.
The freshmen event took place over Zoom with students listening to the talk in their advisories. Students participated in the virtual event by answering Zoom poll questions regarding cases of sexual violence and hate crimes that were both propagated by social media. Lee aimed to provide students with the proper resources and ideas to respond appropriately should they find themselves in these situations. 
"
A lot of the teens that I work with are really struggling with being back in person. How do you navigate in the world again, advocating for yourself and being aware of what [choices you need to make]?
— Charis Denison, adolescent development and community involvement expert
Jason Shim (9) believes that cyberbullying and online harassment are direct results of how society's way of expression is embedded in social media. The meeting also served as a reminder to him of the inherent issues with freedom of speech and how society is influenced by gender stereotypes.
"I learned how problematic in a way free speech is," Jason said. "It's a constitutional right, but there's always going to be one or two people who have dangerous opinions. The meeting [also] caused us to reevaluate our place in society because right now, it's been built over gender norms that aren't very healthy."
Upper school academic dean Kelly Horan led the "Exploring Your Options" event for the sophomore class. During the assembly, she gave a presentation addressing the challenges of which colleges to choose to apply to and which career paths to take after graduating. 
Horan started by asking students to reflect on where they would be in the next five years, prompting them to think about their options after high school. Afterward, she held an open-ended discussion about preparing to apply for a college.
"Worry less about which colleges want to choose you, and start thinking about which colleges you want to choose," Horan said during the assembly, encouraging students to prioritize their own interests over any specific college.
Horan then introduced students to multiple resources such as BigFuture, a website that aids high school students in finding a suitable path to pursue after graduation. After the assembly, students joined their advisories to discuss the assembly and familiarize themselves with the resources provided. 
"I feel like the LIFE assembly gave me some really useful advice and resources to help me narrow my search for colleges to consider," Zihua Wang (10) said.
Charis Denison, an expert in adolescent development and community involvement, gave an in-person presentation to the junior class about "Relationships, Substances, Sex, Communication, and Your Rights." She previously spoke to the class two years ago, when they were freshmen. 
"It was really a developmental talk," Denison said. "What we talked about is what I spend the whole time with freshmen talking about, but I make it more developmentally appropriate, where I just really talk about situations that you get into that you aren't expecting."
The pandemic influenced what Denison included in her presentation, as she tried to highlight the challenges students were commonly facing as they returned back to in-person school. 
"I really emphasized coming back in person," Denison said. "A lot of the teens that I work with, which are hundreds and hundreds and hundreds, are really struggling with being back in person. How do you navigate in the world again, advocating for yourself and being aware of what [choices you need to make]?"
Denison used a variety of activities to engage the students, such as asking them to stand up if they had experienced specific situations and prompting them with questions. She also requested that adults, aside from a counselor, leave the room before her speech in order to maintain student confidentiality. She hopes her speech reminded students that they have power in their own lives and have resources such as trusted adults they can reach out to.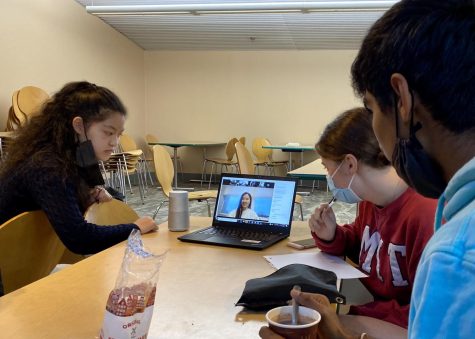 Seniors attended "Navigating College and Transitions," a Q&A session over Zoom set in their advisories, with Harker alumni Shea Tuli ('18), Cristian "Mishu" Nitulescu ('18), Kelsey Wu ('19), Olivia Esparza ('19), Emiko Armstrong ('20) and David Feng ('20). The senior class council moderated the session by reading questions from students submitted through an anonymous form. Chair of the senior council Yejin Song (12) saw value in having the senior council lead the discussion with the panelists.
"[The council] agreed that u moderating it versus adults doing it would be more helpful because we have the perspective of knowing what kinds of things we are looking for and want to know more about," Yejin said.
The alumni panel discussed advice regarding making friends in an unfamiliar environment, selecting a major and related career option, choosing a suitable school, learning the skills for living alone and cherishing the rest of senior year. 
"Our questions came from a position of being stressed and anxious about college," Yejin said. "It made me feel comforted that, whether it's academics, social life or living alone, it's something that we'll probably be able to figure out just as [the panelists] did."
Throughout the school year, the LIFE Board aims to educate high school students about health and wellness. They achieve this intention through speaker events and student-led discussions. Board member Malar Bala (12) reflects on the importance of LIFE's speaker events as they allow students to explore ideas and concepts existing outside the school community.
"At Harker, a small school, sometimes it's easy for a singular perspective or idea to be absorbed by all," Malar said. "Bringing in a speaker who has done this so many times and is largely effective at talking about topics that people need to hear is the most engaging way that those ideas could be put across to students."
For free and confidential support, call the National Suicide Prevention Lifeline at 800-273-8255.