Diplomatic debate: Model UN inspires collaboration with kickoff event
by Selina Xu, Dilsher Dhaliwal
September 24, 2021
Have you ever wondered what goes on behind the doors of Model UN? Or how members develop the skills to become diplomats and top global leaders? Harker's Model UN knows. 
Around 30 middle and upper school students attended the Harker Model UN Kickoff on Saturday from 10 a.m. to 2 p.m. in Shah Hall, organized by the Model UN leadership team and upper school civics teacher Carol Green.
During the event, students took on roles with specific perspectives and attempted to solve international issues. The Kickoff was held to both educate members about Model UN and simulate a real Model UN conference, and it was the first of many conferences to take place in the school year. 
Following an opening ceremony, members attended 2.5-hour committee sessions split into two groups: a fictional committee based on an imaginary high school on Mars and a realistic committee debating how to combat QAnon disinformation. 
"
I think the students were all engaged and it was amazing how everyone was always communicating with each other.
— Krish Maniar (11), Deputy Secretary-General
"I think the kickoff went great," Deputy Secretary-General Krish Maniar (11) said. "We had lots of students turn out, we had 100% attendance based on our sign-ups, which is awesome. I think the students were all engaged and it was amazing how everyone was always communicating with each other."
Sessions held a combination of moderated caucuses, short speeches addressing all members and unmoderated caucuses, where delegates discussed and formed resolutions. At the end of the sessions, members presented their potential resolutions to the issue at hand. Students developed their critical thinking and leadership skills while collaborating with others who either shared similar ideas or held opposing viewpoints.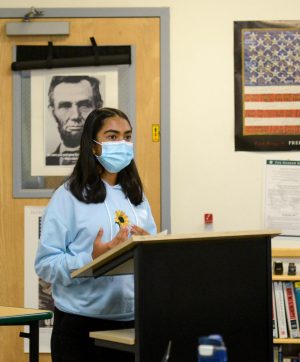 "One thing I liked was the topic because it's more imaginative," said Saahira Dayal (9), who represented the Martian Language Department in the fictional committee. "I know the real Model UN topics would be more related to countries, but in general, it's really interesting to play a role that you would never have thought of before and look in that perspective."
The Model UN team has been preparing for the event since late summer, working to find engaging and relevant topics and organize guidelines for students to follow even while having to work virtually during the pandemic.
"[Doing] Model UN virtually, we got a lot of sign-ups, but the problem was we didn't really get that feeling of being in-person," Krish said. "When people are in-person, they can work together, write notes and create directives together, but when you're virtual—people are on mute, [and] it's kind of hard to talk."
After the committee sessions, members enjoyed lunch, snacks and group games such as mafia. The kickoff ended with an award ceremony celebrating members who excelled in their sessions. 
This year, Model UN is planning on expanding its membership through conferences held by other schools in the area, such as BearMUN at Berkeley and the Stanford MUN Conference, as well as more casual and fun events like mini-conferences and discussions held after school. 
"The world needs more diplomats and more leaders, more people interested in international issues, because [there are] way more of them now," Under-Secretary General Josh Field (12) said. "We need more people focusing on those issues, focusing on speaking diplomatically and trying to have relations with people [they] might fundamentally disagree with on everything in the world—but still being able to get things done."