Students work to break down stigma surrounding neurodiversity, educate community through interactive events
by Lucy Ge, Winged Post News Editor
March 26, 2021
Screen sharing her presentation and addressing over 780 upper school students and faculty, Stanford Neurodiversity Project Program Coordinator Isabelle Morris shared her experiences as an Autistic young adult and answered questions from the audience on March 11. 
The Neurodiversity Committee hosted Morris' speaker event along with three upper school events during Neurodiversity Celebration Week last week with the goal of promoting inclusivity and awareness for neurodiversity, which is defined by the Oxford English Dictionary as "the range of differences in individual brain function and behavioral traits, regarded as part of normal variation in the human population."
Having been diagnosed with autism spectrum disorder while on a leave of absence from Stanford her freshman year, Morris described her autism diagnosis as providing her with "a new perspective and a lens through which to see myself and the world." She also touched upon ways that schools can provide support to those on the autism spectrum.  
"A lot of it starts with culture, and making it just something that we're not afraid to speak up about," Morris said. "So for me, it's been several years of me learning how to use my voice and speak up for what I need."
After holding interactive activities on March 15 and March 17 to educate students and faculty on challenges neurodivergent individuals may face, the Neurodiversity Committee held a reading and discussion of an anonymous letter submitted by a neurodivergent faculty member on March 19 to conclude the week. Neurodiversity Committee chair Helen Zhu (12) hopes that educating community members on neurodiversity will serve as a stepping stone for fostering a more inclusive culture at the upper school. 
"A lot of times we overlook the things that people go through, or write things off as not important or like, 'Oh, it's something different that I don't have to deal with,'" Helen said. "But truthfully, neurodiversity is something that impacts everyone, whether directly or indirectly."
The Neurodiversity Committee, Student Activities Board and Student Diversity Coalition also hosted a Developmental Disabilities Panel featuring both Harker and non-Harker panelists on March 4.
Panelist and upper school history and social science teacher Damon Halback, who works with several autism awareness groups and whose son falls on the autism spectrum, believes that creating more flexibility beyond the usual "singular design for how we think about grading and performance" will especially benefit neurodivergent students.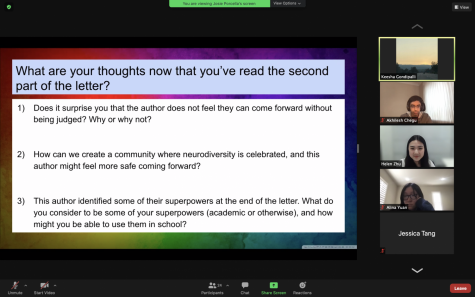 "The willingness to be flexible and experimental about different kinds of strategies, both pedagogical strategies and grading strategies, is a really important way in which Harker can be even better at what it already does," Halback said in an interview after the panel. 
Halback also emphasized the importance of students, teachers and administrators alike to move beyond raising awareness and towards helping establish structural changes.
"What benefits people that are underserved is structural changes," he said. "The things that maybe students should take away is that there are ways in which even student-run organizations can be reformed to be more conducive to participation for kids from neurodiverse backgrounds."
Another panelist, Harker learning specialist and Neurodiversity Committee co-advisor Josie Porcella, helps students identify their learning profiles and build self-advocacy to communicate their support needs to teachers. She notes that, due to Harker's fast-paced and rigorous curriculum, the school tends not to have many students on the more severe end of the spectrum for developmental disabilities. 
"That is really more why I was happy to be a part of that event, because it's important to remind people that there is such a broad spectrum of abilities, especially when we're talking about developmental conditions," Porcella said.
She also hopes that embracing neurodiversity will eventually go beyond a weekly celebration and become part of a more inclusive school culture. 
"There's still a lot of stigma within our community related to perfectionism," she said. "My hope is, with that continued education and over time, we can lessen some of the stigma that our students who do have diagnosed learning differences feel in taking advantage of the accommodations that they have a right to have."