Harker staff and students receive COVID-19 vaccinations, more scheduled this month
by Lucy Ge, Winged Post News Editor
March 2, 2021
With upper school faculty and students beginning to receive their COVID-19 vaccines, more Harker staff are set to be vaccinated in Phase 1B of California's vaccination plan. 
All education workers, including Harker teachers, administrators, kitchen staff and custodial staff, became eligible to receive vaccinations yesterday under Phase 1B. As of today, 18.9% of Santa Clara County residents ages 16 and older have received at least one COVID-19 vaccine dose. California's expansion of vaccinations comes amid the state surpassing 50,000 COVID deaths last week and over 3.4 million cases in California today.
"I was thrilled that teachers were finally included in the groups that can be immunized," Harker Director of Health Services Debra Nott said. "This is going to be so important for making teachers feel comfortable coming back on campus into the classroom."
Although some students have received COVID-19 vaccinations, the majority of Harker students are not yet eligible under Phase 1B. Additionally, vaccinations have only been authorized for individuals ages 16 and older: the Pfizer vaccine is authorized for ages 16 and older, while the Moderna vaccine and the newly authorized one-shot Johnson & Johnson vaccine are both for ages 18 and older. 
Phase 1B also includes workers in food and agriculture, emergency services and childcare. Phase 1A of California's vaccination plan includes healthcare workers and long term care residents, with Santa Clara County expanding vaccination to individuals age 65 and above in late January.
Director of Sports Medicine and Sports Performance and Head Athletic Trainer Jaron Olson, who was eligible to receive a vaccine as a healthcare provider, received his second shot the week of Feb. 15. As an athletic trainer who often works directly with athletes when responding to emergency or acute injuries, he feels thankful to have received both vaccine doses prior to many of the in-person sports starting up again. 
"I feel better knowing that I can be prepared to interact with athletes," he said. "In the job we do as athletic trainers, we're doing direct patient care. Although we might have to modify what we're doing this season, inevitably there's going to be closer contact in doing our job or being prepared to respond to injuries or emergencies."
Mass vaccinations sites have opened in various Bay Area locations in an effort to speed up the rollout of vaccinations. Santa Clara County mass vaccination site locations include Levi's Stadium, Santa Clara County Fairgrounds, Berger Drive in San Jose, Mountain View Community Center and Gilroy High School. Eligible individuals can book vaccine appointments on the Santa Clara County website. 
Alexandra "Alex" Baeckler (12) was eligible to be vaccinated as a veterinary technician working at the Acadia Veterinary Clinic. The California Department of Public Health classified veterinary workers as a subset of healthcare workers for Phase 1A of the vaccine roll-out in early January but then reclassified veterinary workers as eligible in Phase 1B.
Since she had already received her first dose of the Moderna vaccine in January, Alex received her second dose on Feb. 13 at the Santa Clara County Fairgrounds vaccination site. She has been working in close contact with three other clinic staff members each shift since the beginning of the pandemic, and being vaccinated has helped provide relief. 
"It definitely has helped me feel a little bit more at ease at work, because I work at least two times a week, so it's helped me calm myself and be less scared about getting [COVID-19]," Alex said. "But I'm still doing everything the same: washing my hands like crazy, masking, distancing and all of that."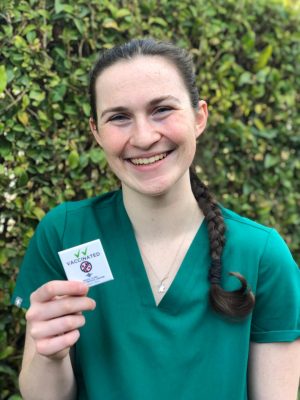 Upper school computer science teacher Susan King became eligible to receive the vaccine when Santa Clara County expanded vaccination to residents age 65 and above. She received her first dose of the Moderna vaccine in early February through Stanford Health Care and has an appointment for the second dose scheduled on March 7. In anticipation of experiencing stronger side effects from the second dose, King has set up lesson plans in the days following March 7 that would work even in her absence.
"About eight to 10 hours after I got my shot, I felt like I had the flu," King said. "I went to bed thinking, 'Oh my gosh, I'm going to be sick.' And I woke up at about 2:30 in the morning, felt fine. It was that short-lived, but it did indicate to me there's a possibility the second shot might be rougher for me. So that's why I'm planning my lesson plans around it."
Marcus Anderson (12), who works as a caregiver for an autistic child through the organization Quality Respite, was eligible as a health care worker and received his second dose of the Pfizer vaccine last Tuesday.
"Honestly, my outlook [on the pandemic] really has not changed because I still do not want to pass the virus to others," he said in an email interview. 
Starting March 15, students 16 and older with pre-existing health conditions will be able to be vaccinated. According to the COVID-19 Vaccination Tracker website created by upper school seniors Jason Lin, Claire Luo, Sara Yen, and Bowen Yin to make vaccine data easily accessible, 15.5% of all people in California have received at least one dose. 
Nott, who received her second vaccine dose on Feb. 13, is volunteering to administer vaccinations through the Santa Clara County Health Department at the Santa Clara County Fairgrounds. She notes that she strongly believes in the need for widespread COVID-19 immunizations.
"The immunizations are safe and it is our key to stopping the spread of not only the original virus, but in preventing the spread of variants and the development of new variants," she said. 
To sign up to be notified of when you can receive a vaccine, visit myturn.ca.gov.