Apex: Built for the game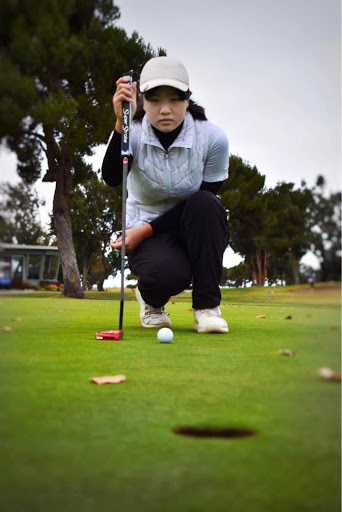 A silence settles on the rich green grass as the golfer steps up to putt on the last hole of the course. With her eyes fixed on the pristine cylindrical divot, she measures the distance between the hole and the small white ball at her feet. It was a good distance away but not a particularly hard shot for her. Taking a deep breath, she sets her feet and draws her silver club back, preparing to strike. Seconds later, the crowd watches as the club taps the ball, sending it gliding over the grass and towards the hole. All eyes are on the ball as spectators attempt to will it on, but she has no doubts about her putt. The silence that had enveloped the grass is finally broken as the ball rolls gracefully into the hole for a birdie, and the spectators burst into applause. Claire Chen (10) is the epitome of calm on the green.
Ever since her first tournament at the age of 10, Claire has worked towards becoming a sensational golfer, drawing on support from her family and inspiration from her favorite pro golf player Rory McIlroy.
"When I was little, I used to watch Rory McIlroy's swing. I grew up watching him, and I still watch him today. He's a big inspiration for me," Claire said. "Golf was more of a hobby back then because I played many other sports. It was just another sport. At my first golf tournament, I found out that I was better at golf than any other sports, and I've just moved on from there."
One of Claire's biggest skill advantages is her powerful swing. By utilizing her physical strength and refined technique, she is able to launch the ball further and cover more distance than most of her competitors. This ability in particular has caught the eye of her teammates.
"Despite all her accomplishments, I think it's her progression that's most impressive to me. In sixth grade she was decent. In seventh grade, she came back, and her swing was completely different. In eighth grade, she added length and strength to her ball striking that was unbelievable," Claire's coach since middle school, Ie-Chen Cheng, said. "Off the tee, she can hit it better than most of the boys. To get such a powerful swing at a consistent level is really difficult. Her progression from sixth grade to being one of the top five golfers in the state is incredible."
When she's not on the green, Claire displays her lively personality in her interactions with her friends. She's always willing to give tips to her teammates and be someone for them to lean on.
"Claire's a really fun person to be around. She's always making quips here and there for us, but as soon as she tees off, there's a single-minded determination that she has," teammate Jessica Zhou (10) said. "The feeling that you get from her makes you also want to concentrate and play your very best too. She's already playing her best. No matter what game it is, she puts in her all because the game itself is so important to her."
In addition to her physical strength, Claire's other asset is her mental toughness. Even in the most stressful of circumstances, she is able to maintain her composure and deliver her swings with ease. 
"When Claire's golfing, she's extremely calm. When she's competing she's completely focused, which is a really good strength to have in golf because you need to be mentally strong to play," teammate Tina Xu (11) said. "She's able to handle stress even though she might be nervous on the inside. I think she's built for the game."
But not every competition is as smooth as Claire makes it seem. When faced with difficulties, Claire analyzes any errors she made and is willing to work with others to further enhance her game.
"Recently, I went to a competition in Oklahoma, and the competition there was really strong. I've never gone to such a high-level tournament before," Claire said. "I found out what I needed to work on. Our training wasn't as efficient as it could be, and we learned from other players how to use new technology to improve my skills."
Above all, Claire's drive comes from within. She pushes herself to the limit in order to produce the best score possible, viewing mistakes as opportunities to improve and achieve greater heights.
"My coaches are always there with words of inspiration, but mainly I just want to get better. Looking at the scoreboard and not being where I want to be really motivates me," Claire said.
Although golf can be physically and mentally demanding, Claire's perseverance allows her to overcome any setbacks presented to her. After a couple of matches that didn't produce the results she wanted, Claire went on to place fourth in the American Junior Golf Association All-Star Invitational in July.
"I think a lot of people who play golf struggle mentally. If you play badly, it can really destroy your confidence," Tina said. "You just have to learn how to get back. Claire does a really good job with coming back."
Claire demonstrates her love for golf in every swing of her club and every hole she completes. Claire acknowledges the toll that golf often has on its players, but by reminding herself of her fascination with the game, she drives any fatigue away with determination.
"It's really easy to get burned out since you play the sport everyday and for so long. I often check in with myself and ask myself, 'Do you still love the game? Do you look forward to playing tournaments and getting out there?'" Claire said. "If you love the game, then you'll play really well. If you don't then there's no point to playing at all."