Community spread, local outbreaks of coronavirus impacts countries around the world
The Centers for Disease Control and Prevention (CDC) confirmed the first possible cases of community spread of COVID-19 in the U.S. last week in California, Oregon and Washington as well as the first six U.S. deaths from the virus, marking an escalation in the global outbreak of the novel coronavirus. 
Five additional COVID-19 cases have been reported in Santa Clara County as of March 1, bringing the total number of causes in the county to nine.  
A male patient in his 50s from Washington was the first reported death from COVID-19 in the U.S. Five other deaths have been reported from Washington as well. New cases in Rhode Island and New York have also been confirmed as of March 1. 
According to the California Department of Public Health (CDPH) Office of Public Affairs, the first individual who contracted COVID-19 via possible community spread lives in Solano County, 90 miles north from San Jose, and had no known exposure to the virus through travel or close contact with a known infected individual. Additional possible cases of community spread have been announced in another part of California, in Oregon and in Washington.
"This has been an evolving situation, which California has been monitoring and responding to since COVID-19 cases first emerged in China last year," said CDPH director Dr. Sonia Angell in CDPH's press release. "This is a new virus, and while we are still learning about it, there is a lot we already know."
"Community spread" is defined as the spread of an illness for which the source of infection is unknown. As of March 2, community spread of COVID-19 has been confirmed in China, Hong Kong, Iran, Italy, Japan, Singapore, South Korea, Taiwan and Thailand.
Last Friday evening, Harker's Director of Health Services Debra Nott notified all Harker parents via email that a lower school parent was exposed to a person diagnosed with COVID-19 on Thursday. 
The parent is currently undergoing voluntary self-quarantine, and their child will also stay home until the parent has completed 14 days of quarantine. Nott reports that neither the parent nor any member of their family is sick.
In a telebriefing on Feb. 25, the CDC announced that Americans should be prepared for the possibility of a nationwide community spread of the COVID-19 outbreak. According to director of the CDC's National Center for Immunization and Respiratory Diseases Dr. Nancy Messonnier, "it's not so much a question of if this will happen anymore, but rather more of a question of exactly when this will happen and how many people in this country will have severe illness."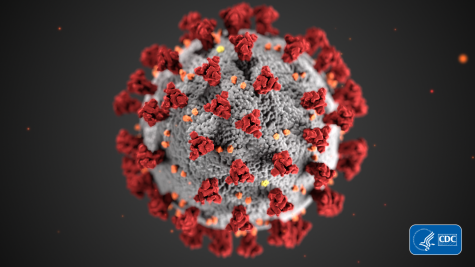 How severe is the risk level of a COVID-19 outbreak?
Last Friday, the Director-General of the World Health Organization (WHO) Dr. Tedros Adhanom Ghebreyesus announced that the global risk of spread and impact is now "very high," mirroring rising anxieties in countries around the world as the outbreak of COVID-19 impacts 50 countries in total.
"It is the spread of COVID-19 through other countries that makes all of us feel that the risk of spread in the United States, it is increasing," Dr. Messonnier said in the Feb. 25 telebriefing.
As of March 1, there are currently 16 CDC confirmed cases of COVID-19 in the U.S., 3 confirmed cases of patients repatriated to the U.S., and 45 U.S. citizens from the Diamond cruise ship with confirmed cases of the virus. Of the 16 confirmed U.S. cases, 7 are in Santa Clara County.
While the COVID-19 is not currently considered a pandemic by the CDC, Dr. Messonnier warns that it meets two of the three criteria of a pandemic, which are that it causes illness, including illness resulting in death, and that it spreads from person to person. The third criteria is worldwide spread.
What is the situation like in other countries outside China?
As of March 2, the country with the greatest number of coronavirus cases outside of Asia is Italy, currently at 1,694 confirmed cases, with Iran having the second-highest count at 978 confirmed cases. The coronavirus outbreak in Italy first saw a surge when the count of confirmed cases jumped from nine to 76 between Feb. 22 and 23 and has since spread with increasing speed, with over 500 new cases confirmed in the past day.
Harker's former Head of School Christopher Nikoloff, who is currently headmaster of The American School of Switzerland (TASIS), has been monitoring the outbreak in Italy with a close eye. TASIS is situated 20 minutes away from the Swiss-Italian border.
With last week being a holiday week, middle and high school students were dispersed across Europe on annual school trips, none of which were to Italy or countries with travel advisories. Upon their return to school yesterday, Nikoloff says that the school will be introducing temperature checks for all students. 
Other preventative measures that TASIS administrators have taken include increased signage and posters about good hygiene, more frequent cleaning routines and increased provisions of non-perishable foods, thermometers and hand sanitizers. All future TASIS international trips have been redirected to stay within Switzerland.
As headmaster, Nikoloff has focused his efforts on keeping students and faculty informed via email by distilling and sharing the most recent updates from official sources like the WHO and other federal authorities.
"Following the best information and data that is out there, looking at the numbers, looking at how this spreads, looking at how it can be prevented is all you can do because I think good information and understanding it the best we can reduces panic," Nikoloff said.
Additional reporting by Arya Maheshwari.