Santa Clara County announces first case of coronavirus – as infected person in isolation
Santa Clara County confirmed today that an adult male resident, who is currently being held in isolation, has tested positive for the 2019 coronavirus (2019-nCoV), but also noted that no additional cases have been confirmed. County health officials did not reveal his name or the city in which the case was confirmed because of privacy concerns. 
Santa Clara County Public Health Department (SCCPHD) Health Officer and Director Dr. Sara Cody, M.D., stated that there is no immediate threat to the public's health in a press conference this afternoon. The SCCPHD received confirmation today from the Centers for Disease Control and Prevention (CDC).
"Since we are a large county and many of our residents travel frequently for business and personal reasons, we're not surprised to be announcing the first case in the Bay Area and Northern California. Actually we've been preparing for this possibility for weeks," Dr. Cody said. 
She went on to say that there is no evidence of further cases at this time in the Bay Area or Santa Clara County or anywhere else in Northern California.
The Santa Clara County case is the seventh confirmed case of the coronavirus in the U.S., and the first confirmed case in the Bay Area. 
As of 5:30 p.m. on Friday, the school has not announced any cancellations of regularly scheduled classes and events. Harker's annual dance production tonight and through the weekend will continue as scheduled. 
In an email to all parents earlier today, Head of School Brian Yager affirmed that, as of now, there will be no changes to any of Harker's planned events. He also emphasized the importance of frequent hand washing and good health hygiene. 
Yager asked students who must travel to China during the coming February break from Feb. 8-17 to remain home after their return to the Bay Area for at least 14 days, the incubation period of the virus. 
Students in this scenario who self-quarantine will be assisted with maintaining their studies, and their absences will be excused. 
The Santa Clara County patient has self-isolated and has not left his home except to seek medical care twice, though the case was not advanced enough for him to be admitted to a hospital. Public health officials are currently keeping close track of his condition. 
The patient contracted the virus after returning on Jan. 24 to Norman Y. Mineta San Jose International Airport (SJC). 
County health officials are conducting full contact investigations with people who had close contact with this case to understand the patient's flight details and recent destinations. They are also identifying and reaching out to medical personnel who have been involved with the patient when he was seeking treatment. 
Dr. Cody added that any individual who has been in close contact with the confirmed patient is required to isolate at home for two weeks. The incubation period of 2019-nCoV is not known, but it was estimated by the World Health Organization (WHO) on Jan. 27 to range from two to 10 days.
During the press conference, Dr. Cody reminded residents to keep in mind the ongoing flu season and prevent further transmission of diseases.
Among the measures Dr. Cody cited were washing their eyes, nose and mouth. Other precautionary measures encouraged by the CDC include washing your hands often with soap and water for at least 20 seconds, avoiding close contact with sick people and covering sneezes and coughs with a tissue.
If a student at the upper school becomes infected with the virus, the school's health department has a protocol in place and will work with the county health department, according to Director of Health Services Debra Nott.
"Public health is always notified by the student's physician and then they jump into action," Nott said. "The first thing they'll do is ask us for the student's schedule and immunization records. Then they start making a list of contacts. This is what they do for a living and they do it well."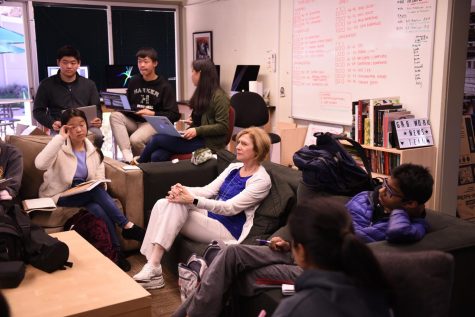 There is no evidence of person-to-person transmission of the virus yet within Santa Clara County. The first case of person-to-person spread in the U.S. was confirmed yesterday between a married couple in Illinois. 
CVS stores in the area have seen an increase in sales of respiratory masks and other sanitary items as people have started taking measures to prevent the spread of the virus. 
According to Operations Manager Stacey Davis at the CVS store at 1800 Saratoga Avenue, all CVS stores in the Bay Area are temporarily out of respiratory face masks. The branch received a new shipment this morning but ran out within hours.
"When the coronavirus started, we were selling out [of face masks] as soon as we got them on the shelf. And we also sold out of antibacterial sanitizer, and we sold out of child-sized ones, we sold out of wipes, we sold out of sprays," Davis said in a phone interview. "Usually, there is plenty of sanitizer on the shelf. There are two sanitizer shelves; it's like a section, and they were completely empty for multiple days."
According to Davis, her store's next shipment of masks will arrive next Thursday. Although the store requested 500 boxes, the shortage of masks throughout the area limited the number of boxes they would receive to five boxes.
CVS customers are currently limited to purchasing one box of face masks per customer. An average mask count in a box ranges between 10 and 20 masks, depending on the type and brand. 
3M, headquartered in Minnesota, is a leading mask manufacturing company. Their website offers a selection of retailers that price products depending on location and demand. 
A 20-piece box of N95 masks, which are manufactured by 3M and are used frequently in the Bay Area during wildfire season to prevent small particles from being inhaled, is currently listed for sale at Lowes for $17.83. Amazon providers seem to be responding to the situation with a price hike. A recent search on Amazon shows a box of 20 of the same masks being sold for $74.99. 
Masks in the upper school nurse's office are meant for filtering smoke from wildfires and are not specifically manufactured for preventing the spread of disease.
Biology teacher Dr. Kate Schafer suggests that masks primarily provide a physical barrier to prevent people from touching their faces with contaminated hands. 
Schafer advised the community to assess the risks reasonably, noting that immediate responses that are driven by fear are not always the optimal response.
"In a time of crisis, we want to get with our tribe and we want to isolate ourselves from other tribes," Schafer said. "Just because that's a human instinct doesn't mean that it's right, and we have to be careful about giving in to those instincts that may not be right, that may end up causing harm to others because of our own fear."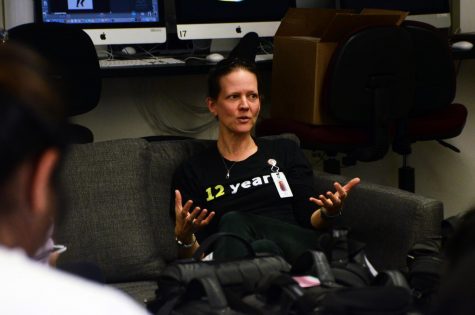 In related news today, U.S. Department of Health and Human Services Secretary Alex Azar declared coronavirus a public health emergency in a press conference today, with the emergency going into effect at 5 p.m. on Feb. 2. 
During the conference, Azar also announced that beginning on Sunday, all flights entering the U.S. from China will be filtered through seven airports which will be screening passengers for symptoms of the virus.
The Trump administration also announced today that it will temporarily bar foreign nationals who have traveled to China within the past 14 days from entering the U.S., with the exception of American citizens, permanent residents and their families. 
Starting Sunday, any U.S. citizen returning from China's Hubei province, which includes Wuhan, within the past 14 days will be quarantined for up to 14 days. U.S. citizens returning from other parts of China will be screened and monitored for up to 14 days.
The U.S. State Department has issued its highest level travel warning, advising against all travel to China, with the CDC also suggesting to limit all non-essential travel to the country.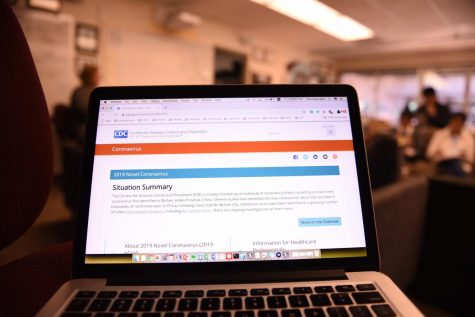 The Santa Clara County case is the seventh confirmed case in the U.S., with two confirmed cases in Southern California, one in Washington state, one in Arizona and two in Illinois. As of today, there are a total of 241 patients under investigation across 36 states, 114 who have tested negative and 121 cases that are currently pending.
The following airlines operate flights that originate in Shanghai and arrive, after at least one stop, in San Jose: ANA, United, American, China Eastern, EVA Air, Hawaiian, JAL, Korean Air, Hainan and Air Canada. 
Because of the State Department's travel advisory, American Airlines has temporarily suspended all flights between the U.S. and mainland China from today until March 27.
United Airlines has suspended flights between the U.S. and Chengdu, Beijing and Shanghai from Feb. 6 to Mar. 28.
Delta Airlines has temporarily suspended all flights from Feb. 6 to Apr. 30. 
The WHO announced on Jan. 30 that the virus now meets the standards for a Public Health Emergency of International Concern and will continue to investigate the source of the outbreak, transmission of 2019-nCoV and preventative measures.
Nearly 10,000 people from across the world have contracted the virus, and 213 people in China have died, as of midnight Jan. 30 Chinese Standard Time. 
The virus has spread to all 31 provinces of China as of yesterday night, as well as Thailand, Japan, Singapore, South Korea, Australia, Malaysia, U.S., France, Germany, United Arab Emirates, Canada, Italy, Russia, U.K., Vietnam, Cambodia, Finland, India, Nepal, Philippines, Sri Lanka and Sweden. 
Additional reporting by Sara Yen