Performing arts presents annual Student Directed Showcase
After a semester of preparation and hours upon hours of rehearsals, the Student Directed Showcase (SDS), featuring four plays, took the stage last Friday and Saturday night. in the Rothschild Performing Arts Center. From comedic stories of interrogation to tales of love and loss, this year's plays were directed by Shyl Lamba (12), Joel Morel (12), Katelyn Chen (12) and Kathy Fang (12). 
"Casting for the plays was really interesting. It was all about seeing what you needed for your play and matching those characters up with the play and with the other actors," Shyl said.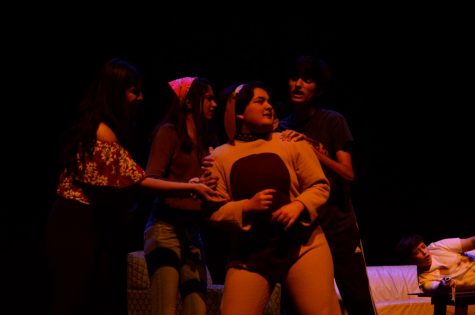 Shyl's play "An Absolutely True Story (As Told by a Bunch of Lying Liars)" started off the evening. It follows a family after a precious vase is found cracked on the floor, leading to each witness'— including the dog's— vision of the evening, according to their memory. "Marvin's Room," directed by Joel, performed directly after. 
"I really feel that [Marvin's Room] was a story that needed to be told and being able to share my vision rather than being a part of a production that someone else was cultivating was attractive to me," said Joel.
Contrary to the comedy of "An Absolutely True Story," Joel's play highlights the emotional strife of a family, battling the risks of disease and old age with love. It follows the story of Bessie, a leukemia patient who reconnects with her estranged sister and nephews who are each dealing with problems of their own. The play was originally two hours long but was pared down to fit into the allotted time slot.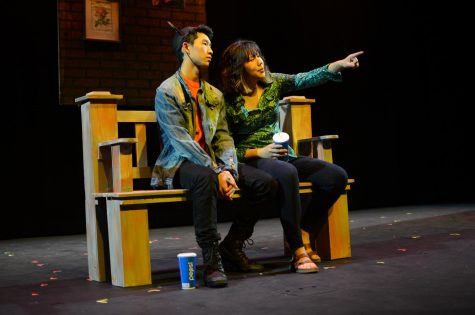 "I was nervous about getting along with my cast at first but as time passed I really looked forward to spending time with them. It really was the perfect cast with the perfect director. I'm so lucky to have learned how to better my acting skills from some of the best actors at Harker," said sophomore Anya Warrier, who played Ruth, the aunt of Bessie.
After a short intermission, the cast of Katelyn Chen's "Booby Trap" performed. The play revolves around Peter Galen, a man who joins the army to pay for college but unfortunately leans against a land mine, sentencing himself to death. Over the course of the play, Galen recounts pivotal moments in his life through flashbacks to his interactions with his family, friends, and professors.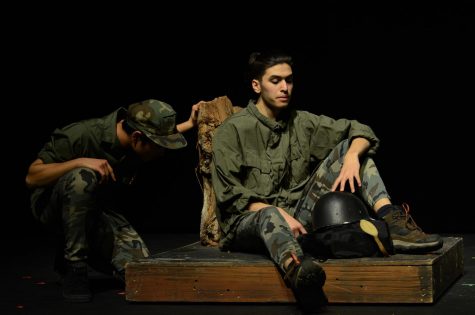 "When I was looking for a comedy I found this play. The first time I read it, I cried and then the second time I read it I cried again. I was looking for other comedies but I couldn't stop thinking about this show because it had such an emotional impact on me. There are so many characters and personalities that come into play and they all come together to make this really great story," Katelyn said. 
The last show of the night was "Chinglish," a romantic comedy that takes place in China. The play is about Daniel Cavanaugh, a businessman who strives to expand his company in China, even with a severe language barrier. During his stay in China, not only does he conduct business with numerous high Chinese officials, but he also questions "guan xi" or "relationships" and gambles with love.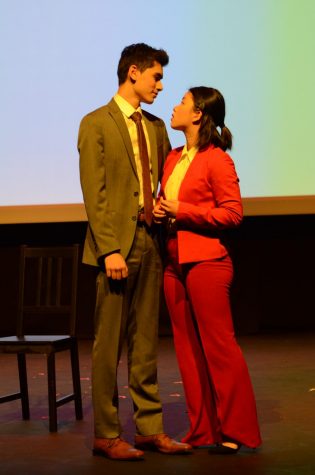 "[Chinglish] resonated with me in a way that was funny, poignant, and frankly, spot on for what I know about my experience as an Asian American in the Silicon Valley and what I know from my peer's experiences as well," said Kathy Fang, the director of "Chinglish." "I learned as I went, which was difficult because…I was learning while I was teaching. Throughout the rehearsal process, I was focused on this end goal of getting the show together but then [during] our last rehearsal I had this moment when I took a step back from my role as a director and just watched the actors perform."  
The link to buy tickets opened two weeks before the show and the cast began to sell tickets in person the week of the performances in Manzanita. The show sold roughly 261 tickets on Friday and 255 on Saturday. 
"The entire show was so amazing and such an emotional rollercoaster. One second I was tearing up laughing at the love hexagon in "An Absolutely True Story" and a few minutes later I'm crying because of Peter Galen's fate. It made my emotions skyrocket but that's what makes it so great," Madeleine Hansen (10) said.