Free speech activist Mary Beth Tinker inspires student journalists at annual NSPA convention
WASHINGTON, D.C. – Bathed in a dim, warm orange glow, the expansive convention room exploded in a deafening round of applause as activist Mary Beth Tinker stepped onto the podium. To an audience of hundreds of student journalists from across the nation who were gathered at the annual NSPA convention yesterday, Tinker told the story of her Supreme Court case, Tinker v. Des Moines Independent Community School, which defined the First Amendment rights of American citizens.
Mary Beth Tinker was a 13-year-old student from Warren Harding Junior High in the Des Moines school district during the Vietnam War. Simply because she opposed American involvement in Vietnam and the numerous deaths on both sides, she and a group of students from her school wore black armbands to school in a free act of protest.
However, the school board of her district disagreed with her actions, labeling the armbands as a distraction and inappropriate in the school environment. On Dec. 16, 1965, Tinker, along with 16-year-old Christopher Eckhardt and 15-year-old brother John F. Tinker, were suspended from school. Tinker, who believed her actions to be justified under the First Amendment protecting student free speech, fought back, filing a lawsuit against the Des Moines school board in what became known as the Tinker vs. Des Moines Independent Community School District.
"I was scared," Tinker said during her lecture session yesterday. "I was called into the principal's office and sent home, but I didn't stop."
On Feb. 24, 1969, the United States Supreme Court decided in a 7-2 decision in favor of Tinker, declaring that "Students don't shed their constitutional rights at the schoolhouse gates."
Now, Tinker utilizes her voice and her story to empower other student activists and journalists, traveling and speaking at events across the nation.
"I wanted to come [to the NSPA convention] because I wanted young people, all of these student journalists, to be inspired, to use their gifts and skills and resources to make a difference against all the problems in our world. I really want to encourage young people to speak up," Tinker said in an interview with Harker Aquila. "I say we have to stand up to the attack on journalism."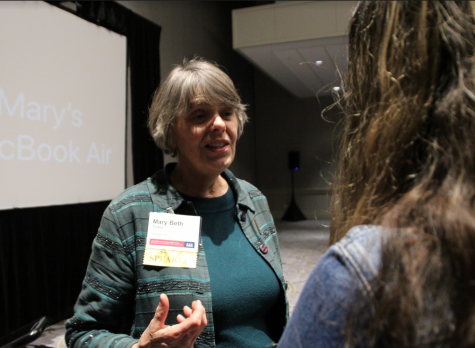 Tinker believes that communication and unity are the most important qualities that youth can possess in an adult environment and encourages anyone to write to her for questions, concerns, or support.
"A student the other day wrote to me and said 'you don't know how much this means to me' and I wanted to cry," she said. "I don't know what that kid is going through and it's not easy for children and teenagers these days so I want to let them know that I am with them and I love them and I support teenagers' voices."
Through her journey and her voice, Tinker ignited sparks in the minds and hearts of thousands of aspiring student journalists to stand up for their own beliefs. 14-year-old high school student Mykaela Reed, who attends Corning-Painted Post High School in Corning, New York, draws inspiration from Tinker's case as a member of New Voices, a program that works in bringing professionals into human rights and international cooperation.
"We're trying to get a bill passed so that our school publication can't be censored by the administrators, and obviously Mary Beth Tinker is a huge part of that because she really started the whole thing with the black armband movement," Mykaela said. "She really sets a good example because even though she did take the black armband off, like she said during her speech, a little bit of courage is enough to start a change."
Max Bielawski, a 16-year-old student at Kamehameha High School in Pukalani, Maui, was excited to see and learn from Tinker in person after learning about her Supreme Court journey in class and admires Tinker's open-mindedness and confidence in speaking up for herself.
"I hope that First Amendment right is expanded to private schools, not just public schools, because I personally go to a private school," Max said. "As student journalists across the nation, regardless of whether we're public or private schools, we should also get that freedom of the press. From her, I learned that if I feel a certain way, I should act on it, even if people doubt me."
Alex Sutton, a 17-year-old senior who attends Coral Gables Senior High School in Miami, Florida, applies Tinker's forthright approach towards political powers in his own acts of activism. His school is only 30 minutes away from Marjory Stoneman Douglas High School, the school that ignited the March for Our Lives movement after a devastating school shooting. Alex acknowledges that his community is commonly affected by gun violence advocacy as well as climate change over Florida's rising sea levels.
As a writer for his high school publication Highlights News Magazine, he feels proud that he has the power to write about what he believes in despite outside criticism.
"It's pretty obvious that when you stand up for what you believe in, change happens. I never knew student voices could be so powerful, speaking in what you believe in," Alex said. "Now, when I write controversial articles that not everyone might agree with, we have so much more power over our own publications despite what school administrators or the government might want us to say or not say, and it comes from the bravery of people like Mary Beth Tinker."
Tinker continues to voice her support for journalism and standing up for the truth, especially on behalf of the American youth.
"Journalism is like having a microphone. We're speaking about these issues, and we're not just speaking about them, we're changing them and making them better," Tinker said. "It's so important to protect journalism against those who hold unfair power. Use your First Amendment rights, and I'm so proud that so many students already are."