"For the change in humanity": Members from global environment movement participate in hunger strike
WASHINGTON, D.C. — On Wednesday afternoon, several upper school students gathered in front of Speaker of the House Nancy Pelosi's office, hoping to speak to her. One student knocked on the dark lacquered door, and after a few seconds, a young man emerged in the entrance, peering out. 
"Is Nancy Pelosi there?" one of the students asked.
The man repeated the question to his colleagues, who wearily laughed in response. They had not seen her. He then swung the door fully open, revealing seven other activists in their twenties sitting cross-legged on the floor next to two of Pelosi's staff members working at their desks. Crayons and colored pencils littered the floor, accompanied by colorful drawings depicting nature among other doodles. 
These adults had been sitting in Pelosi's office for three days in a hunger strike as part of the global environmental movement Extinction Rebellion. The group's website defines itself as "an international movement that uses non-violent civil disobedience in an attempt to halt mass extinction and minimize the risk of social collapse."
The man who opened the door was Daniel Michael Barr, who was on his first hunger strike. After Barr awoke from a 20-day coma resulting from a car accident in 2013, he began to work out for up to six days a week. Seeing himself change and progress compelled him to become involved in a change for the nation. Together with other members of Extinction Rebellion, he is fighting for a chance to speak with Pelosi.
"[We are hunger striking] for the change in humanity, [for] a sustainable society and to lead aggression [against] unnecessary wars funded by fossil fuels, money, power and greed of our nations," Barr said. "We're standing for the right to speak out against the inequities that this world is facing and to learn the dualistic nature of life — to come as close to having nothing, you will understand what it means to have something."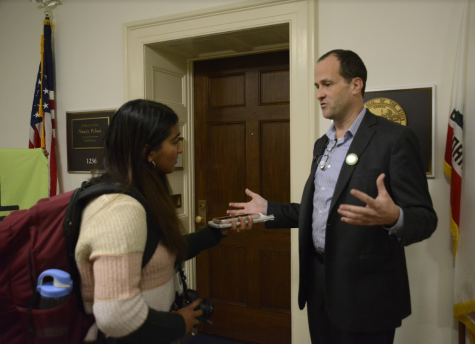 Hunger striker Steve Leas was standing outside the doors to Pelosi's office, wearing a gray shirt with the words "Extinction Rebellion" emblazoned in large block letters. Leas had not eaten for the past three days and was hoping that Pelosi would declare climate change as a national emergency, stop subsidizing fossil fuels and hold a one-hour long televised meeting with the hunger strikers. 
"I'm doing this because I have a nephew — and I think about what world they will inherit and frankly, what the world will be like in the rest of our lifetime," Leas said. "Every once in a while they'll have some milk-toast proposal — they just floated an idea that does not do nearly enough. We need something along the lines of the Green New Deal, and we need a just transition that's overseen by the people." 
Leas expanded upon his reasoning for the timing of the hunger strike. He mentioned that while he does not believe that the impact of climate change on the planet can ever be fully reverted, it may be still possible for carbon emissions to be reduced. 
"It needs to happen now. There are so many reforms that could have worked 20 years ago…but they didn't do it," Leas said. "We have to do big action now."
Garret White, who was not a hunger striker but a provider of medical and emotional support, assists in the movement by monitoring the strikers' health. He checks their weight at the start of each day and ensures that everyone is drinking enough and feels fine. 
"When [the strike] is more drawn up, people's energy can't last forever, so there has to be a point where you have to express your weaknesses and your failing points," White said. "For me, it's great to see that I'm just one of many folks who are in these [supporting but not striking] roles. Most of us developed around making sure that anyone who is sacrificing is emotionally, physically [okay]."
Additional reporting by Anna Vazhaeparambil.
Correction: A previous version of this article had the headline cut off. The article has been updated to correct this error.