School meeting recap 11/7/19: Choral concert, DECA club week, and math competitions
by Lucy Ge, Assistant News Editor
November 10, 2019
Avi Gulati (12) started off the school meeting yesterday by welcoming back those who were absent from school on Wednesday.
"Tuesday's announcement was definitely unsettling for our community," he said. "But we're all coming together — we have each other, our advisors, our teachers, parents, all of us."
Following Avi's announcement, Giovanni Rofa (12), Rohan Varma (11), Meona Khetrapal (11) and Adhya Hoskote (12) gave the Eagle Update. Golfers Natalie Vo (11) and Claire Chen (9) were congratulated for qualifying in the state individual finals. Girls tennis defeated Notre Dame Belmont yesterday 7-0 and qualified for CCS. Girls volleyball defeated Pacific Grove 3-0 last night.
Vaishnavi Murari (11) announced a Bel Canto signature Camerata and Cantilena concert on Friday, Nov. 15, at 6:30 p.m. in the Patil Theatre. Free tickets are available on the Harker website. To give a taste of the concert, Cantilena sang the song "I Sing That my Voice May be Heard" by Gwen McLeod Hall with a third of the group absent. 
"Here's the cool lesson in this — we still can sing," music teacher and Cantilena director Susan Nace said. "And one voice can make a difference."
Winged Post editor-in-chief Eric Fang (12) announced on behalf of Harker journalism that a short survey would be sent out to the student body through a link on Schoology. Winged Post editor-in-chief Gloria Zhang (12) announced that Winged Post Issue 4, which will be distributed on Nov. 18, will have a four-page housing package. Nilisha Baid (11) announced that students interested in having their water bottles featured in the yearbook should come by the journalism room at lunch.
Elaine Zhai (11) introduced Arnav Gupta (10), who spoke about his own experience living with muscular dystrophy.
"I have a genetic disorder called [Duchenne Muscular Dystrophy], which affects 1 in 5000 boys," he said. "To put that into perspective, let's say there are 200 new entrants into Harker each year, 100 of which are boys. That means that, in 50 years of Harker history, there would only be one person with DMD. That person is me."
Irina Malyugina
Last year, he encountered problems while searching for clinical trials and decided to create a solution for it. He founded the platform GetWellSoon.ai, which connects patients to clinical trials around the world.
Elaine thanked Arnav for sharing his story and announced a volleyball tournament between the classes, hosted by Harker DECA and Harker Spirit, on behalf of awareness for DMD, on Nov. 21. The tournament counts for spirit points, and students are encouraged to wear green on that day in support of DMD awareness. Coldstone cupcakes will be sold at the game. Proceeds will be given to the Muscular Dystrophy Association.
Helen Li (11), Katie Li (11) and Suman Mohanty (11) announced WiSTEM club week, which is the week of Nov. 11-15. They will be selling boba Tuesday and Wednesday afternoon. Biodegradable cups and straws will be provided. Students are encouraged to bring glass jars. All proceeds go to WISER, an international organization supporting education for girls. 
In addition to the boba sales, WiSTEM will also be screening the movie "Humanity needs dreamers: A visit with Marie Curie," which details the struggles of Nobel Prize recipient Marie Curie. The screening is set to take place in Wednesday, Nov. 13, after school in upper school biology teacher Anita Chetty's room. 
Furthermore, WiSTEM will hosting a speaker panel on Friday, Nov. 15, during long lunch starting at 12:40 p.m. in the Nichols auditorium. College students and professionals will be talking about their experiences in STEM, and students will have the opportunity to ask questions.
Sophia Gottfried (11) spoke on behalf of Harker Philosophy club, announcing a screening of the rated R movie "Monty Python's Life of Brian" on Friday, Nov. 15 from 4:00 p.m. to 6:00 p.m. in Charles Shuttleworth's room. Non-school appropriate parts of the movie will be censored. Those interested in watching the movie can sign up on his door in the Main building.
Anthony Silk announced two competitions. First, he announced the TEAMS (Test for Engineering, Aptitude for Math and Science) competition, which takes place in either Feb. or March and involves groups of eight. Those interested can go to the TEAMS Schoology page or talk to Silk in person once the signs for the TEAMS competitions are up.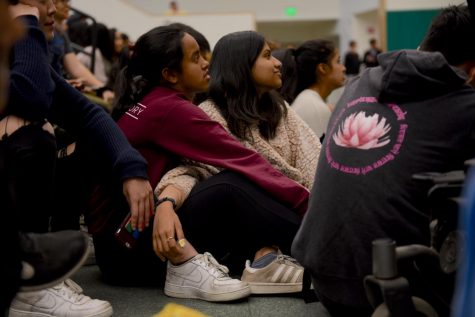 Second, Silk announced the annual American Math Competition (AMC), which will be held on Jan. 30. The AMC test consists of 25 multiple-choice questions. Current ninth and tenth graders can take the AMC 10, while the AMC 12 is open to all grades. The test happens on a special schedule, so students who take it will not be missing class. The deadline for signing up for the AMC is on Dec. 6. Once a student signs up, it is mandatory that they take the test.
Nellie Tonev (12), Annie Ma (12), and Amla Rashingkar (12) announced on behalf of HELM and Art Club that they would be hosting a submissions workshop for the Scholastic Art and Writing Competition on Friday, Nov. 15 at 12:40 p.m. in upper school english teacher Anne Douglas's room in the Main building.
Harker Car Club announced that, for their club week, which is the week of Nov. 18-22, students can decorate a Go-Kart on campus. On Tuesday, Nov. 19, they will be hosting a Mario Kart tournament in upper school english teacher Ohad Paran's room. They will also be selling boba.
On behalf of student council, Aaditya Gulati (10) announced this year's Pizza and Politics, an event where students and teachers can come together to talk about events. The event will take place 3:00 to 4:00 p.m. on Nov. 15. The link to sign up will be on Schoology. This year's topic will be the conflict in Hong Kong.
Nina Gee (12) and Nellie Tonev (12) announced the first Shah gallery installation for the year, which will feature pieces of artist Ashna Reddy (12). A reception will be held on Thursday, Nov. 21. A video of Ashna's installation, taken by Matthew Jiang (11), was played at the school meeting prior to the announcement.
Green Team's plastic committee will be hosting a box of reusable bottles in Shah under the cubbies. Students are encouraged to take the bottles, which they can keep.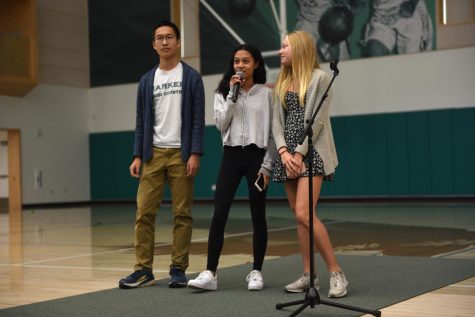 The cross country senior night video, created by Jason Lin, was played, featuring the 15 seniors on the cross country team. The cross country senior night takes place on Friday, Nov. 8, and it will start 30 minutes after the last race ends.
Aaditya and Dawson Chen (10) announced that there would be free Dippin' Dots in Manzanita during lunch. They also announced that half of the proceeds from the recent sophomore council's fundraiser would be donated to hurricane victims, so 491 dollars will be donated to UNICEF.
On behalf of the Campus Development Committee of student council, Andrew Lu (11) announced that a new program with the librarians would allow students to get portable chargers for iPhones and Androids from the librarians. Chargers should be used and returned on the same day.
Upper school counselor Jonah Alves encouraged students to visit the counselors.
"You guys each have an individual counselor," Alves said. "We really want to encourage you guys as a community to seek out support if you need anything, if you have any questions, or just need a safe space to check-in."
The counselors' offices are located in Shah Hall.
Avi ended the meeting by announcing a low of 50 degrees and a high of 74 degrees Fahrenheit.