"Under the Microscope:" Harker hosts annual TEDx event
Hundreds of tightly bunched red balloons spelling out "TEDX" in giant floating letters greeted students, parents and faculty as they entered the Nichols Auditorium. An event inspired by the world-renowned nonprofit organization TED, which sponsors speakers from all over the globe, TEDxHarker is a student-led club that hopes to simulate a similar environment.
This year's TEDx event, themed "Under the Microscope," was held on Saturday, Oct. 19 from 9 a.m. to 1p.m. Attendees paid $20 in fees, which included a tote bag with a water bottle and a free T-shirt as well as an included lunch of lasagna and Caesar salad.
In the months leading up to the event, club officers reviewed applications from industry professionals and Harker students alike who wished to speak out the event. The four final speakers were voice coach Cynthia Zhai, artificial intelligence (AI) expert Dale Hitt, cancer immunotherapy researcher Dr. Priti Hegde and Harker senior Simar Bajaj who shared his story of finally cutting his unshorn hair after seventeen years. 
Along with the speakers were booths and representatives from local corporations and businesses, including watercolor artist Manju Chinnappa, fitness tool manufacturer Committed HP and cloud computing company CloudMosa.
Zhai kicked off the speeches with an interactive presentation on fully utilizing one's voice to its clearest and most coherent shape. Her talk involved her speaking in different tones and attitudes in order to depict the difference that results from a small change in pitch.
"The more I do this speech work for the past ten years, the more I realize that I was chosen to do this work. It was not something as if I stumbled upon it,"  Zhai said during her speech. "I believe in the universe, and the universe chose me to do this work and gave me this responsibility."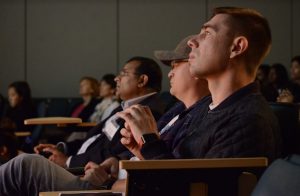 After Zhai's speech, Hitt took to the stage to converse about the future of AI and its possible implications on human society. After he finished, attendees were free to browse the booths inside and outside the Nichols Atrium. A horde of students sat outside on tables, drawing and watercolor painting at Chinnappa's station. Inside, volunteers used strength training equipment that was brought by Committed HP and tried out a virtual reality headset brought by Pomodoro Architects.
"I think TEDx is especially important because it's one of the few [Business and Entrepreneurship] clubs that isn't focused strictly on business, but instead we try and bring ideas that stem from all corners of the Harker community," 2019 TEDx Co-Curator Aditi Ghalsasi (12) said . "TEDx highlights what we want to become in the future and what we stand for."
Following the intermission, Hegde started the next round of speeches, talking to audience members about her research in cancer immunotherapy and cancer genomics. After working with a mentor to sequence the human genome and then beginning her own professional career at Genentech, her experiences in the biomedical field have enabled her to develop a passion for cancer research and clinical development for a cancer drug.
Simar was the last of the four speakers as he took listeners through a journey of his relationship with Sikhism and his struggles with embracing that aspect of his life while combating discrimination and ignorance from his fellow peers and society. After reconciling with his own thoughts and beliefs, Simar realized he had become disenchanted with the institution of religion in general, not Sikhism on its own. His unshorn hair became more of a burden than a representation of his beliefs, leading him to finally cut it this past summer.
"My grandparents didn't, and will never, agree with the act of cutting hair, but they immensely respected my decision," Simar said during his speech. "If those who love you don't love your true identity, the issue speaks to them, not you. If they love you, they will love you enough to let go of their version of you. They will love you enough to love every emerging version of you in its entirety. They will love you, period."
Varsha Rammohan
After Simar's speech, attendees were directed to the auxiliary gym, where they had the opportunity to eat lunch with and ask questions to industry professionals ranging from tech executives to psychologists.
"Every second, new videos [of speakers] are constantly uploaded to the [TED] website because ideas are springing up everywhere, and when you have something powerful or insightful to say, there's a need to project that and share it with your community,"  ASB President and TEDx attendee Avi Gulati (12), who helped Simar write his speech, said. "And that's exactly what Simar and all the speakers here did. That's why I came to [TEDx], because I love capitalizing on and absorbing these ideas."