LIFE, Eagle Buddy events build healthy lifestyle, community for students
Upper school students engaged in a variety of LIFE and Eagle Buddies activities yesterday, kicking off this year's LIFE and Eagle Buddies program. Freshmen participated in a course planning activity with Academic Dean Kelly Horan, sophomores and seniors spent quality time with their Eagle Buddies and juniors participated in a Q&A style lecture on healthy relationships with Charis Denison, an expert in community involvement, human development and ethics.
The freshman class learned about time management and course planning at the upper school and worked to balance their academics, extracurriculars and self-care in their high school schedules.
For the sophomores' activity, the class of 2022 shuttled over to the Bucknall campus to meet their Eagle Buddies in person for the first time after exchanging letters last week. Following a lunch of burgers, chips and cookies, the sophomores bonded with them and participated in a variety of activities including friendship bracelet-making, icebreaker games and various ball games.
"My favorite part [of today] was playing tag with my Eagle Buddy," Anya Warrier (10) said. "She's so great."
The juniors listened to a lecture by Denison that took a deep dive on cultivating healthy, safe relationships. Denison structured much of her lecture as a Q&A, taking questions from students.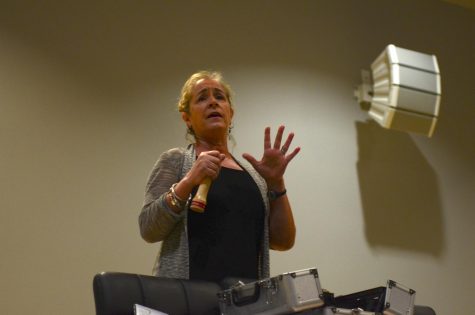 The seniors met with their Eagle Buddies for the beginning of their final year together, spending time to bond on David Field playing a number of field games and board games alike.