Fall fashion: Where colors meet comfort
A lookbook into popular and unique back-to-school trends
Along with the bustle of students transitioning into their back-to-school lifestyles, the outfits and accessories of students seem to be evolving from summer style to fall fashion.  Among upper school students, it's safe to say that with the new school year starting, creativity and style exploration are currently on the move.
Current trends seem to be comfort, vintage and hidden pops of color. With a cooler fall season rolling right around the corner, students find inventive ways to combine more casual, flowy summer flair with warmer fall wear.
Regardless of the time of year, students agree that accessibility and comfort are important, especially in regards to daywear and athletic wear for after-school sports. 
"I either wear shorts or sweatpants or athletic wear. I think it's super convenient wear for athletes," Brian Chen (9), an athlete himself, said. "As long as [my clothes] are comfortable, they're good."
Athlete Armaan Thakker (9) loves wearing shorts and especially likes wearing brands such as Nike, Hollister and Bape, which not only portray his laid back personality but also fit into his athletic schedule. 
"I like my style because athletic shorts and shirts are comfortable and convenient; I can pick them up in five minutes, and I don't have to worry about them in the morning," Armaan said. "I think athletic wear is a super big fashion trend; all my friends wear it."
Despite the appeal of comfort, students enjoy focusing on specific types of outfits as well. From heavier grunge styles stemming back from spring through summer trends, fall seems to bring about a softer vibe of pastels, old-school skirts and cardigans and classic white sneakers. 
Describing their outfits as "old-school," sophomores Ava Lett and Ainsley Mariko wear similar styles: the former in a navy pleated skirt with a pastel blue sweater and Nike Air Force Ones and the latter sporting a floral print tank top, pale baby blue pleated skirt and white Nike Jesters. 
"Honestly for me, these skirts could be worn during both summer and fall, but I like wearing them during fall more because I like to pair them with sweaters," Ava said. "For me, fashion is kind of an escape. When I'm doing homework, sometimes I get really stressed. But every single night I'll always give myself some time to plan my outfit, so it's a really nice 10 minutes out of my day where I can just relax and have fun with myself."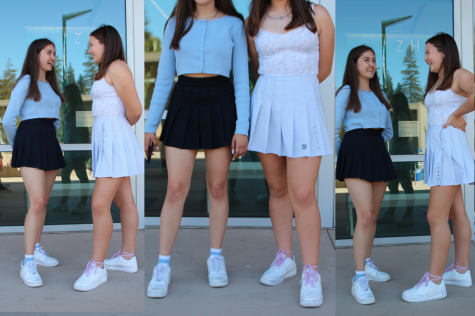 Ainsley agrees that fashion is a significant facet of her identity, especially as she transitioned from a more cargo pants, chains and chunky shoes appearance to lighter, pastel colors for a more innocent, charming look this fall. 
"My outfits really define my personality," she said. "In a school where everyone can be seen as just very academic, it's nice to know that you can stand out by wearing something different and unique to yourself, so I really like going to school and being able to showcase my outfits."
Ainsley also points out that white Nike shoes have gained popularity recently due to their ability to match any outfit with their blank white canvas. Shoes, especially sneakers varying from plain white to wild colors, seem to appear along with a style known as the ''hypebeast trend," which has caught the attention of senior Vance Vu and his style.
"I really like shoes and I feel like they can be really unique and they are a good way of expressing myself," Vance said. "I've always had unique shoes since sixth, seventh grade, so as I grew up I started to get really into it by myself."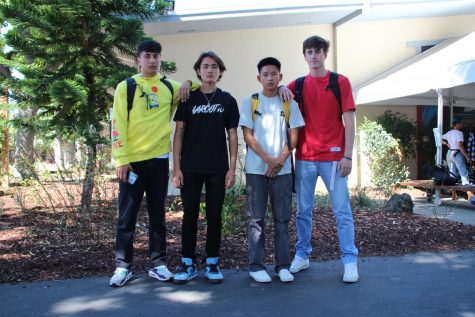 Vance realized from an early age that defining and differentiating his look from everyone else's was important to him, so he found ways to incorporate staple items such as hoodies along with his favorite type of bottomwear, cargo pants, into a muted outfit of usual black, white and grey with occasional pops of color. 
"My style, I try to establish a look for myself that no one else has and is unique to me," Vance said. "I don't strive to be anyone else other than myself."
Color incorporation currently seems to go hand-in-hand with vintage pieces as well. Clothes such as mom jeans, loose graphic print t-shirts and clunky white sneakers populate the school in muted pops. 
Michelle Liu (10) doesn't hesitate to physically convey her love for art on her clothing, while continuously hunting for new backgrounds to paint on such as the vintage pieces she loves from her mother's closet. Seamlessing blending into the clothes themselves, which are usually canvases for her to paint eye-catching creations, Michelle herself paints symbols and words that are inspired by vogue style, feminism and her own imagination.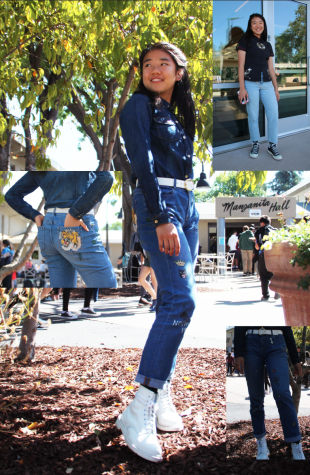 "Painting on my clothes is a really fun outlet, and I believe that [my fashion] is kind of coming into the spotlight," Michelle said. "Do whatever you want, that's what it means to me. Fashion passes, but the style is timeless."
Not only does Michelle paint her way through topics such as feminism and sustainability,  she sews and tailors various pieces to fit her exact vision after digging up a sewing machine in her own home, drawing inspiration from styles such as minimalism and street culture. 
"Fashion is always challenging the norms. Nobody cares about girls in only pretty dresses anymore. Women can do whatever they want, like wearing blazers and jumpsuits originally known as 'male' items of clothing," Michelle said. "Minimalism is also huge, where 'hidden luxure' is promoted and everyone's just trying to do  something different."
Another self-made designer, Farah Hosseini (11) describes the significance that fashion has in her life, especially as a student growing up in Silicon Valley where her love for art might not be displayed as equally as the STEM and technology industry.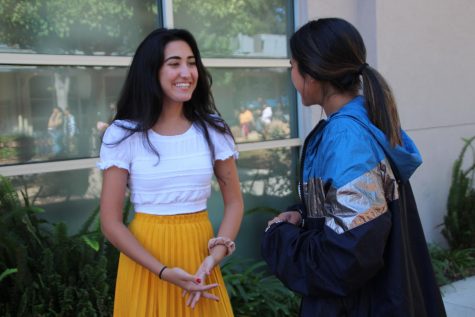 "I find myself to be more of an artist and fashion really spoke to me. It's something that everyone sees everyday," Farah said. "The way that you communicate and express yourself is really important, so whether it be through drawing or taking pictures, for me it's just what I wear."
Currently, as the season transitions into the vibrance of warm-tone hues, Farah is excited to invent new outfits following the color theme, a fashion detail she always pays close attention to. 
With her closely cut electric blue hair bouncing with the breeze, senior Gina Partridge agrees that color and putting forth her own foot in the wake of fashion history is why she loves dressing a certain way at school everyday.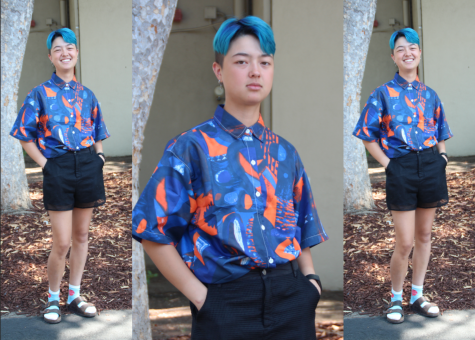 "I love wearing color. Even if my pants and shirts aren't too vibrant, I always make sure to make up for it by wearing colorful socks," Gina says. "As it gets colder, I'm probably going to be transitioning to printed pants, turtleneck sweaters and blazers."
Color ties in with Nathaniel "Nash" Melisso's (12) self-described "retro aesthetic" as well. Sporting a crew neck with the Simpsons print, classic Converse sneakers and an old-school yellow baseball hat embroidered with a rose, Nash's outfit is more muted in color, but draws similar inspiration from different decades to portray his more laid-back personality.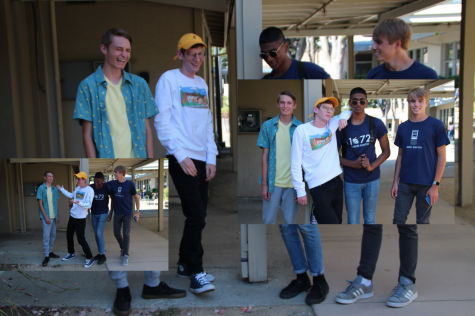 "My outfit is definitely very vintage and 90s-ish, especially with the Simpsons print. It's just very lowkey, and I  get a lot of my inspiration from lo-fi music and imagery surrounding that," Nash said. "It's a lot of nostalgia. I like to express myself through my clothing because it gives me a medium to present myself to people as I meet them and say this is who I am, this is what I enjoy."
Similarly, accessories and the "little things" are just as important as the outfit itself. Nellie Tonev (12) finds herself constantly finding new ways to exhibit her artistic personality with the variety of stickers ranging from Pixar movies to memes that she decorates her Hydro Flask and laptop with. 
"I used to love decorating my laptop case with a bunch of different stickers, and I feel like it's just a way to make it very personal and individual to me," Nellie said. "It eventually became more of self-expression and my own artistic style, my interests, and so on.
Nellie believes that subtle decorations are a growing trend in back-to-school season for many high schoolers.
"People are trying to create their identities and figure everything out and to be able to have a nice quick way to share something that people can try to share and talk about similar things, and I think this is just a great way to do it," she said.
Not everybody has to create their own style, however. A majority of Harker students fully enjoy sporting their club or class t-shirts or sweatshirts, claiming that they feel proud to be displaying their community as a trend. 
"Usually, I wear anything Harker. I have like five shirts I rotate between," Vishnu Jaisim (12) said. "I have Harker orchestra, Harker tennis, an eighth grade Harker athletic shirt, Harker BEcon and such. I think students like wearing their Harker merch because it makes you feel like you're loved by a small close knit community. Plus, it's super accessible and free." 
"
Painting on my clothes is a really fun outlet, and I believe that [my fashion] is kind of coming into the spotlight. Do whatever you want, that's what it means to me. Fashion passes, but the style is timeless."
— Michelle Liu (10)
At the end of the day, self expression and being comfortable in your own skin seem to be what students value most. Dean of students Kevin Williamson reminds everyone to attain to the the community dress guidelines, specifying that the privilege of free dress without a dress code comes from the responsibility of maintaining a somewhat respectable appearance. 
"We don't really have a dress-code per say, it's more of a community guidelines. So in some ways, dress is a very individual choice and in terms of what's accessible and not, there's draft opinions on that," Williamson said. "Our hope is that [dress] is more of a self-regulated thing, so this is your work environment, same with teachers, and [students] should present themselves in a respectful way in the community and for themselves."
Additional reporting by Emily Tan.
About the Writer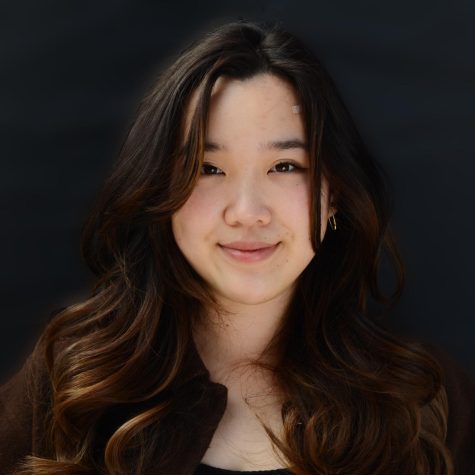 Alysa Suleiman, Aquila Co-Editor-in-Chief
Alysa Suleiman (12) is the co-editor-in-chief of Harker Aquila. This is her fourth year on staff, and she previously served as Aquila's first A&E editor,...