Mia Purnell coaches students through the race that is life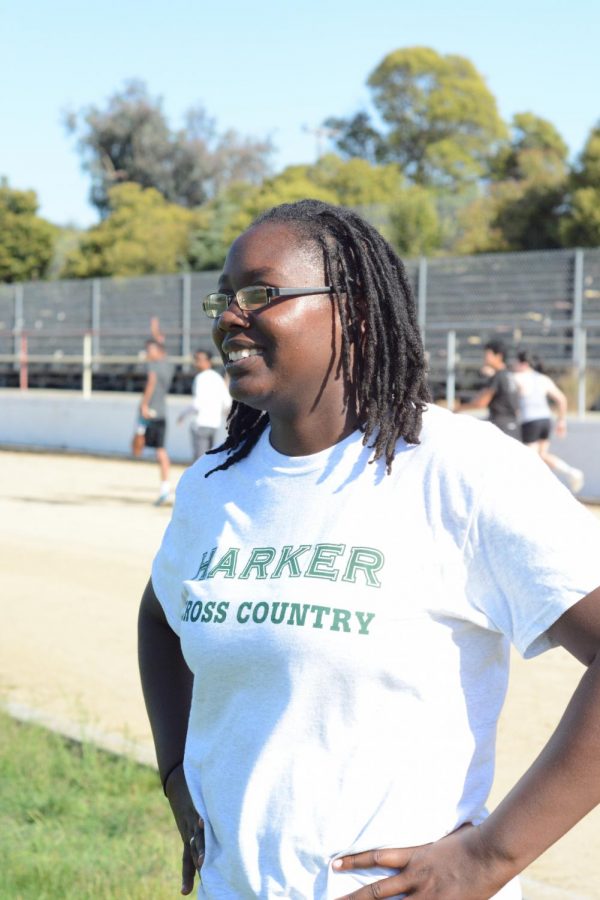 Newly appointed cross country and track head coach Mia Purnell stands proudly beside her bicycle, wearing a bright green Harker Athletics polo and a wide smile on her face, watching her student-athletes run around the track at the Blackford Campus. 
As a child, Mia Purnell "wanted to race everyone." From racing against her brother at home to using a paper towel rod as a baton in relay races at school, running has been a part of Purnell's life since childhood. With her mother to support her, she was able to hold on to her track ideals and "see the world through a better light." A self proclaimed "dreamer child," Purnell credits her mother for "not snuffing out the light" that resided in her. In addition to Purnell's mother, her colleagues and friends have had significant impacts on Purnell's career. Whenever she sees her friends achieving new heights, Purnell is encouraged to "continue pushing forward" and challenge herself more. Purnell interprets the journey in life as a race, saying she "is continually getting inspired [those] racing alongside [her]." 
Purnell first joined a track team in seventh grade and participated in the 200 meter hurdle event. She continued in that event until her senior year of high school where she transitioned to the shuttle hurdle relay. Her relay team qualified for the Drake Relays, and after high school, she was recruited to Wartburg College, one of the top D3 schools for track and field at the time. Upon entering college, Purnell was a heptathlete, but during her junior and senior years, she began competing in the pentathlon, winning the indoor conference championship in both years. During her junior year of college, Purnell mentored a friend's daughter who wanted to improve at hurdling. After observing the progress made by the girl she had coached, Purnell became interested in coaching, describing it as "inspiring to continually see other people grow in their athleticism."
As the cross country season progresses, Purnell hopes to strengthen the bonds within the team, while allowing all her runners to "feel safe and feel like they can be themselves." In addition, she hopes she can help everyone improve, no matter their athletic ability. 
"Each athlete is a new challenge. I've got top caliber athletes that I want to continue to challenge, but I also have lower-caliber athletes that I want to encourage to continue because eventually they will become these top caliber athletes," Purnell said.
As Harker's cross country team has begun practicing, Purnell seeks to put an emphasis on athlete safety. She tries to learn the physical capabilities of each athlete before they start training. Whether its correcting one's running form or ensuring that he or she wears the proper footwear, Purnell strives to "better prepare athletes to not break down from injury." Purnell's training schedule includes two hard work out days, two rest days, and a "Friday Fun Day" that provides an entertaining break from the monotonous running and workouts. Purnell stresses the importance of easing into the demanding lifestyle of an athlete by making sure her runners "don't go too hard, too quick, because otherwise [they will] break down from shin splints, knee injuries and hip injuries later in the season."
However, Purnell does not focus solely on athletic achievements. She believes her student athletes can learn skills such as dedication and patience from running. Although in most track and cross country events athletes are competing individually, Purnell also wishes to build a family environment that will allow her team to lean on each other and improve together. 
"Sports in general help you build strong characteristics that can be transferred into many life skills. With track and field you learn how to discover your internal strength. When everything is burning you have 2 options: Run through the flames or stop altogether," Purnell said. "When you stop you only hurt your chances of ever starting again. Athletes learn the true meaning of conquering the mind."