School will not be cancelled while unhealthy air quality, Camp Fire persist
Updated: 12:52 p.m. Nov. 16, 2018
School will not be cancelled Friday despite unhealthy air conditions across the Santa Clara County school district, which includes Harker, according to an email sent this afternoon by the Office of Communications at the upper school.
School activities, especially those held outdoors, will be canceled or reduced accordingly to minimize exposure to harmful particulate matter in the air. Select outdoor sports practices have been canceled, and lunch has been moved indoors. The current air quality index (AQI) is 191, which borders on the range for "Very Unhealthy," and the forecasted AQI for today is 158, which is categorized as "Unhealthy," according to AIRNow.gov.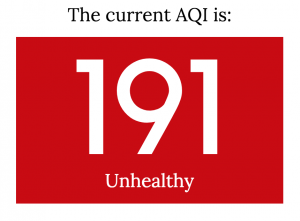 Nurse Claire Elchert has more than 1,500 N95 masks for students in her office and advises students to limit outdoor time and walk, not run, to classes. Her office also has a HEPA filter for students with respiratory problems.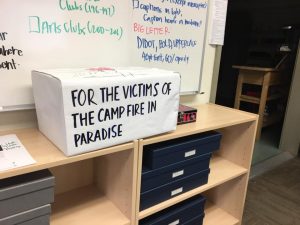 The journalism room is collecting gift cards for major stores, gasoline and restaurants in the area as well as donated items for people affected by the fire causing the smoke, Camp Fire in Butte County, which will be delivered on Friday afternoon by head athletic trainer Jaron Olson, whose parents lost their home in Paradise to the fire.
San Jose State University has announced that their campus will be closed today and tomorrow due to unhealthy air quality. UC Davis has also closed both their campuses and cancelled classes for today and tomorrow.
The Camp Fire is currently 40 percent contained and has become the deadliest and most destructive wildfire in state history, burning 140,000 acres and killed 56 people as of this morning.
Students and faculty are free to drop off any donations or notes of support for the survivors in the journalism room.
Additional reporting by Jessie Wang