Varsity Girls Water Polo wins SCVAL Tournament
The varsity girls water polo team won all three of their games this week in the Santa Clara Valley Athletic League (SCVAL) Tournament, receiving first place in their league and moving on to the Central Coast Section (CCS) finals for the first time.
"I think the team played exceptionally well this past week during leagues," Elizabeth Fields (10) said. "We knew that winning this tournament was important for us to qualify for CCS and everyone came physically and mentally prepared for that."
Harker hosted the SCVAL tournament this past week at the Singh Aquatic Center.  The location of this tournament rotates between the school's in the SCVAL El Camino League, which include Harker, Homestead, Lynbrook, Milpitas, Monta Vista, Santa Clara, Saratoga and Wilcox.
The team played its first game Monday against Milpitas High School and won with a decisive score of 13-3. The team then went on to defeat Wilcox High School 11-2.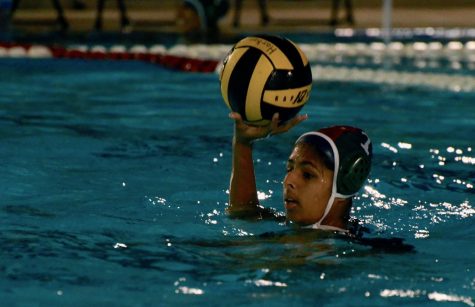 "After the Wilcox game, I was really looking forward to playing Saratoga in the finals" Lily Wancewicz (12) said. "We had lost a really close game to them a week earlier, and it was exciting to get the opportunity to play against them again."
With these two wins, the team continued onto the league finals against Saratoga High School. With 2 goals from Abigail Wisdom (12) and one goal each from Cassandra Ruedy (11), Samantha Yanovsky (12) and Alicia Xu (11), the Eagles pulled out a close 5-4 win to gain the title of league champions last Wednesday.
"Before the finals with Saratoga, everyone was really nervous because this team was undefeated, amazing at counters and number one in our league," Elizabeth said. "It was definitely our hardest game of the season, and the score was close the whole game. After we won, everyone sprinted out of the water, and we pushed our coach into the pool. Some of the seniors got emotional because it meant a lot to win leagues for the first time in a few years and to just see how far the team has come."
Getting first in leagues means that the team moves onto CCS finals for the first time since 2012.
"It's been really cool to improve each year. When I was a freshman with Claudia, Abby and Sam, we hardly won any games at all," Lily said. "Finishing our final high school water polo season like this has been really special."
The team plays Aptos High School, which has a 10-2 record and placed second in its league, next Saturday, Nov. 3 in the first round of CCS.