Fall play music and costumes evoke small-town life
All lined up on a metal rack on wheels, thin wire hangers bear an array of muted neutral-toned clothing, ranging from a lace-embroidered long-sleeve linen dress to a country-like red, white and blue checkered button-up.
These costumes are for the upcoming fall play, "Our Town", written by Thornton Wilder, which follows the story of a small town in New Hampshire in the early 1900s experiencing the Industrial Revolution. Narrated by a stage manager, the three-act play focuses on the lives of the couple Emily and George.
Performing arts teacher Jeffrey Draper will be directing the fall play, whose performances are planned for Oct. 25 through Oct. 27. Presenting an exercise of making speeches about one's hometown, Draper invoked the cast's pride for their environment in order to transfer those feelings into the play.
Research about the style trends during the time of "Our Town" is one of the most important factors that goes into choosing its costumes.
"You want to look up the time period to see what was the fashion back then," costume designer Caela Fujii said. "The show's set in 1902 for the most part, but then we go back four years to 1898 and then forward three years to about 1906. It's a few years, but there's not a lot of change. Fashion moved a little bit slower back then, and it's going to hit New Hampshire a lot slower than [if] they lived in New York at that time."
When the cast practices blocking, the actions and movements of the play, during rehearsal, Fujii inspects their acting to see if she needs to add to their costumes.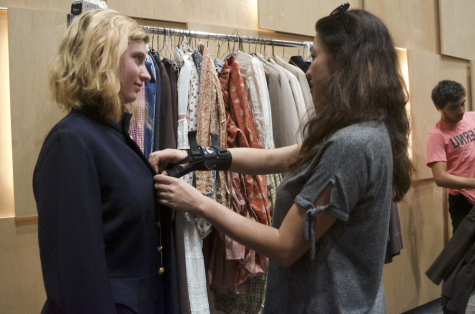 "I like putting clothes on the students and then being inspired by something that they do, whether that be acting-wise or if they're doing something interesting with their blocking and they need an apron or something that helps them convey their character further," Fujii said. "It gives me an idea to help them be more specific in their character."
Just like costumes, the music accompanying the scenes must express the tone and emotions of the play.
"[Composing music for the play] is similar to any way you'd write, like, a poem for English. So you would read the scene over and over again, [and] you kind of get the idea of what mood is the author trying to convey," Anika Fuloria (10), composer for the transition and dialogue music said. "Is this music supposed to foreshadow that the scene is going to be a fight scene, or is it going to be a sad scene? You have to write music that gives you a little taste of that."
With a violin for the main character, Emily, and a harp for the stage manager, Anika uses different instruments to individualize each role; nonetheless, "Our Town" is meant to be applicable to anyone from any background.
"I'm really writing to fit the characters because each character in the play has a very distinct character persona or has the different arc of their storyline," Anika said. "The entire point of the play is to make it universal and to make it so that no matter whether you live in Cupertino or you live in New Hampshire, which this play is set in, you have the same feel."
Accompanied by its rural costumes and personalized music, "Our Town" can pull those watching through a thought-provoking journey.
"It's a drama, but the audience is a character in a way. Although you are not talking directly to them, they are a part of it. The entire idea of the show is to make the audience think, make the audience reflect," Austin Killam (10), who plays the lead character's father, said. "What happens in the show is that you see the lives of these people that you grow to love more and more, and I'm not going to give any spoilers, but the final part happens, and it's just heartbreaking."
Our Town, the first play to be performed in the RPAC, will open on Oct. 25.
"
The entire idea of the show is to make the audience think, make the audience reflect."
— Austin Killam (10)
This piece was originally published in the pages of Winged Post on Oct. 17, 2018.