Humans of Harker: Power in thought
Ryan Guan connects through silence that speaks louder than words
Unlike Ryan, the question is unremarkable. But it's narrow in an attempt to capture his detail-oriented persona: "Why do you wear a watch?"
While considering the question, he lounges on a modernist couch in Shah's John Near center, his elbow propped up against a faux-leather backrest. Novels, records, mid-2000s DVDs and manuscripts line the walls; a herbal tea maker is nestled between two bookshelves. It's a room full of quiet thoughts, and Ryan has plenty.
Sporting a wrinkle-free grey polo shirt and pair of jean capris, the immaculately color-coordinated Ryan Guan (12) ponders a question, taking time to consider his response, thoughtfully tucking a loose strand of dark hair behind his ear. His feet, clad in patterned socks and blue canvas Keds, tap idly on the lounge's carpeted floor.
After a few contemplative moments, he responds. "So I know what time it is."
"It's not deep, it's functional," he adds. "But you could say it's deep because it's functional."
Although Ryan's profoundly practical white Casio watch may not define him as well as the signature right-side parting of his hair or the black Land's End backpack he wears over both shoulders, his honest, earnest response to an ordinary question–and the silence that preceded that response– reflects a sense of thoughtfulness that makes him not only a scholar fitting of the Near room, but also a compassionate and empathetic friend.
"Ryan's a whiz when it comes to old Norse poetry, signals and systems and literally everything in between," Ryan's friend Tiffany Wong (12), who has known Ryan since elementary school, said. "However, he's also the resident expert on kindness. He's always the first to ask 'how are you' and 'how was your day.' He's really taught me that silence in conversation represents not an unwillingness to speak, but a willingness to listen."
Through this ability to connect with others by listening, Ryan has formed some of his closest friendships.
"Ryan's one of those people who's quiet upon first glance, and I'll admit it was difficult to get close to him at first. But once I got to really know who he is, I [learned] that he's this calm-yet-caring and personable person," said Ryan's friend Katherine Zhang (12), who has worked alongside him in the journalism program since freshman year.
"Ryan is one of those people who really shows his care through his actions. That's extremely important, and that's why I value him so much as a friend."
Ryan's consideration of others isn't only evident in his conversations and friendships. National Honor Society (NHS) president, animal shelter volunteer, executive news editor of Harker Aquila and the Winged Post– all these roles of service embody Ryan's life mission that revolves around the innate desire to help others.
"I think you have to measure your impact and what you've done for other people–to know that you're doing good with what you're doing. You have to create a world for yourself, with your actions, that you would want to live in," Ryan said. "For myself, I want to have something that I strive for– and that's making a difference."
Ryan's impact on the upper school community stretches far and wide. As the editor-in-chief of two publications (science journal "Horizon" and literary magazine "HELM") and the president of two student clubs (NHS and linguistics club), he has multifaceted responsibilities and interdisciplinary interests.
Yet his achievements also date back to before high school. After a few weeks of kindergarten, he was placed in first grade; later on in elementary school, he became one of the first members of his class to take courses beyond his grade level. Honors Algebra 1 in fifth grade, AP Calculus BC in 8th grade and AP Literature in junior year– Ryan credits these advanced level classes with motivating him to excel academically.
"Having those expectations on me pushed me to do better and move up to them in a way that I might not have otherwise," Ryan said. "It's been awkward, sometimes, being the only person in my grade in an English class of the class of 2018, but I think I've learned a lot from being able to take higher level courses– it's been a good experience."
While Ryan's academic prowess has been widely acknowledged, he has also established some of his strongest friendships–such as that with Cupertino neighbor Katherine Tian (12)– through his 12-year-tenure as a Harker lifer.
"I've known him since kindergarten–probably even before kindergarten," Katherine, who also works with Ryan as Horizon co-editor-in-chief, said. "I don't even have to drive to get to his house so we can play Frisbee [disc] on weekends and do things that make him feel more like family than a friend."
When asked about his thoughts on leaving the "family" he has found at Harker after graduation, Ryan becomes pensive, reflecting on the "teachers, classmates, classes and clubs" who have impacted him.
"I guess you can say that I'll miss high school when I leave high school," he says, before the room of thoughts is once again filled with the meditative quiet, a silence that, in Ryan's case, speaks louder than words.
About the Contributors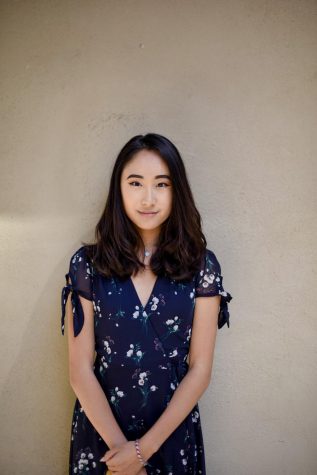 Kathy Fang, Editor-in-Chief
Kathy Fang (12) is the editor-in-chief of Harker Aquila. This is her fourth year on staff. From covering local marches and protests to initiating Harker...