Weekend recap 9/15/18
by Ryan Guan, Executive News Editor
September 14, 2018
In a senior tradition, the class of 2019 gathered on Davis Field on Aug. 27, the first day of classes, to watch the sunrise.
The Upper School observed Labor Day with no classes on Sept. 2.
Green Team members attended the Rise for Climate, Jobs & Justice, a march addressing the impacts of climate change, last Saturday and the Global Climate Action Summit between Wednesday and Friday. They had previously announced about the events, which took place in San Francisco, at class and school meetings.
The Girls Programming League annual programming contest, aimed at middle and high school girls interested in computer science, was held on campus last Saturday. The event also included two keynote speeches and a panel discussion.
Prestige Portraits took senior portraits in the auxiliary gym on Saturday and Sunday. Seniors who did not sign up for one of these dates must schedule appointments with Prestige Portraits studios so that their portraits are taken before Sept. 25.
Tuesday marked the 17th anniversary of the Sept. 11, 2001, terrorist attacks in the United States.
Student Council's snack bar, held during morning office hours, has changed location from the Chowda House near Manzanita Hall to the concession stands in the Athletic Center.
Classes have begun to paint their eagle statues for the homecoming rally. Representatives from each grade started the process by removing the paint from last year's eagles on Tuesday, and painting will continue through the month.
Nominations for homecoming court representatives opened Thursday and will close Monday. This year's homecoming game, against Elsie Allen High School, is on Oct. 5.
Programming Club hosted a talk from Karthik Kannan, a representative from software company Splunk, during lunch on Friday.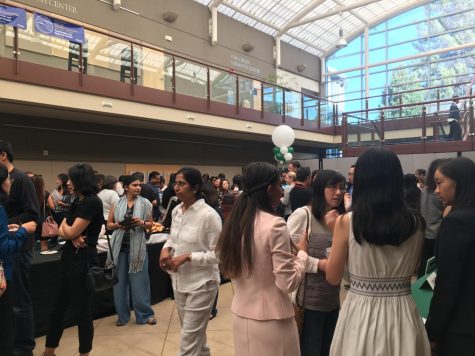 The upper school's annual Back to School Day took place on campus today. Parents could gain information about several extracurriculars from booths in Nichols Atrium and met their students' teachers in 15-minute blocks from 10:15 a.m. to 12:55 p.m.
Students could audition for this year's dance show, themed "Red Carpet", in the Rothschild Performing Arts Center today from 2 p.m. to 3:30 p.m.