Rally a year after Charlottesville faces resistance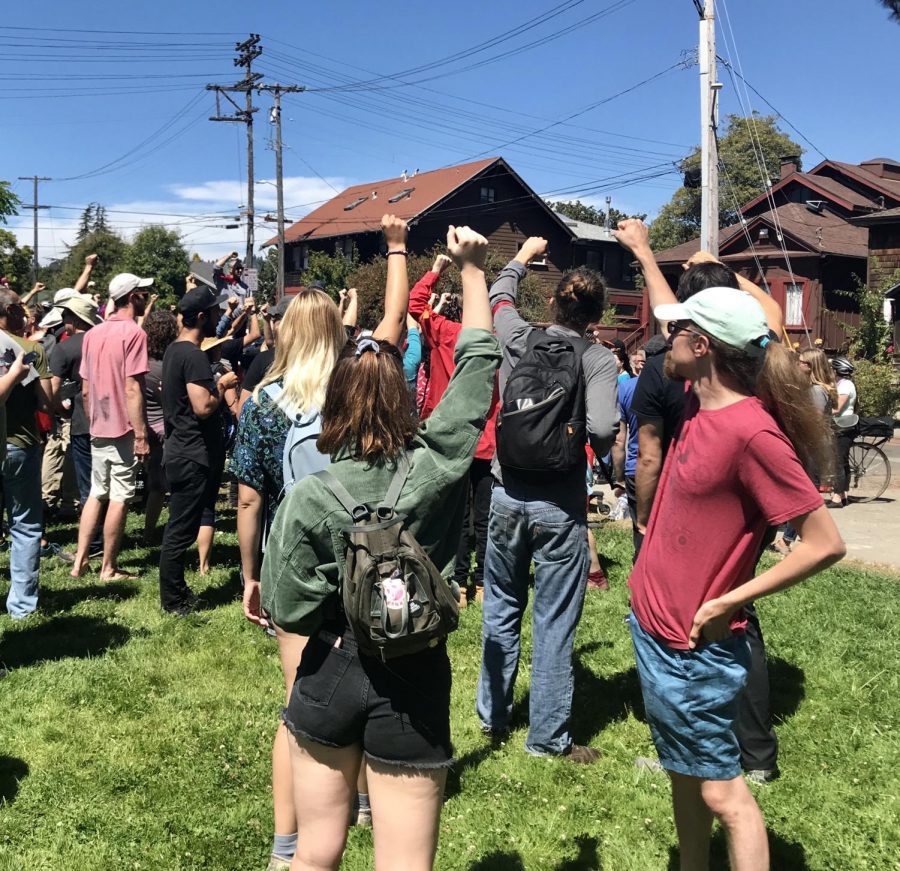 One year after the violent Unite the Right rally in Charlottesville, Virginia, the Unite the Right 2 rally took place in Washington, D.C. from Aug. 11 to Aug. 12.
White supremacist groups began to gather at the Foggy Bottom subway station but were immediately met with counter-protesters belonging to 40 anti-racism groups, according to CNN. These counter-demonstrators confronted members of the rally on their way to Lafayette Square Park, where the two groups were kept apart by police dressed in riot gear.
The rally ended shortly after it started, due to the small number of protesters and the strong counter-demonstration presence.
Last year's Unite The Right rally was a white supremacist and white nationalist rally held to oppose the removal of a statue of Confederate leader Robert E. Lee. Protesters clashed with counter-demonstrators, leading former Virginia governor Terry McAuliffe to declare a state of emergency.
The rally ended with a white supremacist driving his car into a crowd, killing counter-activist Heather Heyer. In contrast, Unite the Right 2 saw two arrests without any fatalities or injuries. The number of participants, which amounted to around two dozen, was also far less than expected. The rally organizer Jason Kessler blamed the low turnout on fear and an "atmosphere of intimidation" online.
Kessler, who also organized last year's rally, orchestrated Unite the Right 2 to mark the anniversary of last year's riots and "to protest civil rights abuses in Charlottesville." Kessler originally tried to hold Unite the Right 2 in Charlottesville again, but the city denied his permit application, stating it would "present a danger to public safety". Charlottesville declared a state of emergency on Aug. 8 and increased its police presence to prepare for the weekend of the anniversary; this enabled more access to state military resources, such as the National Guard.
One of the larger counter-protest movements against Unite the Right 2 was Shut it Down D.C., which called for counter-demonstrators to gather the same day as the rally. The stated purpose of Shut it Down D.C. was to unite the resistance against white supremacy and racism. According to its website, the gathering was for three activists assaulted or killed during last year's Unite the Right rally.
In Charlottesville, activists honored Heyer by gathering at the site of her death; they wrote messages on the streets and walls of nearby buildings. Heyer's mother also visited the site and delivered a speech denouncing racism and racial tension in America.
Across the country, 20 people were arrested at the 'No to Marxism in America 2' rally at the Martin Luther King Jr. Civic Center Park in Berkeley on Aug. 5.
Skirmishes between demonstrators for and against the rally groups led to vandalized city vehicles, projectile fireworks and damage to the front of a Marine Corps recruiting office. Amber Gwen Cummings, a right-wing activist and organizer of the rally, had led a similar protest last year, which resulted in arrests and injuries.
Khawer Khan, one of the counter-protesters at the rally, is a member of the East Bay chapter of the Democratic Socialists of America.
"[The march] is essentially focused on gathering together reactionary forces to assert their position that what they're doing is actually free speech. What they're doing, in reality, is hate speech, and it's endangering people in this country," Khan said. "[The counter protest is] about making sure that working class people have solidarity and that we work together to make sure that none of us are at risk."
Such clashes have been common among protests and rallies this past summer. Two rallies organized in Portland by white supremacist group Patriot Prayer, in June and August, ended with police ordering participants to leave the area and arresting violent protesters.
Joey Gibson, the founder of Patriot Prayer, also visited Berkeley and San Francisco. Gibson launched a bid for a seat in the U.S. Senate for Washington state but received less than three percent of the vote.
The Proud Boys, another far-right group, has joined Patriot Prayer at some of the rallies it has organized in Portland.
"We love America. We love freedom and want the government to leave everyone alone," Pawl Bazile, production director of Proud Boys Magazine, wrote in an email interview when asked about similarities between President Donald Trump's beliefs and theirs. "This is a land of free men and free women and freedom […] Proud Boys believe that and we can see that in Trump."
Following another armed rally in Seattle in mid-August, Gibson announced that he hopes to schedule more protests on the West Coast.
Additional reporting by Eric Fang, news editor.
This piece was originally published in the pages of the Winged Post on Aug. 31, 2018.