Davis field replaced, football team adapts
For the past decade, the vast majority of school events, from Homecoming to spirit rallies to fire drills,  have taken place on Davis Field. However, this very well-used field was beginning to near its end: its turf was beginning to wear down and become unattached to the ground, finding its way into students' shoes, hair and everything in between.  It was time for the field to receive a makeover.
The aging 11-year-old Davis field was replaced over the summer with a new and improved field.  The entire removal and reinstallation process took about six weeks to complete.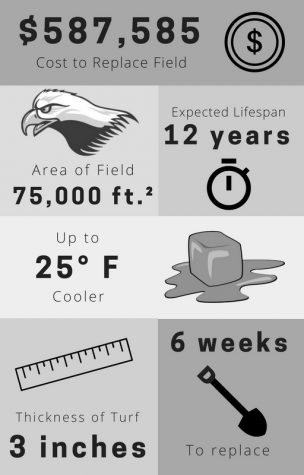 Aditya Singhvi
In addition to simply replacing the weathering field, the new surface of turf contains more natural components than its predecessor.
"We didn't go with the crumb rubber […] but instead, we went with the more natural infill," athletic director Dan Molin said.  "It's a combination of sand, cork, and coconut husk, which is better for sustainability."
Besides the sustainability advantage, the new materials in the infill have a lower specific heat capacity than the traditional rubber pellets, allowing the field to dissipate heat faster, and thus be cooler by the time the players go to practice. The field can be as much as 25 degrees Fahrenheit cooler than the crumb rubber alternative, decreasing player fatigue.
Other new features include the three-inch padding under the field, three-quarters of an inch thicker than the previous field, with the extra thickness occupied by a layer of compressed foam known as "Pro Play."  In addition to providing a more forgiving playing surface, this layer of foam has the added benefit of absorbing water, improving the drainage capabilities of the field.
"We chose a quality system, that should last for 12 years or longer and remain cost-effective," facility director Mike Bassoni wrote during an email interview.  
The whole project cost $587,585, or about $7.80 per square foot of field.
However, while the field was undergoing replacement, the football team has had to adapt, holding practice on the Blackford fields instead.
"The first week of us practicing on Blackford field was a little rough just because we weren't used to practicing on a grass field," varsity offensive and defensive lineman Nicholas Coulter (10) said.  "It's not as great of a field as Davis, but as the weeks went on, we just put that in the back of our minds."
However, the field was ready just in time — a week before — for the game against Saratoga High on Aug. 17.
"It's definitely amazing," offensive and defensive lineman and varsity captain Ayush Vyas said.  "After playing on [the Blackford field], you definitely appreciate everything you have. It just makes us a lot more understanding and […] not complacent."
This piece was originally published in the pages of The Winged Post on Aug. 31, 2018.