Come and meet those dancing feet on "42nd Street"!
Guided by glitz, glamor and grandeur, 41 upper school conservatory members performed "42nd Street" on April 19, 20 and 21 in the Rothschild Performing Arts Center.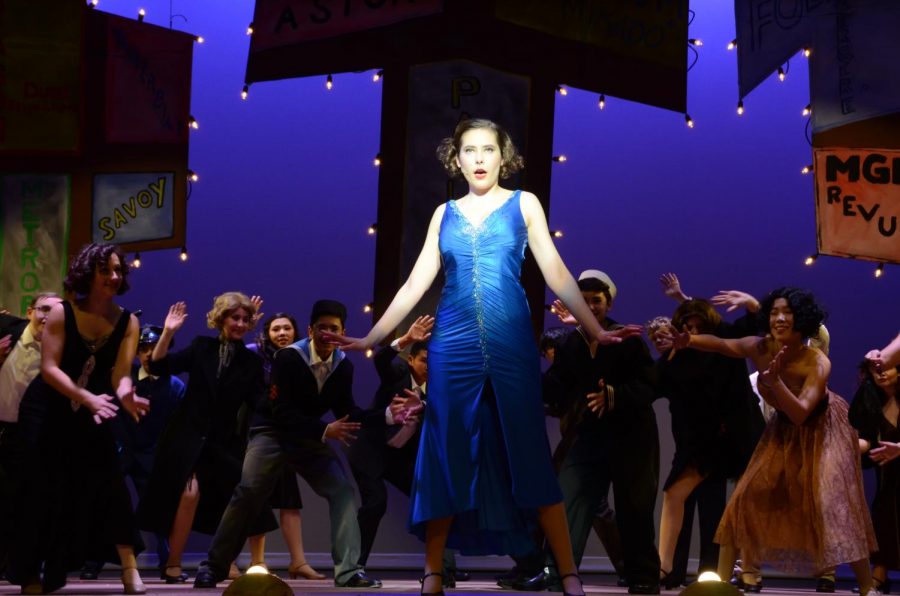 When "King of Broadway," Julian Marsh (Akhil Arun (12)), falls onto hard times, he has no choice but to put on the largest musical Broadway has seen for the last 20 years, "Pretty Lady". Rich magnate Abner Dillon, played by Rahul Bhethanabotla (12) agrees to provide all 100,000 dollars needed to fund the show, under the condition that an established prima donna who has not performed in 10 years, Dorothy Brock (Sameep Mangat (12)), is the star. Brock is caught between Dillon and the love of her life and her penniless former vaudeville partner, Pat Denning (Karan Gupta (11)). Meanwhile, Peggy Sawyer, depicted by Ellie Lang-Ree (11), a bright eyed hopeful from Allentown, Pennsylvania, arrives in town for the show's auditions, hoping to make her Broadway dreams come true.
"'42nd Street' is an iconic broadway musical," Laura Lang-Ree, the director of performing arts at Harker, said. "It's one of the beloved favorites in the musical theater archives. And I knew it would be a perfect mix of romance, and love and adventure and heart and spectacle that would do justice to the Patil theater."
Jessie Wang
"42nd Street" is the first musical to be held in the new Rothschild Performing Arts Center, which presents an array of technical opportunities, such as a rigging system and improved set pieces that were not available at the Blackford theatre.
"It's a lot more complicated [compared to Blackford]," stage crew member Logan Frank (11) said. "There's big sets to work with, and curtains, and there's a thing called a Pinrail, where we lower the actual walls and sets down into the [stage]. At one point in the show there's a wall, and I pull that up and bring it down. It's a lot harder, but it's a lot more fun."
Performers also appreciate the new facilities and the experience they provide.
"In Blackford it's just like a black box. It's really hard to project in there; it's really hard to get good acoustics," Sameep Mangat (12), who plays lead character Dorothy Brock, said. "Being able to have this many seats in this big of an open space you actually feel like you're on a stage rather than a piece of wood [that is] mounted. It's really nice just to have all that extra space and all the extra professionalism."
This year presents a new set of challenges due to the technical intricacies of every component of the show.
"It's a huge show. Everything's big. Tons of acting, massive amounts of singing, dancing, huge set pieces—it's what we call a gigantic show," Lang-Ree  said. "It's not simple in any way; it's very complicated across the board in every single area. Usually in a musical maybe the vocals will be harder, or the acting, the dance, but in this show, everything is equally fancy and difficult."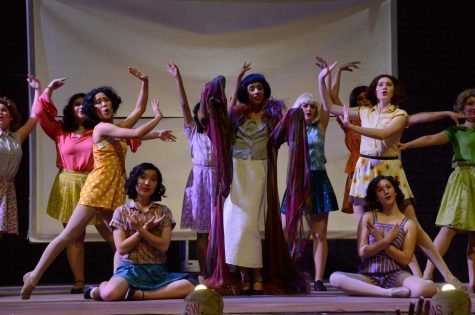 This musical also marks another historic first, as it is the first time student musicians have performed live for a musical at Harker. With around 50 pages of music and 25 full songs, playing for the musical is a daunting task.
"There's a lot of stuff that we have to write in—lots of cuts, lots of places that we have to be prepared to do whatever it takes to make sure the performers look good and to make sure that if there are any mistakes, they aren't obvious." Grant Miner (10), who plays tenor sax, said.
"42nd Street" was performed four times between April 19 and April 21.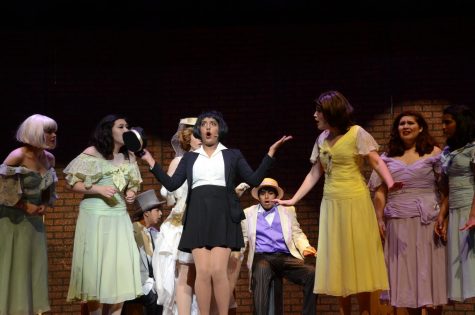 This piece was originally published in The Winged Post on May 7, 2018.