Marjory Stoneman Douglas students push for reform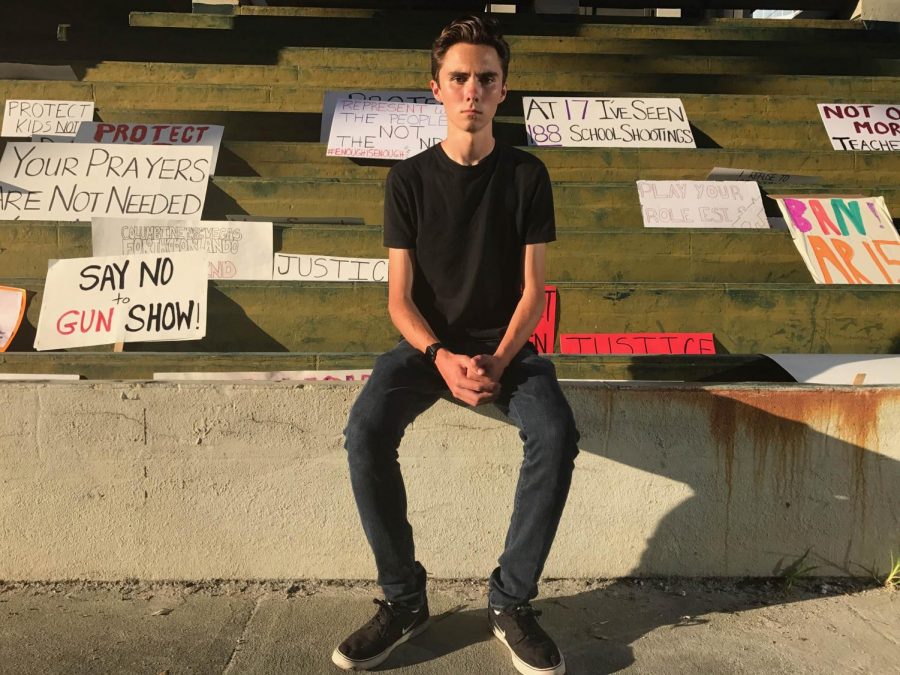 Student survivors of the shooting at Marjory Stoneman Douglas High School (MSD) in Parkland, Florida, on Feb. 14 have since been advocating for gun control measures through their burgeoning organization Never Again MSD to bring an end to school shootings.
"The ones speaking out are the ones who weren't in the building, acting on behalf of those still processing and without a voice," MSD newspaper adviser and English and creative writing teacher Melissa Falkowski, 35, said. "I'm really proud of them and what they're doing. They're trying to turn it into something more positive [that] makes us more than just a victim school."
Never Again MSD was founded by about 20 MSD students, notably Emma Gonzalez, David Hogg and Cameron Kasky. The group is organizing a national "March for our Lives," centered in Washington, D.C., on March 24.
MSD students have also appeared on national television, debated against the NRA, politicians and opponents of gun control reform and given speeches at gun reform rallies. The gunman, a former student at MSD, was armed with an AR-15 style semiautomatic rifle, which he opened fire with in the freshman building of the school, killing 14 students and three faculty and injuring more than a dozen.
A group from the school travelled to Tallahassee, Florida, on Feb. 20 to meet state legislators and witness a vote on a motion to consider a bill banning assault weapons. The vote failed and the bill was not debated.
"[Social media has helped with] the fact that we're able to talk and so many people are able to listen, and it's allowed us to stay here when in other situations, we would have been shunted off of stage because politicians don't want to hear our voices," Emma González, a MSD student and a leader of the Never Again MSD movement, said. "Now, they have to listen because we are better at Instagram and social media and Twitter and Facebook than they are."
David Hogg, a fellow leader of the Never Again MSD movement, never expected the rallies, movement, march or Never Again MSD movement to develop or proliferate as they did.
"I just wanted to get out of my house. I just wanted to be out there taking as much action as I could so that I can prevent something like this from ever happening again," David said.
The Harker community is organizing an event to remember and mourn for the victims of the attack. Students can send laminated, non-political banners, teddy bears, candles and flowers to voice their support, express solidarity and honor victims.
Through the school's MSD Strong website, individuals can buy #MSDStrong merchandise and make donations, from which all proceeds will go toward supporting the school and its students. Individuals can directly support the MSD student journalism program in their efforts to support their school and spread their students' stories through their GoFundMe. MSD's school district has also set up a GoFundMe for donations to the victims and their families.
Esha Deokar (11), with the assistance of student council, is planning a fundraiser for the victims on March 14, from which all proceeds will be donated to the school's official GoFundMe.
"As a community in California where most of us are almost desensitized to the events happening outside our bubble, I think it's important to show our solidarity to the high school students who are campaigning for more gun control," Esha said. "The main thing would be logistics—getting the word out."
In parallel with nationwide school walkouts to show solidarity with MSD and Never Again MSD, the upper school will hold a voluntary walkout assembly for 17 minutes on March 14 to honor and remember the victims.
"On March 14, there's the national walkout that a lot of high schools are participating in, and we wanted to play our part in that," junior class treasurer Shania Wang (11) said. "At 10 a.m., for 17 minutes—one for each victim—we are going to hold this event. We have three main purposes: gun control, solidarity and supporting the victims."
Both Emma and David recommended that students interested in becoming more politically active or becoming activists themselves write letters to their representatives, register to vote, attend their local March for our Lives and keep up with the movement and the actions of their representatives online.
Akin to January's Women's March, March for Our Lives events will take place throughout the nation on March 24, including a march in San José.
"I'm really happy that students are starting to stand up and take action, but what we need to realize is that we have to continue to take action," David said. "If you don't get registered to vote [and] if you don't constantly vote for the rest of your lives, none of this matters."
David's broadest piece of advice for moving forward successfully with gun control legislation and with mending partisan divides doesn't reside just in the realm of politics.
"Learn to love each other because that's what this country needs, and just be f*****g nice to each other, okay?" David said. "It's a lot easier to hate than love, but we need people to love each other for who they are, and we need to make this a discussion for reform and change in America because if it's another debate, nothing will happen."
Additional reporting by Anjay Saklecha and Katherine Zhang.
To read an expansion of this news article and a comprehensive feature package on the shooting at MSD, the Never Again MSD movement, student activists and the U.S. gun control movement, check out Winged Post Issue 5 or return to Harker Aquila on March 6.