Gold and gray moments at the Golden Globes
The Golden Globes are a celebration of excellence in film and TV. This year, it raised awareness of Hollywood sexual assault.
Gold: Oprah's speech
Philanthropist moves crowd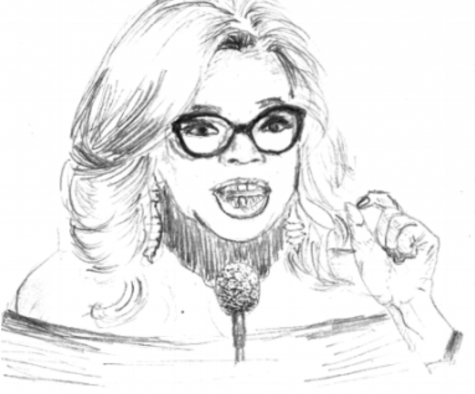 Nina Gee
Oprah Winfrey won the Cecil B. DeMille lifetime achievement award for her philanthropy, charity and contributions to the entertainment industry. The speech she gave touched upon racism, sexism, men in power and female empowerment. She spoke with grace and dignity and received three standing ovations during her speech. Oprah's speech catalyzed speculation surrounding the possiblity of a 2020 presidential bid.
Gray: Not wearing black
Actors choose not to show their support for #MeToo Movement
Nina Gee
Model Barbara Meier, actress Blanca Blanco, and President of the Hollywood Foreign Press Association Meher Tatna chose not to wear black for the Golden Globes Awards. Meier wore a colorful embroidered dress. Blanco chose a red velvet dress with cut-outs. "I love red," Blanco said. "Wearing red does not mean I am against the movement." Tatna wore a traditional red and gold embroidered ensemble. "As part of her Indian culture, it's customary to wear a festive color during a celebration," Tatna said.
Golden: "Big Little Lies" win
Cast advocates for social issues
Nina Gee
The cast of "Big Little Lies," featuring Laura Dern, Nicole Kidman and Reese Witherspoon has been prevalent in advocating for the freedom and an end to the ongoing sexual harassment in Hollywood. They have used their influence to begin conversations on several controversial topics, and one especially took a stance on combatting bullying in schools. heard. Portman criticized the all-male nominees for best director which affirmed Witherspoon's case for more female-led shows.
Gray: "Three Billboards" win
Movie criticized for portrayal of race
Nina Gee
This year's 'Best Picture Drama' award generated backlash after viewers began to speculate whether the movie was a tale of redemption or damnation, as the story featured a dull view on race. As critics began to review the piece, fans began to realize that the story was "unearned, manipulative and altogether offensive."
This piece was originally published in the pages of The Winged Post on February 5, 2018.