Students plan for Halloween festivities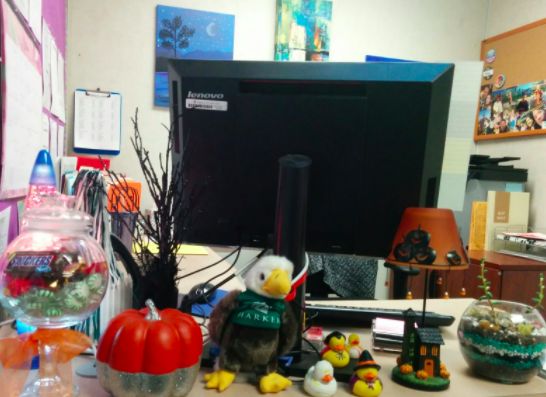 As the end of October draws nearer and nearer, Halloween excitement fills the fall air. Plastic witches, cloth ghosts and tinsel arachnids begin to appear on front lawns of neighborhoods. Spiders nest in the cobwebs that bedeck the Main hallway, eerie eyes peer out from classroom doors and pumpkins and corn cobs adorn Manzanita.
From trick-or-treating to handing out candy to attending parties, students of all grades have spooky plans.
"My friend and I are planning to go trick-or-treating dressing up as crayons, because I feel like it's really easy to coordinate with your friends," Shafieen Ibrahim (11) said. "We get candy, and then we eat it together."
On the other hand, other students prefer staying at home to pass out and eat candy.
"I might hand out candy or eat a lot of candy," Nathan Wang (10) said. "Well, I eat the candy that I hand out."
Students will have the opportunity to showcase their Halloween costumes at school on Oct. 31 for a costume contest to win spirit points.
"Last year, we had a fall break day on the 31st, but [this year] we actually get to dress up on Halloween. So, for [the dress-up day], I'm probably going to be a mime," Ayesha Baweja (10) said. "I might go trick-or-treating with my friends. Probably not, though, because I'm too old, so people won't give me as much candy."
Halloween parties are also a way for students to enjoy the holiday through wearing their desired costumes.
"A family friend is hosting a Halloween party that I'm going to, themed on the game Clue," Allison John (9) said. "We're all supposed to dress up as characters from the game."
Student council spent Friday afternoon putting up Halloween decorations around the school, hanging cackling ghosts and cobwebs from ceilings and fixing sticky skeletons to glass.
Faculty and staff are getting into the spirit as well. Administrative Services Receptionist Luanne Stanley decorated her office with swaths of purple and green warning tape draped across the dividers.
"At home, we decorate the house. I usually have or attend a Halloween party or two," she said. "It's just a day for people to have fun. One of the really fun things [about working at Harker is], you get to be silly. You [can] wear pajamas to school and not get in trouble because you're supporting the students."
At the upper school, the student body will celebrate Halloween with spirit events such as the Pumpkin Carving on Oct. 27 during long lunch and the dress-up day and costume contest on Oct. 31.
Click on the image below to take a quiz. What should you be this Halloween?