So you want to be a photojournalist?
Amanda Marmor's photography career began in an unconventional way. Like many artists of the profession, she had always enjoyed it as a hobby, but it wasn't until she was locked in a building with dozens of college students that she truly discovered her passion for telling people's stories through the lens of her camera.
At the time, Marmor was an undergraduate majoring in journalism at San Francisco State University. She and her fellow reporters were covering a demonstration led by students protesting a tuition-inflating administrative decree, and at one point during the rally, the protesters occupied a building. As the in-house reporter, Marmor decided to take it upon herself to document what was happening.
"I was the only journalist inside with them," Marmor said. " I was locked in the building for hours, and everybody was relying on me to report this story. I knew I was in the right field, because I wasn't scared of any of these things; I was there to photograph and tell the story."
Marmor's days of serving as a university reporter taught her how to stay calm while photographing high-energy situations. In the following years, she moved to New York City and took her love for photography to greater heights through her career as a freelance photojournalist.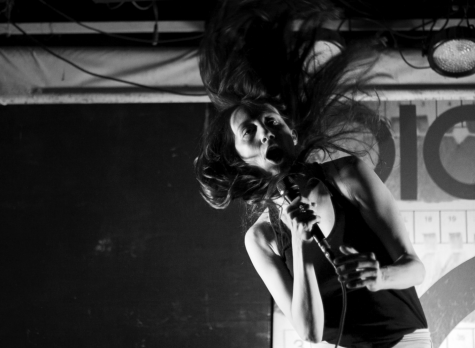 Her visuals have been published across prominent media platforms, including CNN, The Huffington Post, NPR and the hip-hop news magazine XXL, and she features her work in various group art exhibitions across New York. Marmor also often utilizes social media to expand her artistic influence. She runs two Tumblr blogs–one dedicated to all types of street photography and one intended specifically for political photojournalism–and frequently uploads pictures to both.
While Marmor shoots everything from political demonstrations to community events, a recurring theme in all of her work is human nature. As a street photographer, Marmor's photography focuses on the ordinary individual.
"I like to think of street photography as being a historian's partner, capturing a visual representation of what's happening right now," Marmor said. "It could be anything as small as somebody crossing the street or somebody walking their dog, or as big as capturing  the vocal resistance of what's happening in the country. It all connects because I just like to capture what's happening now."
The most significant aspect of photography to Marmor is portraying reality. In visually representing the truth of the moment, Marmor aims to depict the world as it is.
"I hope to convey how people are actually feeling right now, how people's raw emotions are right now- the anger, the sadness, the happiness on their face," Marmor said. "Words are incredibly important, but without a visual aid, people's emotions can get lost."
Much of Marmor's subject matter centers around daily interactions between individuals, but the face-to-face interactions she has with the people she photographs–particularly in an environment as richly diverse as New York City–hold special meaning to her.
"I get to learn about different people, their cultures, their ideas. They let you into sensitive areas of their life, and they really open up to you," Marmor said. "As soon as someone gets comfortable with a camera in front of their face, they let you see who they really are. That's my favorite part of it all."
This piece was originally published in the pages of the Winged Post on September 6, 2017.