Humans of Harker: Elena Bronder-Chang pursues robotics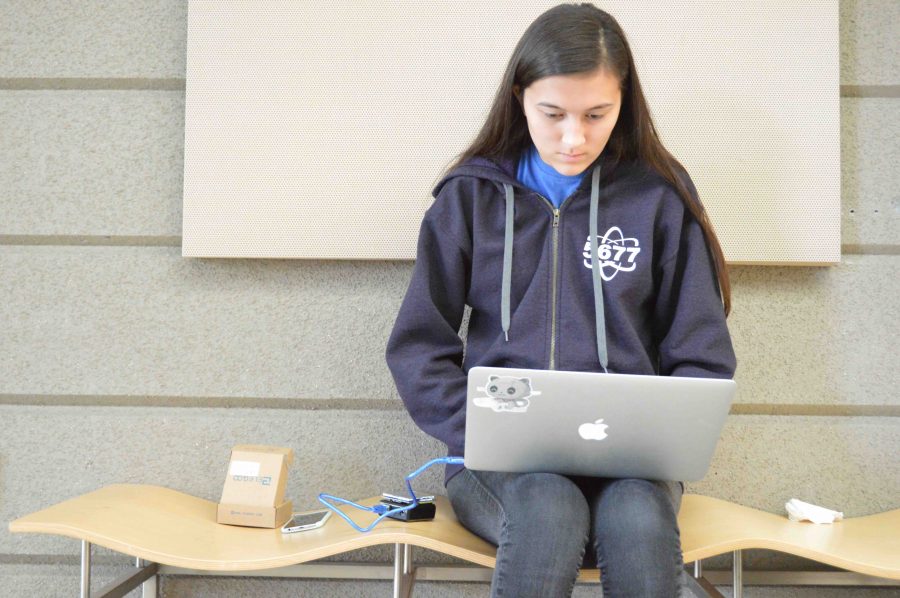 Ever since she can remember, Elena Bronder-Chang (12) was known as "that music kid." She sang and played both the violin and the viola, starting as early as second grade. But in sophomore year, she made the spontaneous decision to try something completely different: robotics.
"I was a sophomore, and I didn't really know if trying a new thing would work," Elena said.
In a moment of serendipity, she followed her friend into the robotics lab in Nichols. From the moment she began to delve into robotics, she knew that she loved every aspect of it, from the team to actually building the robot.
"You have to try because otherwise you won't succeed for sure," she said. "If you don't try you're always going to keep wondering… What if I did do that? But if you try it, you will never have a what if because you actually tried everything."
Her new interest went hand in hand with new friends, whom she met in the robotics lab, inside and outside of school. Sarah Gonzales (12) works with Elena in a robotics team, the Smarticles, outside of school.
"She brings a lot of energy to the team, and even though she had never done robotics before, she's always willing to do anything that we need her to do," Sarah said.
"The whole team building aspect of [robotics] is really, really amazing," she said, "I don't do any sports so I didn't really have super team experiences before then so I learned how to collaborate more and how to compromise more and I obviously learned how to build a robot."
In addition to pursuing robotics, she plans to continue to sing and practice viodla in the future.
"I want to continue during music," Elena said, "I'm for sure doing something robotics related."
Elena's spontaneous decision helped her discover more about herself, and not only what she wants to do in the future, but also what she enjoys doing.
"I tried robotics… I don't think I would've had as clear a vision of what I wanted to do with my life without robotics because I would've never known that I loved it," she said.