Didn't catch the VMAs this past weekend? Here's a summary of what happened!
The glistening stage rocked with historical moments ranging from the re-creation of "Lemonade" by Beyoncé to Rihanna receiving the Michael Jackson Video Vanguard Award to Britney Spears marking her first performance at the awards show since 2007 at the 2016 MTV Video Music Awards (VMAs) held on Sunday night.
This year's VMA's were held at Madison Square Garden. Many singers impressed the audience with their performances and nominations.
Here are some of the standout moments of what happened at the 2016 VMAs:
Winning eight awards, Queen Bey was marked as the first artist to hit 24 total VMAs in the history of the award show, surpassing the previous record of twenty awards held by Madonna.
Beyoncé made use of her time on stage for sixteen minutes of music about strength, righteousness and female solidarity. All of the songs that she sang came from her 2016 album, "Lemonade," including "Formation," "Don't Hurt Yourself" and "Pray You Catch Me."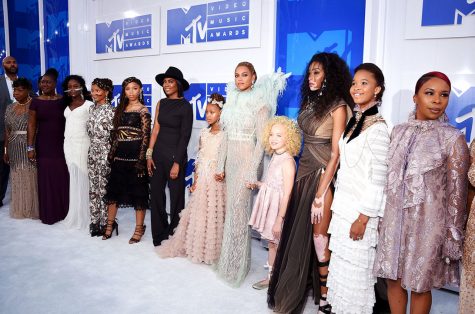 Throughout her performance, Queen Bey was joined on stage with multiple women that appeared in the music video of her album, which won the Breakthrough Long Form Video award, to deliver an empowering yet unforgettable feminist message.
"I thought her performance was probably one of, if not the, best I've seen on an awards show. It was so thought out and choreographed perfectly," Haris Hosseini (10) said. "Her new album is just another statement on both women's' rights and racial rights. Beyoncé empowers women like basically no other entertainer around right now."
Named one of the "100 Most Influential People in the World," by Forbes in 2015, Rihanna, created her own concert during the main show of the 2016 VMAs, as she added three additional parts to her original schedule. The VMA show started off with Rihanna's first segment, in which she sang an electronic medley of her songs such as "Don't Stop the Music" and "Rude Boy."
She took a twelve minute break before her next performance, as Future and Ariana Grande performed their own songs. When Rihanna returned to stage, she performed a variety of songs from her R&B track, coming out with a new costume and persona.
At the end of her four segment performance, she earned the Michael Jackson Video Vanguard Award for her influential music videos.
"My success is not my own," Rihanna stated, when receiving the award from Drake. "It's my fans', it's my country's, it's women, it's black women."
Other outstanding award-winning artists include Adele, winning eight awards, primarily for her music video "Hello," Drake achieving the Best Hip Hop Video for "Hotline Bling" and DNCE, winning the honor for Best New Artist.
Humorously, Olympic Swimmer and all-time gold medalist, Michael Phelps, decided to join the stage revealing that he was listening to one of Future's songs, "Stick Talk," from Future's "DS2" album when he made the angry face that made the Internet buzz.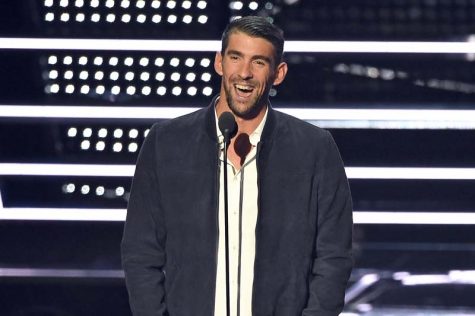 "Of course, Beyoncé hit it off during the VMAs, but overall, everything was super well choreographed," Aashe Shreekumar (11) said. "One of the funniest things that happened though, was when Michael Phelps hit the stage, since I didn't expect he would reveal the song."
The 2016 VMA show displayed a 35% drop across all multimedia networks that showcased the main concert totalling 6.5 million viewers, while last year was off the charts with 9.8 million spectators. The 2017 Video Music Awards will happen in August of next year.