Parking your privilege: class of 2016 acquires open campus rights for rest of year
Last year, the class of 2016- toiling, sleep-deprived juniors at the time- watched in envy as their seniors were able to leave campus whenever they pleased. Now, approaching their final few months of high school, it's finally time for the class of 2016 to take advantage of their well-deserved senior privileges.
The primary benefit offered to seniors is the off-campus privilege. While before, the students were required to remain on campus until their last free period or after-school dismissal time, seniors who have parental approval are now allowed to leave school grounds before classes end.
Seniors will receive a special identification card that they must show security before leaving campus during break, lunch, or class time. They are permitted to return at any time.
"I'm going to go off campus to get lunch with friends or to hang out somewhere," Raghav Jain (12) said. "For something quick, maybe Starbucks, but if we have long lunch, we would have time to go to a sit-down place."
While many seniors plan on taking advantage of the benefit, several prefer to not leave school grounds and will continue to stay on campus during the academic day and eat school-provided lunches.
"I probably won't use [the privilege] too much because I am pretty satisfied with Harker food and my schedule is not conducive towards leaving campus to hang out or eat food," said senior Kevina Xiao.
Dr. Matthew Harley, dean of the class of 2016, explained why administration grants seniors with this privilege of increased freedom.
"We keep [the privilege] to reward the class for doing well and the class has indeed earned this privilege," he said."It's a nice transition into adulthood and they don't have to be here, under our eye all the time, because we trust them to be off-campus on their own."
Next year's seniors, the class of 2017, will have access to the off-campus privilege after Thanksgiving. This is due to the fact that they will not be able to park on campus because of the construction going on for the new events center.
Junior Noa Sasson expressed her thoughts about receiving the senior privilege in the first semester rather than the second.
"I think that it's nice that they're trying to make it better for us since we lost our parking for next year," she said. "But I'm not sure how it will be useful because we can't easily get to our cars anyways, so we're only limited to the shops across the street."
The class trip at the end of the year and the visit to Disneyland are also considered senior privileges. This year, the class of 2016 will go on the annual Laguna Beach trip from May 14 to May 17, and they will also take a one-day excursion to Disneyland during the trip.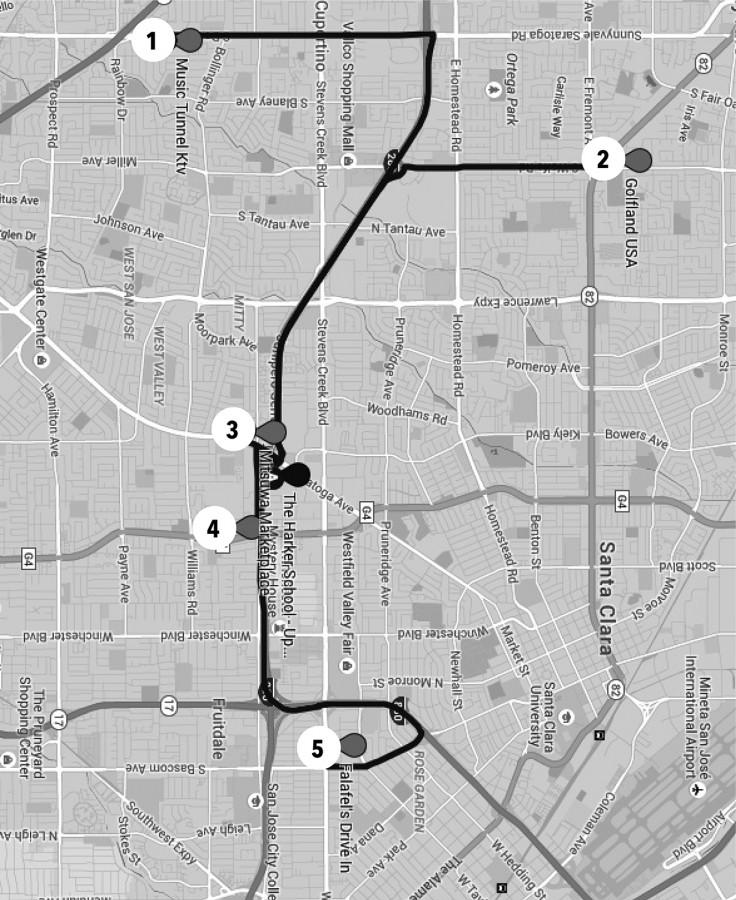 During long free periods and Wednesday lunches, there's an abundance of time to spare and places to go. Here are a few spots to hang out at within a fifteen-minute drive off campus:
1. Music Tunnel KTV Cafe
A four mile drive from the campus, this spot functions as both a restaurant and an all-ages karaoke lounge with private rooms. The cafe offers milk tea and a variety of other menu choices including Chinese cuisine, and customers interested in karaoke can select from a large collection of numbers from Billboard Top 100 songs to classic Disney tunes.
2. Falafel Drive-in
Seven minutes away from campus by car, roadside eatery Falafel Drive-in serves delicious Middle Eastern cuisine and offers both vegan and vegetarian options. This take-out restaurant is Zagat-rated as the best falafel spot in San Jose and was even featured on Guy Fieri's Food Network show Diners, Drive-ins and Dives.
3. Golfland
For seniors and elementary schoolers alike, mini golfing is a simple yet entertaining way to just kick back and relax with friends. Whether it's for a lunchtime date or a group outing during free period, Golfland's five mile distance from campus and it's general emptiness on weekdays makes it the ideal spot to hang out at.
4. Santouka Ramen
Those looking for an authentic Ramen experience won't have to look further than Santouka Ramen in the Mitsuwa Supermarket, less than half a mile away from campus. The restaurant has a small but traditional-style Japanese menu offering spicy, miso, and salted ramen flavors, as well as a variety of simple dishes like soy-sauce eggs and sliced pork.
5. Tacos Santiaguito
Four and a half stars on Yelp, T.0acos Santiaguito is said to have some of the best tacos in Northern California. It is a Mexican food truck often parked at the Shell gas station near Moorpark avenue. They offer an assortment of tacos including pollo, buche, asada and chorizo varieties. In addition to these, the chefs make different types of enchiladas and burritos.
6. Jessy's Cupcakes
A perfect spot for anyone with a sweet tooth, the menu of this bakery includes an array of unique, delectable cupcakes all the way from maple-bacon to classic red velvet. Each individual cupcake is homemade, and gluten-free alternatives are also available. Furthermore, it only takes a quick five minute drive off campus grounds to enjoy what this dessert shop has to offer.
This piece was originally published in the pages of the Winged Post on March 2, 2016