Is it Ugg season yet?
It's fall now, which means it's about that time of the year to pull out your Ugg boots and strut them around campus.
Uggs come in most sizes; the mini size, which goes about two inches above the ankle, the classic size, which goes about a quarter up the leg and the tall size, which goes three quarters up the leg.
They also come in an array of colors; you can find them in pastels and neons of every color of the rainbow. Most girls (and some guys) go for the neutral shades of Uggs (which are the most popular worldwide) which are tans, greys, blacks and beiges.
Opinions on Uggs are often split. Some people favor the footwear, while others find the shoes a little bit ridiculous.
"They're really expensive and they look kind of dumb and they get all soggy which looks really uncomfortable. I have lots of qualms about, you know, Palo Alto white girl culture, also it's not at all my place to tell people what to wear," said Gurutam Thockchom (12).
Uggs range from $100-600. There are Swarovski bedazzled Uggs (yep, you read that right) and rare fur Uggs that are priced for hundreds of dollars.
Also, a collection of wedding Uggs were released for brides across the globe. The Ugg wedding collection includes the traditional boots as well as moccasins and flip flops. These are found in light blue, white, and silver. There's your something blue and new.
By now, we should be seeing girls pairing their boots with jeans, dresses and skirts all around school.
Ellen Minkin (10), walking around campus wearing her comfy grey classic Ugg boots, dark wash jeans and a mint colored sweater, expressed her adoration for Uggs.
"Ugg season's great [because] it's like the mark of fall" she said. "I can wear my favorite sweaters with my Uggs and just be me."
Anika Banga, (10), commented on the weather and it's role in the growth of ugg-wearers.
"Yeah I would wear them. Except right now, the weather is really weird, sometimes it's really hot, sometimes it's really cold," she said.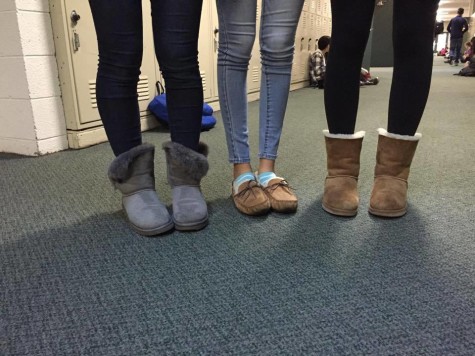 This piece was originally published in the pages of The Winged Post on November 20, 2015.