Second issue of Wingspan reveals overarching theme of love and ethics
Revolving around the themes of love and ethics, the second issue of Wingspan, the Upper School journalism program's longform features magazine, was released this afternoon at the start of period seven.
Co-founded in 2014 by 2014-2015 Editor-in-Chief Sindhu Ravuri (12) and 2015-2016 Editor-in-Chief Shay Lari-Hosain (11), Wingspan aims to be a platform for subversive, thought-provoking feature reporting.
"It's really for those — journalists and readers alike — who love journalism, who love metaphors, who love to analyze, who love to go in-depth, who find subtlety appealing," Shay said. "It's for the people who want to get out of the safe box and into the truly groundbreaking."
Wingspan is the journalism program's fourth publication; editors from across the three other publications, the Winged Post, Aquila and Talon, contributed to the features magazine. The magazine's second issue included articles ranging from the seediness of online dating and people's views on love being distorted by the media to ethics in sports.
Upon first reading the issue, Sanjana commented on how the far-reaching stories allowed for a breadth of coverage of the theme of love.
"I loved that this issue had a running theme throughout the magazine. It added continuity and depth, since love was approached from so many different angles," reader Sanjana Marcé (10) said. "[The Seamy Side of Online Dating] stood out to me because [the writer] encourages readers to form their own opinions while presenting the facts in a captivating way.
While Sanjana recognized the significance of publishing hard-hitting features, she also enjoyed some of the lighter, more humorous pieces.
"I think it's important for a longform magazine like Wingspan to cover serious issues that force the reader to reflect, but it adds a nice balance when satirical pieces are also interlaced," she said.
The theme of the magazine's inaugural issue was "The Hidden Silicon Valley," and featured articles ranging from topics such as the area's gender gap and politics to the art and gaming cultures.
"Issue one was a very strong inaugural release, and issue two is a steady upward trajectory from that. It communicates an ethos that we really wanted it to have — one that's subversive, and also intellectual," Shay said.
Both issues featured recipes provided by Talon Managing Editor Jessica "Fred" Chang (12) and Winged Post Features Editor Priscilla Pan (12), who co-founded food enterprise In a Nutshell.
Each of Wingspan's longform features ranges from 1,000 to 5,000 words; the pieces are developed over the course of several months spent researching, conducting interviews, writing and editing.
"Long-form feature writing is just wonderful, and just so different," Shay said. "It generally has the author's voice present a tad more, and articulates a compelling, nonfiction journalistic narrative. It goes into the micro, [leaving] you [thinking] about a topic you never contemplated before. Yet, I think most writers would say that they enjoy it much more than writing a 400 to 500 word news brief or even a 900-word features article."
For Shay, seeing his and the staff's visions come to fruition has been rewarding in itself.
"It's the manifestation of my staff's work of many, many months," Shay said. "Everyone starts out with a vision of what they want their creation [to] be, and I can't emphasize enough how powerful it is to have it become a reality."
The first issue of Wingspan's second volume will be released in the first semester of the 2015-2016 school year.
"Obviously, the magazine is still sort of figuring itself out — that's very normal," Shay said. "As we have a foundation, we continue to build on it, revise and improve; we learn from every issue. I'm super psyched about the coming issues."
Wingspan's second issue can be found in distribution boxes in front of the journalism room and in Main, Manzanita, Shah and Nichols Halls and is available free of charge.
About the Contributors
Tara Parimi, Editor-in-Chief
Tara Parimi (12) is co-Editor-in-Chief of Harker Aquila, and this is her fourth year on staff. She has been involved with the upper school's journalism...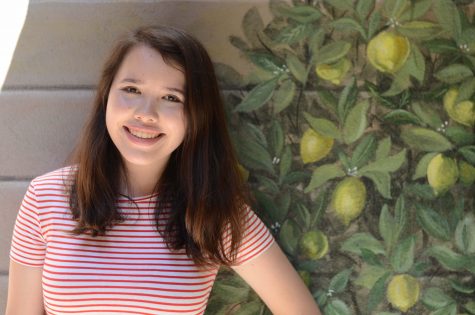 Meilan Steimle, Winged Post Editor-in-Chief
Meilan Steimle (12) is co-Editor-in-Chief of the Winged Post. She was a reporter her freshman year, Winged Post Opinion Editor her sophomore year and Winged...