Annual regional bell striking competition held at Ipswich church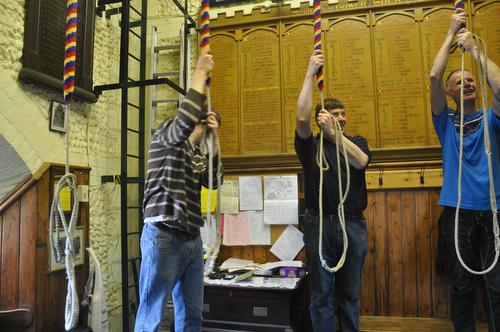 by W. Chang, M. Chien, S. Hoffman & N. Kim
June 19, 2011
Ding-dang-dong-dong. Ding-dang-dong-dong. The euphonious sound of church bells reverberated throughout the bustling streets of Ipswich, England. Wondering passersby glanced at their watches to see if an hour had truly gone by so quickly. However, on this day instead of announcing the hour, the bells served a different purpose.
On June 18, 2011, nine teams from nearby counties in East England gathered in St. Mary-le-Tower church to participate in the Ridgman Trophy 10 Bell Striking Competition, an annual regional contest held to evaluate various teams' ability to perform the same composition.
"What we're listening for is perfection in rhythm," Judge Jeremy Pratt said. "The bells should strike absolutely evenly."
As experienced bell ringers, Pratt and fellow judge Anne Pratt were invited from Oxford to preside over the competition. During the 30-minute slot, they marked every "imperfection" each team made, and the group with the fewest faults won. The results of the competition were not announced by time of publication.
The teams, each comprising ten ringers, competed throughout the afternoon.
David Cox, a member of the host team from Suffix that participated first in the competition, is a regular ringer at the church.
"[The technique] is what's fun about learning [to ring bells]. You've got to hold on to the end [of the rope], pull it, and then catch it," he said.
Another bell ringer of over twenty years, Hannah Campbell enjoys the social component of the competition.
"I suppose it's a bit addictive, really," she said. "You're always talking to different people."
Cox agreed that bell ringing is more than just producing resounding notes.
"It's a very social activity, and you also do a service for the church as well, so it kills a lot of birds with one stone," he said.
Like Campbell and Cox, other bell ringers were introduced to the activity through their family.
"My dad was a bell ringer, and he taught me," Chris Garrett, a member of the Ely team, said.
Gale Winter, another contestant from Ely, added that it was common for the older generation to pass on the tradition of bell ringing.
"It does often run in families," Winter said.
Bell ringers compete from village to national level, the contests ranging from coordinating six to twelve bells. The National Twelve-Bell Striking Contest Final will be held on June 25, 2011 at Leeds Parish Church in West Yorkshire.