Review: Crazy, Stupid Love: unpredictable romantic comedy captures hearts of audience 4.5 STARS
Steve Carell proves to fans that his leaving of The Office after seven seasons does not represent the end of his humorous acting career. His portrayal of the typical middle-age working dad establishes his versatility as an actor, from TV shows to movies.
A Warner Bros Pictures. production, Crazy, Stupid Love embarks on a journey of humor, heartbreak and hope. Directors Glenn Ficarra and John Requa undeniably created a movie that is not only "the perfect combination of sexy and cute," but also one that will bring laughter to even the most apathetic viewers.
Carell plays Cal Weaver, the loving father of three children, who witnesses his life crumble before him. Emily (Julianne Moore), Cal's wife, loses interest in their marriage and asks for a divorce after having an affair with her coworker, David Lindhagen (Kevin Bacon), whose name shall not be forgotten.
After hearing such devastating news, Cal immediately rushes to the bar and laments over the end of his relationship. Jacob, a professional womanizer, played by Ryan Gosling, comes to Cal's rescue and helps him regain his "manhood." A man full of blunt criticism, Jacob helps Cal realize his potential.
From New Balance sneakers to Armani suits, Cal undergoes a wardrobe and personality transformation; and before he knows it, he is back in the dating game. Yet after countless nights picking up women at the bar, he still feels emptiness in his heart and is compelled to win back his only "true soul mate." Crazy, Stupid Love follows the life of Cal with the unexpected surprises and twists that accompany a life like his. The audience is truly in store for one large family reunion filled with plenty of love-hate relationships.
With a powerhouse cast, the laughter never stops.
Gosling's flirty character and suave disposition appeal to the younger generation, while Carell's broken paternal temperament epitomize the struggles that recently divorced parents go through: as expected, he just can't seem to get over his wife cheating on him.
Also, with a series of subplots that keep unfolding, the movie becomes even more entertaining.
Cal's son, Robbie (Jonah Boo) experiences an unrealistic unrequited love towards his babysitter, Jessica (Analeigh Tipton). However, almost to the point of excessiveness and even cliché, Robbie never gives up on his soul mate, despite her feelings for someone else. Tipton's subpar performance fails to convince viewers of her maturity, taking away from the quality of the film.
Emma Stone's role as Hannah is perfectly executed, adding onto her growing success as an actress. She captures Jacob's heart, proving to be quite the opposite of his typical one-night stands. With her effervescence and charm, Stone perfectly embodies a character who is bold yet genuine.
Additionally, the soundtrack consists of a mix of alternative, soul and upbeat club music to aptly accompany the various scenes throughout the movie. With softer percussions and rhythms, the subtle tunes are able to avoid overshadowing overpower the acting.
With an ending that strays away from being ideal, short and sweet, Crazy, Stupid Love is the perfect atypical romantic comedy full of spontaneity and wit, making the film a must-see for young adults and older. A crazy love story indeed, the movie explores a different approach to breakups and young romance, captivating all movie watchers.
About the Contributor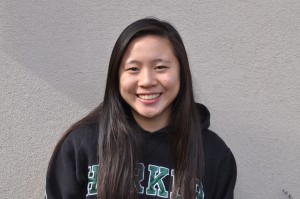 Mercedes Chien, The Winged Post Design Editor
Mercedes Chien is the design editor for The Winged Post. This is her fourth year in the program and previous positions she's held include Photography and...